We may earn commissions when you buy from links on our site. Why you can trust us.

CleverWraps Peanut Butter-proofs Your iPad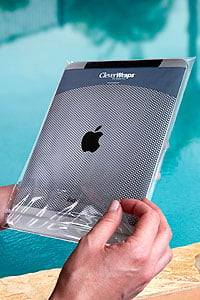 While technically the iPad in our house is mine, it's become a communal device that resides in the living room and is used by every member in my house. It's loaded with interactive books for the 2-1/2-year old and games like chess and Hangman for the 6-year-old, my 9-year-old likes to watch movies off of Netflix and my husband uses it when he's cooking. It's not uncommon for me to find the iPad with bits of food crusted on it or lying near the edge of the kitchen sink.
I'm glad my iPad is so well-loved, but wish it didn't end up with so much crud. That's where I can see CleverWrap disposable iPad covers ($14.99
for three covers on Amazon.com) coming to the rescue.
Basically, CleverWraps are plastic bags designed to protect your iPad from peanut butter, pool water, sand, in other words: Life. The plastic is much clearer and thinner than a typical zip-closure bag, though, so you barely notice it's there when you're using your iPad.
If zipped properly, the bag can hold its seal when submerged — not indefinitely, but certainly long enough to retrieve your iPad from the bottom of the pool. The flap at the top folds down and secures with a resealable tape strip for a snug fit.
In addition to iPad, you can get CleverWraps for the Samsung Galaxy Tab, ebook readers (including the Kindle and Nook) and cellphones.
---
Discussion