Review of the New Facebook Camera App
Techlicious editors independently review products. To help support our mission, we may earn affiliate commissions from links contained on this page.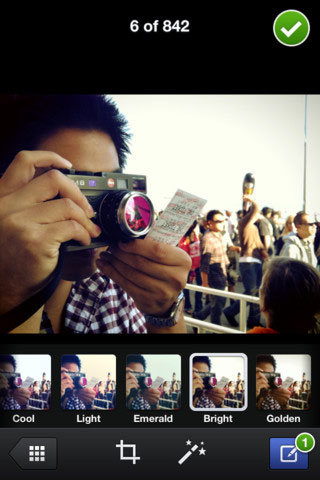 Last month, Facebook bought Instagram for $1 billion. Now we know one of the reasons why: the Facebook Camera for iOS devices (free on iTunes).
Facebook Camera is basically Instagram. You can see your friends' photos, like and comment on them (with so much ease!), and upload your own photos. Just like Instagram, you can also edit your photos by cropping them and add filters—but not the same filters that are available on Instagram.
The effects are basic and add a simple touch of genius to your photos. They include light, emerald, copper, coffee, black and white, (my favorite) neon, and more. Most importantly, they enhance your photo, not change it, like I've felt some of the Instagram filters do.
The app works fantastically. It's fast, it's easy and my friends' photos load faster than I've ever seen on the Facebook app. Posting is easy, too. Pick your photos—yes, photos—add a comment and post. If you've ever tried to upload an album with the Facebook app, you know it can be a hassle. This is much easier.
The one big downside for me is that you can only add photos to your Mobile Uploads album. After a day of taking lots of pictures, I want to create a new album, not just post them onto my wall and into an album full of random pictures. It's great for that one or two photo upload, not a whole multitude of pictures.
Overall, I like Facebook Camera. I will keep using it to look at my friends' photos and will probably post a photo here or there. Until I can add and change albums, though, I'll have to do my uploading the old-fashioned way, on my computer.
Discussion