We may earn commissions when you buy from links on our site. Why you can trust us.

Hands-on with the Samsung Freestyle Projector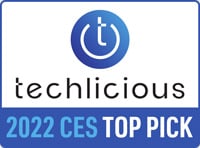 At CES 2022, Samsung has unveiled The Freestyle, a lifestyle-friendly portable 1080p HDR-capable smart projector with an innovative form factor plus feature set. This exciting new display device is full of potential, offering quality, versatility, and refinement atypical for the portable projector category.
As a reviewer for Projector Central, I had an opportunity to put The Freestyle through its paces before its CES debut, under strict embargo, of course. The review wound up over 6,000 words long because there's so much packed into this coffee-can-sized device (it probably fits inside a coffee can). The gist of the hands-on experience is Samsung's newest projector lives up to the hype as a hyper-adaptable personal display. Play video games on the ceiling? Check. Use it as a portable PC monitor by projecting on a large piece of paper? Looks amazing! Home cinema? It produces an 80-inch picture that's appropriately bright for a dark room and a white wall.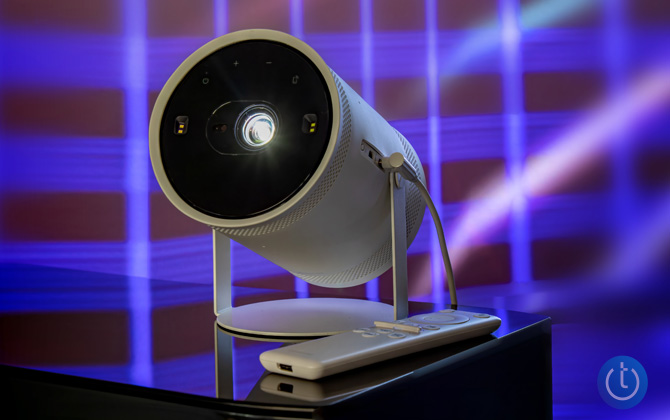 The Freestyle may be powered by USB- C or one of two optional accessories: A rechargeable battery pack or a light socket for hanging the Freestyle so that it projects down on a tabletop, counter, or floor. This opens up a variety of novel uses, including artistic, culinary, and social activities. These accessories are attached directly to the "bottom" of the projector, where the speaker is located, in a modular fashion. The USB-C input is also compatible with portable power banks that can deliver 50 watts of power, and it'll run for a couple of hours off of a 20,000 mAh battery.
This smart projector also does a great job serving as a TV. It's about as bright as a real TV when projecting a 50-inch image, and it's sharp, with vivid color. It won't work in sunlight, but if you have a little bit of shade, you can get a good picture, and if you dim the lights, it looks fantastic because the colors are punchy and surprisingly accurate in the default picture modes.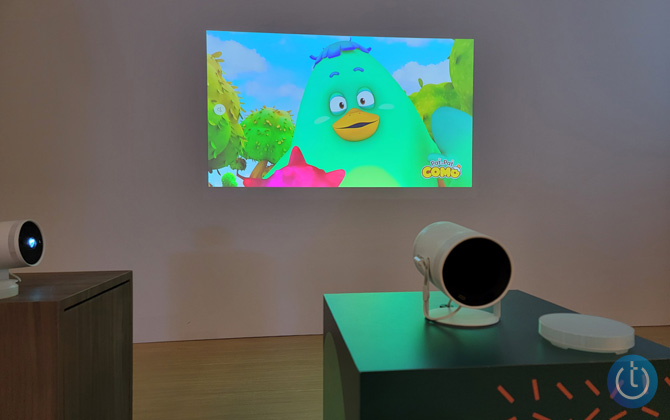 Samsung included an Ambient Mode that you can trigger from the remote. Ambient mode content is located on the projector, so you do not need any connection to show it. You can upload your custom imagery to create a slide show. The projector has preset scenes, including projected words like "Happy Birthday" and video loops of a fireplace, simulated views out a window, and abstract kaleidoscopic patterns.
The flexibility afforded by its form factor is the most obvious physical feature: When mounted on its swivel stand—that lets you point it in just about any direction—it resembles either a smart speaker or a spotlight. The Freestyle has all-auto setup capability and will use lightning-fast LIDAR focusing (taking only a second or so) plus motion sensor-assisted automatic digital keystone and rotation. Together, these features adjust the image to look undistorted on the surface where you project.
The Freestyle comes with a Bluetooth remote that has voice search supporting Amazon Alexa and Samsung Bixby virtual assistants. But it also has a far-field microphone array that lets it respond to spoken commands from a distance and without the remote. For privacy, the far-field mics have a physical switch that shuts them off.
Inside, I found through testing that The Freestyle is a real-deal Samsung display, with the same color controls and menu system I am used to seeing in the company's TVs. It even can auto-calibrate using the Samsung SmartThings app, a 30-second procedure that helps improve color balance. You can also take calibration a lot further and achieve surprisingly high color accuracy using The Freestyle. If you are a tinkerer, this projector lets you tune the picture quality to your exact preference using 2-point, 10-point, and even 20-point grayscale calibration controls. And if you are not a tinkerer, the provided Standard, Game Mode, and Movie picture modes provide instant optimized performance.
This projector has the latest Samsung 2022 Smart TV home screen and apps, including free streaming, right away with no registration, via Samsung TV Access. It'll mirror your phone and even mirror live TV. Plus, it supports a wide variety of third-party streaming apps, including Netflix, a hard feature to find on most other projectors (which typically run some flavor of Android TV).
Samsung equipped The Freestyle with a micro-HDMI 1.4 port that can be used as an input to attach a videogame console. It can also send high-quality audio to a soundbar or an AV receiver via ARC. Another audio connectivity option is Bluetooth headphones or speakers with this projector.
Although it is primarily a projector, you could say that The Freestyle is also a smart speaker and a lamp. It comes with a diffuser lens, and you can use it as a color-changing, ambiance-creating light. And if all you want is music, The Freestyle offers tuneful, well-balanced sound at modest volume levels. The 5-watt speaker for built-in sound is noticeably more robust than you would typically find on a portable unit and has the clarity you might expect from a compact soundbar.
The Freestyle's innovation stems from the holistic combination of its physical design and its components' quality, including the robust build quality, the sharp lens, the fast focusing mechanism, and Samsung's slick, easy-to-use smart TV platform. The result is a projector that's pure fun without being a toy. It is a serious display device that is so portable and easy that anyone in the family can find a use, whether it's TV, movies, work, exercise, playing video games, showing off your Instagram pics to friends, or just Netflix and chill.
The Freestyle is a product that stands out for its advances in technology and potential to significantly improve our lives. It is one of 14 Techlicious 2022 CES Top Pick winners.
[image credit: Mark Henninger/Techlicious, Josh Kirschner/Techlicious]
Mark Henninger is an AV enthusiast, equipment reviewer, photographer and videographer. He is a THX-trained video calibrator and has extensive experience working with consumer displays including TVS, projectors, monitors and smartphones. Mark started the editorial review program at AVS Forum, where he served as Senior Editor and then Editor.
---
Discussion