We may earn commissions when you buy from links on our site. Why you can trust us.

Hands-on with the Färbe Technik iPhone 6 External Battery Case
Farbe Technik iPhone 6 Battery Case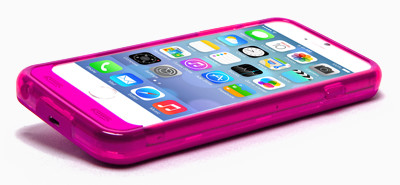 By Tara Settembre, TaraMetBlog.com
Does your iPhone run out of power at the most inopportune times? An external power case can let you go several days without worrying about dropping everything to charge your phone.
While the iPhone 6 boasts the strongest Apple battery yet, with all the apps I run and the tweeting I do, I never seem to have enough juice. I tried out several power cases and found the Färbe Technik to offer the best value and style overall.
Canadian mobile accessory company Färbe Technik's new iPhone 6 External Battery Case ($53.88 - $74.99) serves as both an everyday protective case as well as a backup battery. The 2400mAh (milliamp hours) battery provides 225 hours of standby time, eight hours of talk time, 10 hours of video time or 40 hours of audio time.
I liked the battery power indicator lights on the back of the case that let you know when it's on or charging and how full the power is. Using the provided micro-USB cable, you can charge your phone and the case at the same time.
The case comes with an additional clear changeable frame for people like me who tend to drop and chip their cases or just enjoy trying a different look. It's MFI-certified, which means that it is certified by the developer to meet Apple performance standards. The case has an extra-large largest cutout for the back camera lens (noticeably larger than others I've tried), so it doesn't obstruct the flash in any way.
Visually, this was my favorite of the battery power cases that I tried. The design is sleek and relatively lightweight, and I appreciated the color options for personalization. The case comes in six vibrant colors: pink, red, blue, black, white and purple; I went with hot pink. In contrast, similar cases from other brands seem to have been made for male customers,with rugged designs in black or other dull colors. Even the packaging for this unit was stylish—great for gift-giving.
Pros: The most affordable option I tested, the Färbe Technik comes in a variety of appealing colors. Because of its visual appeal and the fact that it is one of the lighter power cases available, the Färbe Technik is great for everyday use as a case, not only when extra power is needed.
Cons: The Färbe Technik offers only basic impact protection and not as much capacity as other models, although it's certainly sufficient. A headphone extender jack is not included for using non-Apple headphones.
[Image via Farbe Technik]
---
Discussion