We may earn commissions when you buy from links on our site. Why you can trust us.

Let's Get Small! Review of the Lenovo ThinkPad X1 Nano Gen 3 Laptop
Good things come in small packages – at least that's the goal of portable laptops. And Lenovo's X1 Nano Gen 3 certainly delivers, not only in terms of design and featherweight mobility but also in terms of performance and flexibility.
The X1 Nano, as the name suggests, is a tiny powerhouse making it ideal for road warriors and students who need maximum computing flexibility in the most portable package possible. In my tests and benchmarks, the ThinkPad X1 Nano loaded with Windows 11 Pro endured weeks of cross-country travel in planes, trains, and automobiles without a hiccup.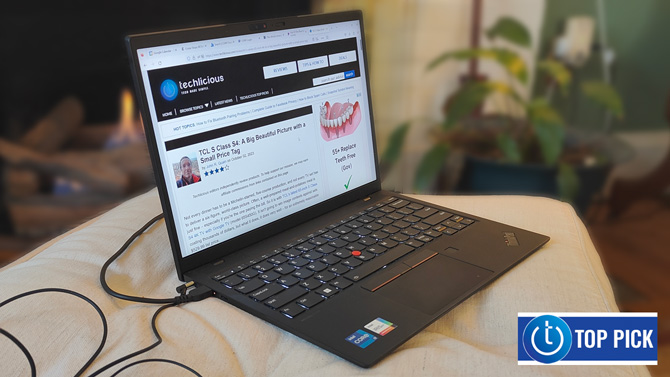 + Pros
– Cons

Thin and lightweight, yet rugged
Plenty of power for daily tasks
Very respectable battery life
Excellent built-in camera and mic

Only two USB-C ports
No mini-HDMI or USB-A ports
TrackPoint is love it or leave it
Design
Wrapped in a solid shell constructed of carbon fiber and magnesium, the ThinkPad Nano measures a skinny 0.57 by 11.5 by 8.2 inches and weighs a mere 2.1 pounds. So there's little debate about whether or not to include it in your briefcase or backpack (it's light enough!), and Lenovo notes that the Nano also meets the MIL-STD 810H durability standard set out by the U.S. Department of Defense, so the system can handle being tossed around. Indeed, over the course of several business trips the ThinkPad Nano proved it was no mere fair-weather friend, performing reliably in a variety of conditions whether I was editing slides, videos, or watching Lupin on Netflix.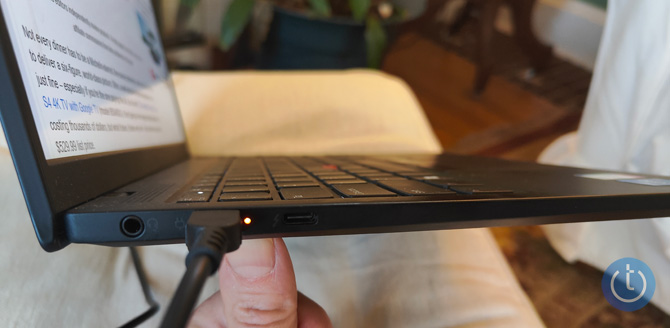 For everyday tasks, the ThinkPad's keyboard remains very comfortable for touch typists with enough response to keep you on your fingertips. There's a fingerprint reader next to the Nano's touch pad, but there isn't enough real estate to accommodate a dedicated numeric pad, but only accountants will miss this.
In the center of the X1 Nano keyboard is the ThinkPad's signature TrackPoint red dot pointing device, which you either love or ignore in favor of the touch pad under your thumbs. Many users find the lack of precision and inadvertent mousing that touch pads are notorious for an annoyance they can forego, thanks to the ThinkPad's red dot, and I found the option of turning off the touch pad an extremely liberating experience. Either way, the Lenovo X1 Nano offers users flexibility to decide what's best for their work.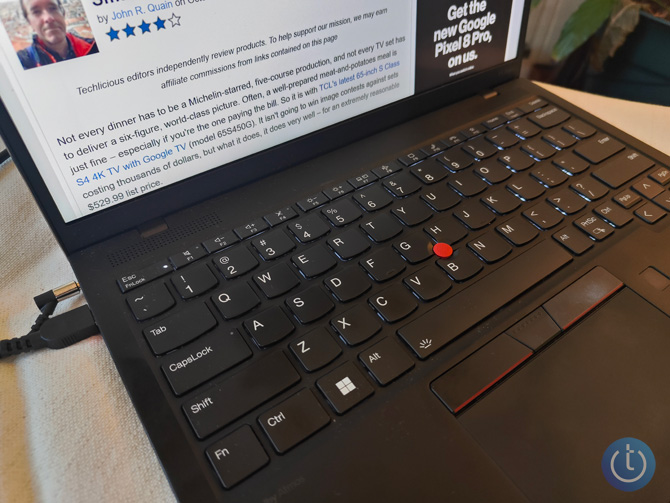 Classrooms have gone hybrid, and the X1 Nano proved to be the ideal companion to adapt to the changing educational landscape. In person, the Nano design is compact enough to fit on a shared conference table without elbowing out one of my fellow seminar students. Online, the laptop's 1080p camera and WiFi connection made for a seamless experience. If anything, the resolution of the Nano's camera and screen was disturbingly good, revealing wrinkles and imperfections I'd prefer to ignore. Shy (or paranoid) online conference participants can always draw the X1 Nano's physical webcam privacy shutter, a feature that should be mandatory on every laptop.
The audio component, usually an afterthought on laptops, is surprisingly robust on the diminutive Nano. Lenovo has built in four noise-cancelling mics for better voice performance on calls, while four built-in speakers and Dolby Atmos support means a better experience when you're enjoying downtime and binge watching your favorite online Nordic detective series.
Performance
Lenovo ThinkPad X1 Nano Specs as tested:
Processor: Intel Core i7 1360P
Graphics: Intel Iris Xe
Memory: 16 GB
Storage: 512 GB
Display: 13.3-inch, 2160-by-1350 pixel LCD touch-screen
Weight: 2.1 pounds
Price as tested: $1,208.99
Even though the ThinkPad X1 Nano looks like a welterweight, it packs a heavyweight punch, thanks to a 12-core Intel i7 processor. The CPU has a top turbo speed of 5 GHz, which is touch better than the previous model's 4.8 GHz clock. Together with the built-in Intel Iris graphics adapter and 16 GB of RAM, it did well in our benchmarks.
Running the full suite of PCMark 10 tests, the ThinkPad X1 Nano delivered an overall PCMark score of 5842, which is easily in the top half of similarly outfitted systems. The productivity portion of the test turned in a 7213 score while the video editing section earned a 6760 score – all very good test results indeed.
These scores translate into seamless computing performance. I habitually ran multiple video and audio streams, a couple of dozen open web sites, and conducted basic photo editing while working on a dozen documents and PDFs – and I never encountered a hitch, lockup, or crash. Such performance should be a given these days, but the truth is that it's more the exception than the rule.
Moreover, the X1 Nano's excellent display goes a long way to making such work a pleasure. The touchscreen's 2160-by1350 pixel resolution is better than most in this weight class, and while it only has a 60 Hz refresh rate, only competitive gamers are going to notice the difference.
Battery Life
The X1 Nano comes with a 50 watt-hour battery. There are larger batteries available in laptops, but those models also weigh more, usually twice as much as the ThinkPad X1 Nano. In my weeks of testing, I regularly squeezed more than 11 hours of work out of it before I had to find a power outlet. That's quite respectable considering I typically run streaming audio and video while working and rarely take breaks. Moreover, for travelers, it means the X1 Nano will definitely get you across the pond or from New York to San Jose without having to plug in.
Ports and Connectivity
If the ThinkPad X1 Nano has an Achilles Heel, it's the system's paucity of ports. The thin, lightweight design means there's not much room for fat plugs. So, there are only three connections: an audio mini jack for headphones (or mic/earphones) and two USB-C Thunderbolt ports, one for power in and the other for accessories.
If you're switching from an older, bigger laptop to the Nano, you'll have to prepare to make some changes when it comes to connectivity. Presenters will bemoan the lack of a dedicated mini-HDMI port for PowerPoint projections, while others may miss the lack of a full-size USB port to accommodate older cables. Nevertheless, I found it easy to make the switch, and when I came across an external device that required the larger USB port, I simply used a $5 adapter to make the connection.
Thankfully, most connections are wireless these days, and the ThinkPad X1 Nano supports WiFi 6E for improved speeds. Its Bluetooth pairing was also simple and straightforward for all the devices I tested, including multiple true wireless earphones. And when those wireless earbuds ran out of power – long before the laptop did – I really appreciated the inclusion of a standard audio mini jack for my go-to wired Sennheiser headphones.
Bottom Line
There are a lot of laptop options for buyers and many shoppers right now are finding it's time to go for an upgrade over models that were purchased in the depths of the pandemic. Our recommendation is to go light. A bigger, heavier model may seem like a bargain, but you'll quickly get tired of hauling it around. And how much of a bargain is it if you don't take with you?
Lenovo's ThinkPad X1 Nano Gen 3 is an excellent lightweight choice for buyers ranging from high-school students to first-class road warriors. It delivers the right balance of power and performance without weighing down your backpack – or emptying your bank account.

[Image credit: John R. Quain/Techlicious]
John R. Quain has been covering science and technology for over 20 years. His work has appeared in Rolling Stone, PC Magazine, Esquire, and U.S. News & World Report. He was the on-air technology contributor to the CBS News Up to the Minute television show for 17 years and is a regular contributor to The New York Times.
---
Discussion