Long-term Review of the Motorola Moto Z4
Techlicious editors independently review products. To help support our mission, we may earn affiliate commissions from links contained on this page.
Motorola released their Moto Z4 at the end of May and I've had two months of hands-on time to get a complete feel for the device. I'm not a fan. There are just too many compromises with its performance, camera and features (notably the nearly useless fingerprint reader) to justify it's purchase for most people. The exception will be those who really desire one or more of the Moto Mods. But if you're not in that group, there are better choices out there, such as the Google Pixel 3a.
What I liked

+ Bright display with very good contrast and accurate camera

+ Excellent battery life

+ Variety of Mods add utility (for a select few)

What I didn't like

- Camera slow to capture shots and lacked detail

- Very frustrating fingerprint reader

- Poor design fit with existing Mods and shells

- 360-degree camera Mod package adds cost and won't benefit most users
Display
The 6.4-inch 2340 x 1080 pixel OLED display (up from 6.0 inches in the Z3) on the Moto Z4 is one of its strong points. Made with shatter-resistant Gorilla Glass 3, the display offers natural colors, with very good brightness and contrast. It can be a little hard to see in bright sunlight, but this was a minor issue.
Camera
Sporting a new 48MP Quad Pixel sensor with optical image stabilization and Night Vision mode, the Moto Z4 gave me high hopes for great image quality. Unfortunately, these hopes didn't pan out. I found it difficult to get good shots in anything but the best conditions. Shutter reaction time was slow, images lacked detail and the Night Vision mode, which would have been amazing 18 months ago, now is a distant second to Google's Night Sight mode on the Pixel line for both color accuracy and sharpness. Video on the Moto Z4 was similar – acceptable, but lacking sharp detail.
Fingerprint reader
After initial positive experiences, the fingerprint reader embedded behind the display on the Z4 became my biggest letdown. While I love the placement over the side-mounted or rear-mounted readers on most phones, the Z4's reader was so finicky about recognizing my prints that I eventually gave up on it entirely. And my experiences were not unique; numerous other reviewers found the same thing. In a note, Motorola said that the Z4 has "a machine learning algorithm that over time will improve the speed of unlocking, and reduce the amount of 'falsing' or failed unlocks by up to half." Yet, in two months of testing, it appears the algorithm in my review unit failed to learn anything.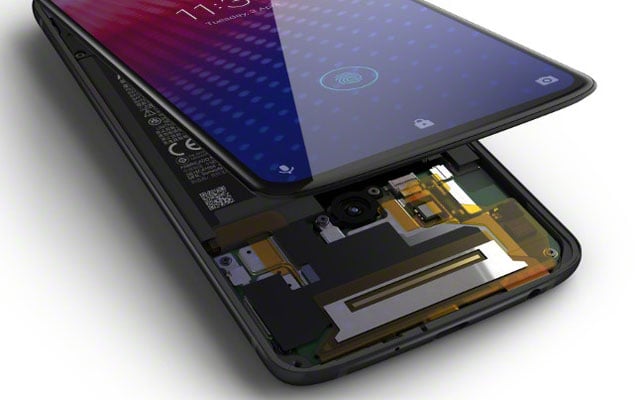 Processor and performance
As you would expect in a mid-range phone, the Moto Z4 is using a mid-range processor – the Qualcomm Snapdragon 675. Most users will likely be satisfied with its performance, but I experienced significant lagging in certain processor-intensive games. So, if you fall into the gamer crowd, this isn't the phone for you. The flip side is longer battery life, which everyone will benefit from (see below).
Battery
The non-removable 3600mAh Li-ion battery in the Moto Z4 paired with that Snapdragon 675 processor offers excellent battery life. This was probably my favorite feature of the Z4. Under normal usage, which often included an hour of gaming (sometimes more), the battery easily lasted all day. The Z4's 15W TurboPower charging replenished that battery quickly once I did wear it down.
Sound & calling
The Moto Z4 only has a single external speaker, and it's positioned so that it's easy to cover with your hand while holding the device horizontally for games or movies.
I found sound on voice calls to be on the quiet side, such that I was constantly trying to turn the volume up, only to find it was already maxed out.
5G & Moto Mods
The primary selling point for the Moto Z4 is its ability to use the family of Motorola Moto Mods, from a large speaker to Verizon 5G to a 360-degree camera and more. And if one of these Mods calls to out to you that's great. However, none of the Mods call out to me. And there are tradeoffs for having this capability. The biggest is that the curved side design of the new Z4 doesn't fit perfectly with the existing Mods, causing the edges of the Mod to protrude. It's almost as if someone at Motorola didn't measure correctly when spec'ing out the device. And you get a reminder of the ill-fit every time you pick up your phone.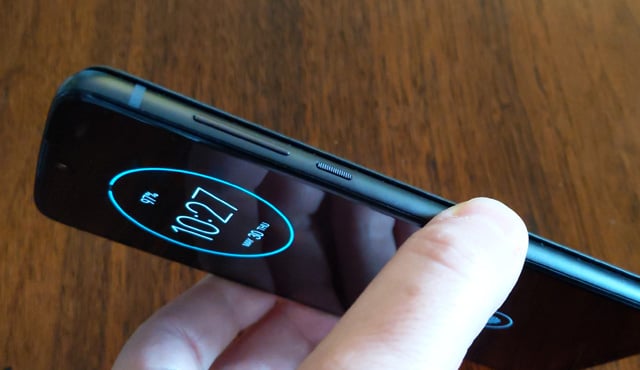 If you aren't using a Mod, you'll need either a shell for the back or a case (neither included), because without one you're left with exposed Mod attachments, a protruding camera and a slippery device.
Headphone jack
Recognizing that many people hated the removal of the headphone jack in the Z3, Motorola has brought the headphone jack back with the Z4.
Is it worth it?
It's hard to justify the Motorola Z4 for anyone unless you really need/want one of the Moto Mods. It's not a terrible phone, and I've used it daily for two months without pulling my hair out (thankfully, as I don't have a lot left). But there are just too many compromises, and not enough benefits over other devices in the market in the same price range, such as the Google Pixel 3a or 3aXL.
The unlocked Moto Z4 is available at Best Buy, B&H Photo and on Amazon bundled with the 360 camera Moto Mod for $499.99. It would have been great if Motorola offered a cheaper option without the 360 Mod, since that seems like a pretty niche item, but that's your only choice.
Key Specs
Operating system: Android 9 Pie
Processor: Qualcomm Snapdragon 675 octa-core processor (up to 2.0 GHz); Adreno 608 GPU
Memory (RAM): 4 GB
Internal storage: 128 GB, expandable up to 512GB microSD
Battery: Non-removable Li-ion 3600mAh, 15W TurboPower charger included, wireless charging available with Moto Mod
Display: 6.39" OLED Full HD+ (2340 x 1080p)
Dimensions: 75 x 158 x 7.35mm
Weight: 165g
Body: 2.5D Gorilla Glass 3, 6000 series polished aluminum frame
Water Protection: P2i splash-proof nano-coating
Rear camera: 48MP sensor with 12MP output using Quad Pixel technology, f/1.7 aperture, 1.6um pixel size, OIS
Front camera: 25MP, f/2.0 aperture, 0.9um pixel size. Low light mode using Quad Pixel technology for 6.25MP, 1.8um pixel size output
[Image credits: Josh Kirschner/Techlicious, Motorola]
Discussion