Microwave Ovens with Inverter Technology Really Cook
Techlicious editors independently review products. To help support our mission, we may earn affiliate commissions from links contained on this page.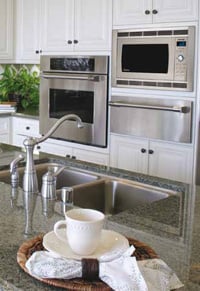 If you're like most of us, your microwave oven serves two main duties: boiling water and reheating leftovers. But wouldn't it be great if rather than just taking up a chunk of space in your kitchen, you could actually rely on your microwave for cooking meals?
Cooking food successfully in a microwave is challenging because the magnetron, the element that cooks the food in most microwaves, can only deliver full power. Even when set to "50% power", the microwave oven is actually going through cycles of delivering 100% power, followed by a period of no power.
Imagine if your regular oven worked this way! Instead of cooking a roast at 350 degrees, you'd cook it at 700 degrees for ten minutes, then take it out for ten minutes, and repeat over and over again until the meat is cooked. Good luck with that!
The Microwave Inverter Solution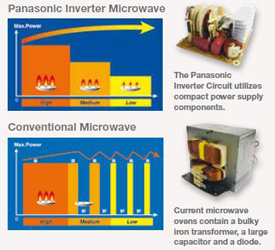 Panasonic and GE have microwave ovens on the market with something they call "inverter" technology, which aims to solve this problem. The inverter modulates the level of energy being transmitted by the oven to achieve a consistent level. So when you set 50% power, for example, you actually get a steady stream of 50% power for the entire cooking time. The result is more evenly cooked food, defrosting without cooked edges, and even the ability to keep foods warm until mealtime.
Update 6/13/13: Whirlpool AccuWave and KitchenAid Optimawave ovens use the same technology.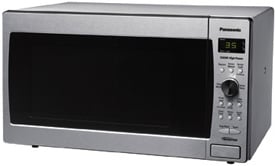 We spent a few weeks with Panasonic's NN-SD688S, a 1.2 cubic foot counter top model with 1300 watts, to see how it worked out. Using recipes from Panasonic's site, including some produced by the prestigious Culinary Institute of America specifically for inverter microwaves, we made hollandaise sauce, fruit crisp, corn chowder, barbecued pulled pork and some other fun dishes.
What we found was that the microwave inverter performed surprisingly well for dishes that required slow cooking in moist environments, such as the hollandaise sauce (which can be tricky to do on the stove top) and pulled pork. Corn chowder worked fine as well, though it would have been just as easy on the stovetop and we didn't like moving large bowls of boiling liquid in and out of the oven. Perhaps not surprisingly, the fruit crisp was a flop, with a soggy, raw-tasting topping and overcooked fruit underneath.
Conclusion
Based on our experiences, we could easily see using an inverter microwave in addition to our standard cooktop and range, especially during busy holiday times when we are trying to cook many dishes at once, while also keeping everything warm until serving time. It is a fast and clean way to steam vegetables, melt chocolate, braise meats or do any one of a number of occasional kitchen tasks that involve steady cooking and do not require browning.
So if you are purchasing a microwave, we recommend that you give inverter models strong consideration. All Panasonic models also recently received the Good Housekeeping Seal, which provides a two-year limited warranty against defects.
Where to Buy
Panasonic Inverter microwave ovens: Buy Now at Amazon.com
Whirlpool AccuWave microwave ovens: Buy Now on Best Buy
KitchenAid Optimawave microwave ovens: Buy Now on Best Buy
UPDATE 6/24/17: With Whirlpool and KitchenAid no longer making inverter models, Panasonic is the remaining brand of choice for this technology. The Panasonic NN-SD945S was our recent winner in our Best Microwave Oven review. Read the article to find out why and learn about our opinion on whether Panasonic's new "cyclonic wave" inverter oven technology is worth the extra cost.
How to Make Microwaves Even Better
(An open call to manufacturers)
Our experiment with microwave recipes, even those written specifically for Panasonic inverters, clearly revealed another long-standing design flaw with all microwave ovens. It turned our initial attempt at crumbled bacon for the corn chowder into charcoal, and curdled our first run of hollandaise. The culprit is the nonsensical decision to use a scale of "1" to "10" to set the power level, rather than setting a specific wattage.
This abstract power scale becomes a significant issue with microwave recipes because it requires the cookbook author to assume a certain wattage in developing the recipe (often 800 watts, sometimes not). However, microwave ovens vary significantly in wattage, from around 700 watts to about 1400 watts. So a 700-watt oven will take approximately twice as long on "High" as a 1400-watt one to provide the same amount of cooking. To compensate, the cook needs to convert those times for her own oven based on its wattage.
But this assumes the cook knows what the original wattage was when the recipe was written and the wattage of her own oven. And if you don't know your wattage, don't bother looking on the oven. Amazingly, many manufacturers don't even print the wattage on their ovens! Talk about trying to make things difficult for cooks! Algebra with unknown variables is not something that should be required in the kitchen...
The solution to this is simple, however, and just requires one manufacturer to make the common-sense leap forward to allow all of their ovens to be set based on wattage delivered. This is the same logic that allows us to set our regular gas and electric ovens to 325 degrees, not "60% of the way around the blank dial". Microwave recipes could then be written as "cook at 800 watts for five minutes", which would be easy for a cook to apply for any oven from any brand.
Discussion