The New 4moms mamaRoo Review
Techlicious editors independently review products. To help support our mission, we may earn affiliate commissions from links contained on this page.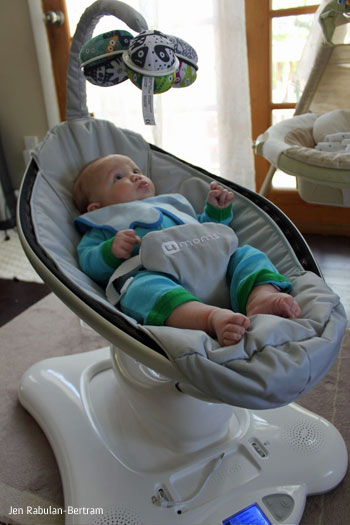 Is it a bouncer? Is it a swing? Whatever you want to call it, the new mamaRoo from 4 Moms is what I'd call smart baby gear.
The original mamaRoo was designed to mimic mom and dad's motion, with smoother sways and repetition. It resembles a sleek baby-sized papasan seat perched on an axis, but with a motorized base that controls the movement, as well as emits sleepy nature-inspired sounds. The mamaRoo also features an output to connect to an mp3 player or ipod, perfect for those baby playlists.
Launching today, the new mamaRoo model ($200-$240 on 4moms.com) boasts faster speeds, new colors and patterns, a locking toy bar and a one year warranty.
With a 3 month old of my own, I was eager to put this new mamaRoo model to the test. Could this gorgeous baby device replace the clunky swing that takes up way too much space? But more importantly, could this swing soothe my sometimes inconsolable baby?
The mamaRoo is a streamlined infant seat that merges technology and nature to offer an alternative to traditional bouncers and baby swings. Whether it's to calm a colicky baby, entertain a growing infant or soothe a hospitalized baby, the mamaRoo is at the forefront of modern baby gear.
Smart Design
The design of the frame and seat, which can be zipped on and off for easy cleaning, are both key. As opposed to two or three defined positions, the seat has a variety of positions--from laying down to almost upright--with its axis connection and lock.
Compared to our cradle swing, which also has a papasan-type design, the mamaRoo is trimmer and appears a little more shallow. My 15-lb, 3 month old fills the seat comfortably, yet I felt the classic nylon version was lacking the cushioning I was expecting. This could be remedied by going with the plush version. The mamaRoo was designed for babies up to 25 lbs., but for those of you like me, who have bigger babies, longevity of use may be limited.
With curved lines and no evidence of a motor, the base is just as aesthetically pretty as the seat. I love the small footprint of the mamaRoo, which can easily be tucked into a corner in a small space, just as it could be displayed in a larger living room.
Move it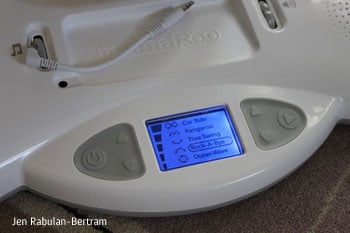 The movement of the mamaRoo is, perhaps, the selling point of this high end infant seat. 4moms researched parents' natural movements when interacting with babies and put that into consideration when designing the mamaRoo. With five speeds and several types of motions to choose from, such as tree swing, rock-a-bye and car ride, the base is the brain of this device.
The newest mamaRoo is said to have faster speeds, but in comparison to what we're used to, it's not as fast as the pendulum-like motion that our swing offers. I've noticed the mamaRoo does keep my little one comforted; however, I can't ignore the fact that it doesn't always put him to sleep...which is totally fine. The mamaRoo's cyclical motions entertain and soothe my baby for short periods, but when I need the extra help to put the baby down for a nap to meet a deadline, I found myself relying on the mesmerizing, but faster motions of the cradle swing.
Added Extras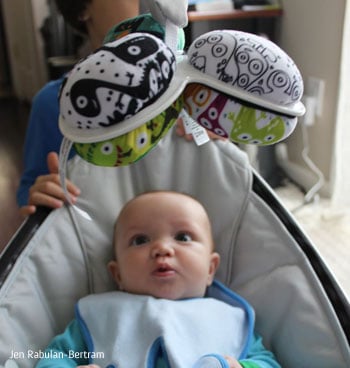 The toy bar securely dangles three plush, interchangeable balls above the seat. The bar, itself, can be repositioned, making for easy access when picking baby up from the mamaRoo. Of all the features on the mamaRoo, the toy bar was the most understated. Even though the toy bar doesn't rotate on its own, it still managed to engage my baby.
The updated interface and LCD screen is easy to control, read and change, even with one hand or toe--whatever the frenzied situation may require. There are five nature sounds, but my preference is the lullaby station on Pandora, easily accessed via the output from my iPhone. A small cut out on the base is perfectly suited to sit my phone while playing tunes for the baby. A different kind of plug and play feature, I'd be remiss without pointing out that the mamaRoo's power source is supplied via an AC adapter and plugs into the wall, unlike most baby gear that devour batteries.
Conclusion
Though not ready to completely ditch the clunky swing, the mamaRoo is a welcomed fixture into my living room. Starting today, the mamaRoo is available in a myriad of solid colors in the classic nylon material ($200 on 4moms.com), and chic modern prints in the softer, plus version ($240 on 4moms.com).
Find the best deals on mamaRoo on Amazon.com
Discussion