We may earn commissions when you buy from links on our site. Why you can trust us.

Review of the Polar H10 Heart Rate Monitor
Polar is a leading brand in consumer heart rate monitors. The new, high-end chest strap monitor, the Polar H10 ($89.95 on Amazon), has just about all of the bells and whistles you could want in a consumer heart rate monitor: built-in memory so you can capture your workout without a smartphone, extensive compatibility with 3rd party apps, extended battery life (an estimated 400 hours), a new easy-to-remove battery cover and a new, more secure chest strap.
If you're in the market for a Bluetooth heart rate monitor, Wahoo's Tickr line of chest straps and Polar's chest straps are the best for most people. The heart rate monitors and apps from Suunto and 4iiii are designed to work with Suunto and 4iiii gear and the experience using them reflects that. I've used heart rate monitors to train for years, including our pick for the best heart rate monitor, the Wahoo Tickr X ($79 on Amazon) and the Polar H7. And I've found that I was eager to see how well the Polar H10 compares.
Look and feel
The Polar H10 has a sleek new look from its predecessor, the H7. It sits flat against your chest with less of a discernable bulge. Practically speaking, this makes it fit a little better under sports bra bands. Compared to the Wahoo Tickr X, the H10 is smaller overall and slightly less thick.
A huge improvement in the H10 is its new battery compartment. Instead of a round cover that you remove by inserting a coin into a slot in the back and turning to unlock (like the Wahoo Tickr X), the H10 has a tab that you lift up to remove. It's much easier to open when the battery need replacing.
Polar has added small silicone dots to the strap to prevent slipping. I wear my chest strap on the tight side, so I haven't experienced a problem with other straps. However, I can see how the no-slip dots would enable you to wear the strap more loosely and comfortably and help prevent slipping while swimming.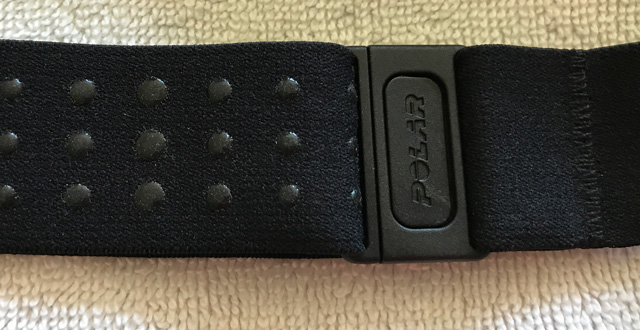 I wish the Polar H10 had an indicator light to show when the sensor is on and tracking my heart rate. For example, the Wahoo Tickr X has a blue light that indicates Bluetooth is on and a red light to show that it's picking up your heartbeat.
The Tickr X also has a tap sensor built-in. You can assign a function to double tapping the Tickr X: starting and stopping a workout, starting and stopping music, adjusting music volume, skipping music tracks and more. These can be set up by activity, so you could have a double tap adjust the volume when you're tracking a treadmill session and have it start tracking your workout when you're running outside. You can also set up the Tickr X to vibrate every mile, every 10 minutes or whatever you choose — not an option with the Polar H10.
Tracking technology
Polar added a third electrode to the H10's chest strap to improve the heart rate monitor accuracy. In my testing, I didn't find that it worked any better than the Wahoo Tickr X or the H7.
Both the Polar H10 and Tickr X can store heart rate data for one workout (up to one hour) on the monitor, so you can leave your smartphone behind. With the Tickr X, you can tap the monitor to start and stop your workout, but without verification that the tracking has started, I sometimes find it doesn't capture the data. With the Polar, you need to use the Polar Beat app to start a monitor-only session.
Regarding data: The Tickr X stores full heart rate data, shown as a chart, plus max and average rates, workout time, calories burned and time spent in fat burn and burst modes (at maximum heart rate).
The Polar H10 also stores full heart rate data, shown in a chart, including max and average heart rates, workout time, calories burned and fat burn percent of calories.
The H10 is water resistant to 30 meters and can be used to track swimming workouts. It can store your workout on the tracker or send information in real time to Polar fitness watches, using the 5 kHz band. The Wahoo Tickr X is not designed for swimming and is water resistant to only 5 meters.
The Tickr X's built-in accelerometer provides stride rate, ground contact time and other metrics usually gathered with a foot pod such as running smoothness, which is based on sway, ground strike, and bounce. With the Wahoo RunFit app (free for iOS and Android), you can gain insights into how to improve your running and take advantage of the accelerometer to count your reps when you're doing a strength training workout. The Polar H10, on the other hand, doesn't have an accelerometer. You'd have to buy a Polar Stride Sensor Bluetooth Smart ($64.47 on Amazon) to begin to access similar features, and then you'd only gain running insights.
The H10 will be able to connect to GoPro devices, so you can show your heart rate when you're capturing video.
Connectivity and reliability
The Polar H10 uses Bluetooth to connect to your smartphone. It uses its proprietary GymLink technology to connect to other Polar devices and most major brands of gym cardio equipment. It does not support ANT+, a wireless technology that allows monitoring devices, smartphones, gym equipment, sports watches and other devices to speak to one another. (Here's a directory of products using ANT+ technology.)
The Wahoo Tickr X has ANT+, and Wahoo's app walks you through pairing with gym equipment that has Bluetooth or the Wahoo barcode, a hassle compared to the auto-connect feature of the GymLink technology.
The Polar H10 paired easily with both iPhones and Android phones. If I moved out of range of a phone during a workout, it would automatically re-pair when I was in range. Connectivity with GymLink was automatic and reliable as well.
The apps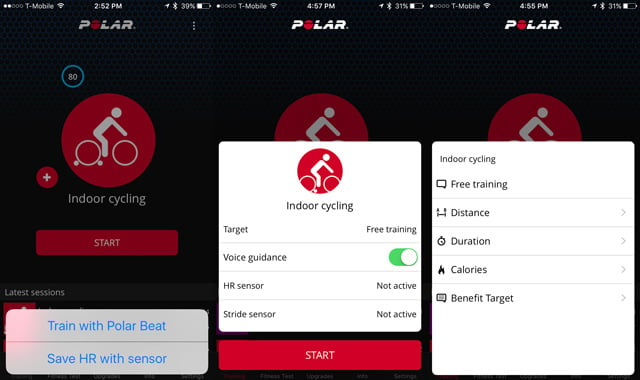 The Polar Beat app (free for iOS and Android) provides free tracking and in-workout training. Select from more than 100 types of exercises, including running, biking, kitesurfing, and judo. Once you've selected your sport, choose a target such as time, distance, duration or a benefit target ($2.99 in-app purchase). Targets include recovery workouts, tempo training or maximum performance.
When you select a target, you receive voice guidance to help you stay within the correct heart rate zones throughout your workout. After you work out, you'll get a full report with a heart rate chart, time spent in heart rate zones, a map of your run (if you run outside) and an evaluation of how your workout affected your fitness level.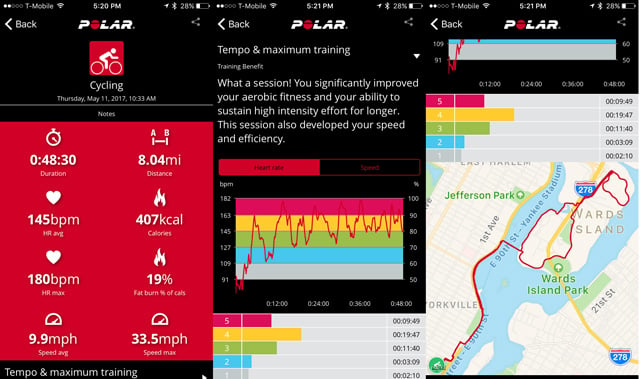 The Wahoo Fitness app delivers the same data with a different layout.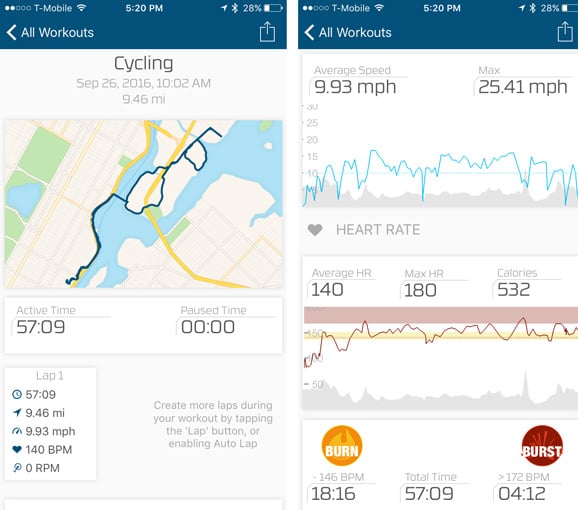 With in-app purchases, you can gain further insights. In addition to target benefits, there's the Energy Pointer ($2.99), which shows you in real time whether you're burning fat or improving your fitness. The Fitness Test ($3.99) tests your fitness levels while you're lying down. Get all the in-app upgrades for $7.99.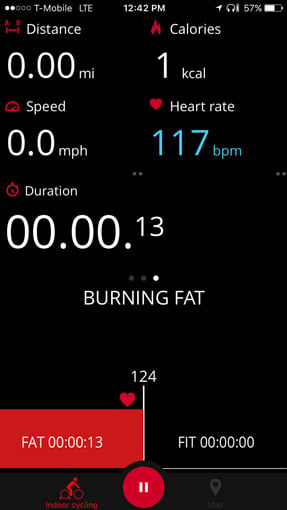 All of your workout data can be saved to your Polar account, unlike the Wahoo Tickr X, which only saves data locally to whatever Wahoo app you're using. If you switch devices with the Polar, you won't lose your data.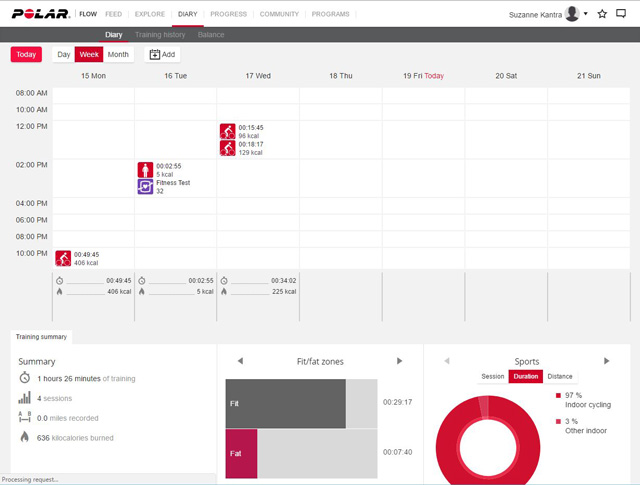 You can see your data in Polar Flow, a web service and app (for iOS and Android devices) that lets you more easily track your workout history and set up a fitness program. Polar Flow is really designed to work with Polar's heart rate monitor watches, which measure steps, sleep and more, but it's still useful for H10 owners.
Both the Polar H10 and the Wahoo Tickr X connect with Apple Health but not Google Fit, so you can share data with other apps. Both heart rate monitors work with a variety of third-party apps that support heart rate monitors, including Runtastic, Pear, and Strava. If you're not crazy about the Polar app, you can always use a third-party app.
Battery life
Polar claims that the H10 has twice the battery life of the H7 — up to 400 hours versus up to 200 hours. Two months of testing has been an insufficient amount of time to test this claim. With my average of four hours of working out per week, it would take more than a year to verify.
The bottom line
The Polar H10 is an excellent heart rate monitor. It's comfortable to wear, easy to use and has compelling apps that provide guidance while working out.
The Polar H10 is missing some of the features of the Wahoo Tickr X, its closest competitor, including an accelerometer for running analysis and repetition count, ANT+ connectivity for use with some fitness watches, a tap sensor and visible indicators that the monitor is working. But the Wahoo Tickr X also lacks several key features found on the Polar H10: water resistance for swimming, easy linking to gym cardio equipment, a wide variety of sports profiles and data storage outside of its apps.
In the end, a choice between the Polar H10 and the Wahoo Tickr X comes down to which of these particular features are the most important to you.
Polar H10 Heart Rate Monitor
[Image credit: Suzanne Kantra/Techlicious]
---
Discussion