Review of the Y-Cam BabyPing Baby Monitor
Techlicious editors independently review products. To help support our mission, we may earn affiliate commissions from links contained on this page.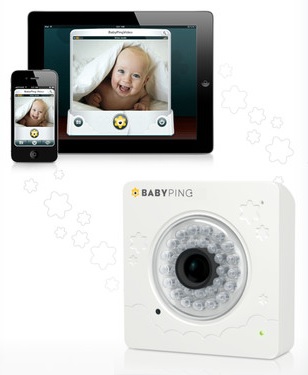 High-tech baby monitors that make use of your home's Wi-Fi network and your own smartphone or tablet are becoming more popular. What impressed us with the BabyPing Monitor by Y-cam is that it delivers easy out-of-the-box setup and high-quality video.
Set up
The BabyPing is made to work primarily inside your home on your home network, broadcasting video and audio to your iPhone or iPad using the BabyPing app (free in iTunes). You can step up to BabyPing+ app (free in iTunes) to access the camera outside your home network. (Android is coming soon)
Many high tech gadgets have high tech setups, but this was one of the simplest we've seen. The instructions are clear and easy to understand and setup takes only a few minutes. It's just a matter of plugging the monitor into your router and opening the BabyPing app to finish setup.
It's so easy, you could take the BabyPing with you to the grandparents' or friend's house. Keep in mind you'll need access to their router to sync the BabyPing on their network along with their password to login to their WiFi connection. If that's not going to pose any issues, you're all set.
Some baby monitors can be oddly shaped, with bulky handsets that come with it. The BabyPing packs a lot in a square, compact 3 1/3 x 3 1/3 inch device that's only a little over an inch deep. A permanent mounting bracket comes in the box, but I found it sits securely without the mount. Your iPhone or iPad act as the viewing monitor, so there's one less device taking up space on the coffee table.
Video quality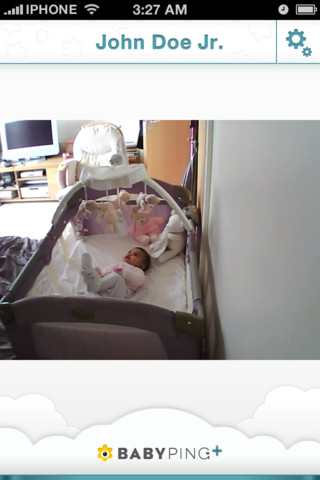 The BabyPing is both a daytime and nighttime monitor which comes equipped with 30 infrared LEDs that display no light, so your baby won't be disturbed when the room is dark (in fact the only light visible on the BabyPing indicates that it's functioning properly).
The video resolution is standard definition (640x480) at 30 frames per second without limited pixelization, so any movement or tossing and turning of your baby is noticeable. The microphone is extremely sensitive, although surprisingly the sound comes through a little muffled. We noticed the microphone also picks up everything from trucks rumbling by the house to the TV downstairs. There is BabyPing's SmartFilter technology built in, which removes some extraneous noise, but it clearly picked up a lot of other sounds.
Ease of use
There are only three buttons that appear on the bottom of the screen to take a screenshot of your baby, to switch to audio only mode and to turn the app on/off. There's also an indicator that shows the strength of the signal from the BabyPing monitor (similar to the bars on your cell phone).
Other nice features are a "Your baby Needs Attention" pop up alert on your device that lets you know when your baby is crying and a persistent red bar that appears across the top of your iOS device letting you know the BabyPing is transmitting. You will get an audible alert if your iOS devices disconnects from your WiFi and breaks the connection with the BabyPing.
Should you get it?
The BabyPing is a well-designed monitor that's easy to set up and delivers high quality video and peace of mind—inside and outside your home. It's great choice for those that have a smartphone and want the flexibility of taking a monitoring system with them.
Price: $199.99 on the BabyPing website and Amazon
Discussion