We may earn commissions when you buy from links on our site. Why you can trust us.

Review of the Cobra DSP 9200 BT Radar Detector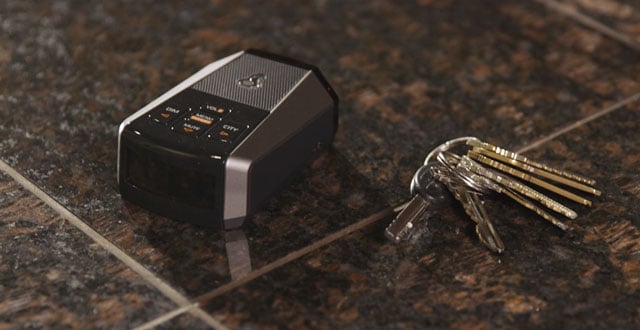 Cobra's newest radar detector, the DSP 9200 BT, dispels any doubt that Cobra isn't capable of competing with Escort and Valentine in making a top-quality radar detector. The diminutive 9200 BT offers considerable performance in a tiny package, equaling the Beltronics GT-7 and Escort Passport series in both detection and false signal rejection. The only real flaw I found in my review testing is that the 9200 BT's dim display that gets easily washed out in sunlight.
Unfortunately, with Escort-level performance comes a near-Escort-level price tag of $349.95 on Amazon, discounted from $399.99. That's nearly the same price as the $400 Valentine One and only $80 less than the Escort Passport Max (now on sale on Amazon for $430), which has built-in GPS and a red light/speed camera database. If we see the price of the DSP 9200 BT getting slashed at retail, as other Cobra models typically have been, the DSP 9200 BT will be a real winner.
Performance & testing
Cobra is now part of the same manufacturing family as Escort and Beltronics and all three companies are sharing the same core digital signal processing components (DSP) in their newest line of detectors. So it wasn't surprising to find that the Cobra DSP 9200 BT performed nearly identically in my testing to the Escort Max and new Beltronics GT-7.
Driving hundreds of miles across a half-dozen states (New York, New Jersey, Connecticut, Illinois, Delaware and Maryland), the Cobra was very much the equal to it siblings for both radar detection and false alert rejection. The 9200 BT provided ample warning for both K-band and Ka-band radar, with far fewer false alerts than our top budget detector, the analog-based Whistler CR85. Notably, the Cobra has none of the issues with the collision avoidance systems from other vehicles that send the Whistler into squawk mode.
I was not able to evaluate laser detection because I never encountered a laser speed trap (that I'm aware of) in my testing. I'm hedging because laser tracking uses an extremely narrow beam aimed low on the car (usually the license plate or headlight) that is very difficult to pick up. And, even when you do detect it, it's too late to slow down—your speed is registered nearly instantly. So I chalk up laser detection as largely a marketing gimmick.
I didn't have a Valentine One to test against the Cobra. Testing by other reviewers has shown the Valentine One to be roughly on par with the Escort-based DSP devices for detection distance. The Valentine One line has been known to be more prone to false alarms, though those can be quieted somewhat if you're willing to get into the device settings and customize the unit, as well as connect it to your phone through an optional Bluetooth module. In this regard, the 9200 BT will be better out of the box for most purchasers.
Features
The built-in features on the Cobra DSP 9200 BT are pretty much what you would expect from a radar detector. There are three modes—Highway, City and City Max—that adjust sensitivity and turn off X-band if not needed, and various dimming and volume options. Unlike the Escort Max 360 or Valentine One, there are no directional arrows to tell you which direction radar signals are coming from, nor built-in GPS to provide location-based false alarm lockouts or red light/speed camera alerts.
Those features can be significantly expanded by connecting the DSP 9200 BT to your smartphone via the built-in Bluetooth and running Cobra's iRadar app. By leveraging the GPS in your smartphone, you'll now get real-time alerts for speed & red light cameras, as well as reports of police activity reported by iRadar users or picked up by other Cobra iRadar-connected radar detectors. Though given the relative newness of the Cobra iRadar-capable detectors, I would guess that the community is quite small relative to Escort's similar Escort Live service. Additionally, iRadar offers basic navigation with real-time traffic, so you don't need to run Google Navigation simultaneously (Note: I did not test the effectiveness of Cobra's navigation versus Google).
Thankfully, Cobra includes a lifetime subscription to iRadar with purchase of the DSP 9200 BT. That's a huge savings over Escort, which charges $19.95 a year (or $39.95 for three years) to get updates for its red light camera database. Plus, if you want real time alerts from the Escort Live community, you'll need to purchase yet another subscription of $49.99 a year.
Design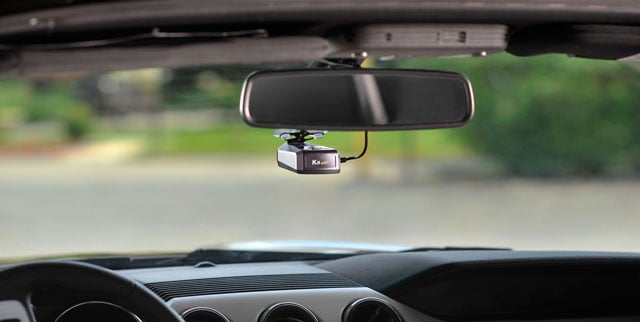 The Cobra DSP 9200 BT is a real standout when it comes to design. Not because it's especially pretty (it shares the typical black box aesthetic of pretty much every other detector on the road, save the copper-accented Beltronics GT-7), but because of its diminutive size. At only 1.10" H x 2.28" W x 3.35" D, the 9200 BT is far less intrusive on your dashboard, windshield or visor than any other detector I've seen on the market.
Cobra was also thoughtful enough to add a USB jack to the 9200 BT's cord, so you can charge your phone while the detector is plugged in—a critical feature for when you want to use your smartphone for navigation or the iRadar app. And, oddly, a basic feature that Escort still hasn't figured out yet. Though Cobra could take a cue from Escort by providing a coiled cord (rather than the straight one which tends to dangle all over) and a mute button on the plug so you don't need to fumble for the tiny one on the device itself – quite a challenge when driving, especially at night.
I was far less impressed with the 9200 BT's display, which is dim to the point of being unreadable in direct sunlight. In future versions, Cobra needs to make the display brighter, as well as set it back in the device so it is better shielded from direct sun.
[UPDATE 3/6/16: Cobra updated the display on the DSP 9200 after the first production run. I tested one of the newer units and the display is considerably brighter. Kudos to Cobra for listening to user and reviewer feedback.]
The DSP 9200 uses a standard suction cup mount. It worked fine, though I find the sticky mount of the Beltronics GT-7/Escort Passport models easier to get mounted and less prone to losing its grip.
Wrapping it up
The Cobra DSP 9200 BT is an all-around excellent radar detector. It doesn't have all the bells and whistles of the Beltronics GT-7 or Escort Passport line, though many of those features can be replicated through the iRadar app subscription, which is free for purchasers. I'm also a big fan of the unit's unobtrusiveness on my windshield.
What I'm not a fan of is the price. Even at a $349.95 discounted price, it is competing closely with the more full featured Passport Max ($430 on Amazon) and the highly-regarded Valentine One ($400 from Valentine), with its very popular directional alert arrows. And, given the option, I would go with one of those two units, instead. If Cobra lets retailers drop the price to $299 (or better yet, $249), the DSP 9200 BT becomes a very compelling alternative to the pricier models and would be a no-brainer choice over the far noisier Whistler CR85, even at its much lower $130 price.
Cobra DSP 9200 BT Radar Detector
---
Discussion