The Best Radar Detector Under $200
Techlicious editors independently review products. To help support our mission, we may earn affiliate commissions from links contained on this page.
[Editor's note 5/9/16: We've updated this story. Click here for the new recommendations.]
The Whistler CR85 wins the award for Best Radar Detector Under $200 for its lack of compromise, including the detection of a wide range of crucial radar and laser frequencies, excellent performance and solid feature set.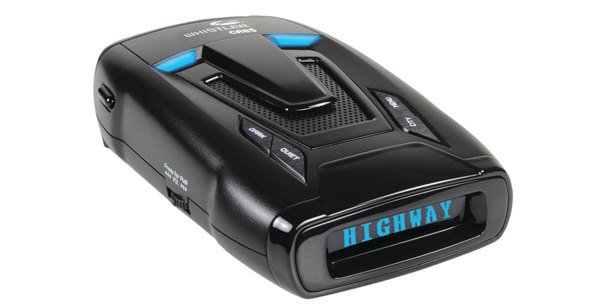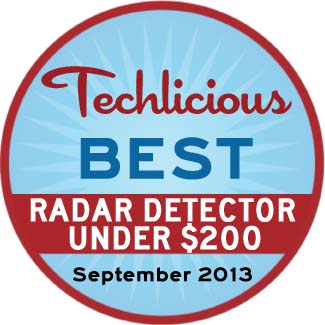 Driving over the posted speed limit can result in a pricey speeding ticket, a mark on your driver's license and an associated insurance premium increase. So a radar/laser detector that warns you of police presence early can be a wise investment — as long as the price of the radar/laser detector doesn't greatly exceed the financial consequences of the ticket.
Radar/laser detector prices range from below $100 to more than $1,000, with the sweet spot for some of the best in the $400-$600 price range. That's probably much more than the average driver would be willing to spend, however, and with this in mind I went searching for the best radar/laser detector priced under $200.
After wading through reviews by both consumer users and professional critics, and checking prices online, my choice was clear: the Whistler CR85.
Read on to learn why.
Up–to–date tech specs
Although the manufacturer's suggested retail price for the newly launched CR85, set by Whistler Group, Inc., is $229.95, I found it discounted to only $144.00 at Amazon.com — easily meeting my price requirement.
Low price doesn't signal a lowly feature set, however. In fact, I was impressed by all that this relatively inexpensive radar/laser detector offers. Besides the requisite ability to detect X band, K band, SuperWideBand Ka radar and laser systems (including the instant–on variety) wielded by police, the CR85's features include:
• A Traffic Flow Signal Rejection mode that reduces false alerts caused by radar used for roadway traffic flow sensors.
• Two radar filters (one for X and K Band, and one for Ka Band), plus three settings per filter to reduce false alerts.
• A Ka band radar identifier that shows when signals were detected within the most common Ka frequencies used by police (33.8, 34.0, 34.3, 34.7, and 35.0).
• A laser identifier that helps filter out the LIDAR-based adaptive cruise control and lane departure safety systems found in some new vehicles.
• Three city/highway modes and a "quiet mode" that silences audio alerts, which can include voice alerts.
• Real Voice Alerts verbal announcements of the detected radar band.
• Alert Priority, which visually indicates the most important detected radar or laser signal, when more than one is detected.
• A vehicle battery saver function that sets the CR85's automatic shutdown feature.
• A Stay Alert function that helps keep the driver's attention by periodically challenging him to press a button within three to five seconds before sounding an alarm at full volume and displaying a visual alert.
Easy on the eyes
I also was pleased to see that the CR85 has a high–resolution blue OLED (organic light–emitting diode) display that is easy to read at a glance in both daylight and at night. The display shows symbols of alerts detected, modes and signal strength.
The matte black case also minimizes annoying windshield reflections.
Excellent professional reviews
All those fancy features don't mean anything if the radar detector doesn't perform. With many inexpensive models, this is a real concern.
However, the CR85 is essentially identical to its predecessor, the Whistler Pro-78SE, and its sister model, the XTR-690SE, both of which have received excellent reviews from professional radar testers. And the CR85 adds coverage for new types of laser guns that these earlier models don't detect.
Laserveil.com found the Pro-78SE to perform as well as even the high-end Bel STi Driver on the dreaded Ka band, describing its reception to Ka radar as "nothing short of remarkable" and ranking Whistler as "the provider of the greatest values in radar detector ownership."
RadarDetector.org said of the XTR-690SE that it is an "outstanding unit with good range and sensitivity."
And at RadarTest.com, the Whistler Pro-78SE showed excellent performance, roughly on par with the $179.95 Bel Pro 100 in detection tests.
The competing Bel Pro 100 would have been a strong contender for me, but for two issues. First, with a retail price of $179.95 and few discounts to be found, it costs about $35 more than the Whistler CR85. Second and more important, it received a very poor review on RadarDetector.org, which called the Bel Pro 100 a "severe disappointment in every way", both for failing to detect real radar and for excessive false alarms.
Reviews for Cobra models fell slightly behind the Whistler, especially in crucial Ka band detection.
Favorable user reviews
Though it is a new model, I read multiple positive user reviews of the CR85 from actual owners on various radar forums and shopping sites. These included a comprehensive four–paragraph–long review posted on Amazon by user Dasan, who compared the CR85 in action side–by–side with a new Whistler Pro–78SE that he purchased in early July — with their settings matched.
"The difference between the 2 was so great that my wife told me to pull the trigger on another CR85 for myself which should be here tomorrow lol," Dasan wrote.
He particularly praised the CR85's ability to detect police laser, known as LIDAR, and said owning the CR85 dissuaded him from wanting to buy a laser jammer.
Whistler CR85 Radar Detector


Runner Up: Whistler CR90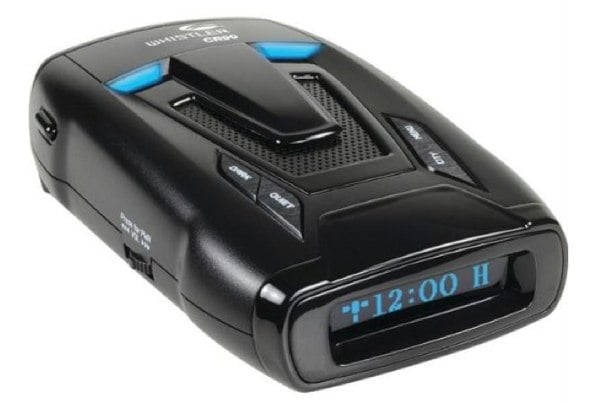 In the under $300 price category, my selection for best radar detector would be Whistler's CR90 model, which is just coming to market. Its MSRP is $279.95, but I found it at Amazon.com for under $200 from a variety of sources.
The CR90 has all the same features of the CR85, plus GPS functionality, which alerts for red light camera and speed traps using its internal (and upgradable) database. And unlike GPS features from Bel and Escort, there is no subscription fee to use the Whistler service.
Veil Guy wrote of the CR90 in July, "Whistler's engineering has continued dazzling me with more improved offerings, year after year, of value-priced over-achievers….Unlike Escort and Beltronics, the Whistler comes preloaded with the GPS and doesn't require an annual renewal fee to stay current. This makes these new radar detectors from Whistler even greater compelling values."
If the added GPS features are important to you, then the CR90 may be a good choice over the CR85 (and a bargain compared to comparable models from Bel and Escort). Otherwise, save the money and go with the CR85.
Whistler CR90 Radar Detector


If Money is No Object
If you want absolute top performance and don't mind paying a couple hundred more dolalrs, check out our recommendation for the Overall Best Radar Detector.
Discussion