Review of the Apple HomePod
Techlicious editors independently review products. To help support our mission, we may earn affiliate commissions from links contained on this page.
Is it the best-sounding and most beautiful smart speaker extant with a lot of potential or an overpriced smart speaker with limited functionality? The 'net has been bubbling over with one or the other of these wildly divergent assessments of Apple's new Siri- and HomeKit-compatible HomePod speaker. In our review, we definitely lean towards the latter.
In many ways, these subjective views miss the point. Considering the widespread blind faith in and appeal of Apple's products, the question is: Who ought to consider buying HomePod and who ought to avoid it?
To help answer this question, we auditioned the HomePod along with some other smart speakers, in particular, what we consider the best-sounding and most flexible Amazon Alexa speaker available thus far, the Sonos One ($199 on Amazon).
Overall, both divergent points of view about the HomePod are true. It lives up to its aesthetic and sonic hype – it's built like an haute couture tank and, with some caveats, produces impressive, room-filling audio. But HomePod is also expensive, and neither Siri nor Apple's smart home platform HomeKit is as smart or functional as Amazon Alexa — as either an information source, a personal assistant or a voice-command controller of connected HomeKit-compatible smart home gadgets.
Here are the important factors to consider as you make your HomePod buying decision.
Who should buy a HomePod
1. Dedicated Apple customers
Maybe "should buy" is the wrong sentiment here – only dedicated Apple customers CAN buy the HomePod since it's an Apple ecosystem exclusive. It requires an iOS device running the current operating system (at least 11.2.5), which means only iPhones 5S and newer (no iPhone 5 or older) or iPad Air and newer (see a complete list of iOS 11-compatible and non-compatible Apple devices here). Android owners cannot and, therefore, need not apply.
2. The technically challenged
Adding an Amazon or Google Assistant smart speaker isn't necessarily complicated. But both ecosystems require you to first download their Alexa or Google Home apps, enter your Amazon or Google account info, wait for the app to "discover" your speaker, then walk through screens identifying Wi-Fi networks and inserting your network password and other system information. Because Apple "knows" all, this process is super-simplified with HomePod. Just turn on Bluetooth on your iPhone, plug HomePod into AC, wait about five seconds for the "ready" beep, bring your iPhone within an inch of it, and watch the setup screens immediately pop up. There are just five perfunctory screens – room location, access permission, Terms and Conditions, and Apple account and settings/app access permission – and some Siri test phrases just to make sure it's working, and you're done.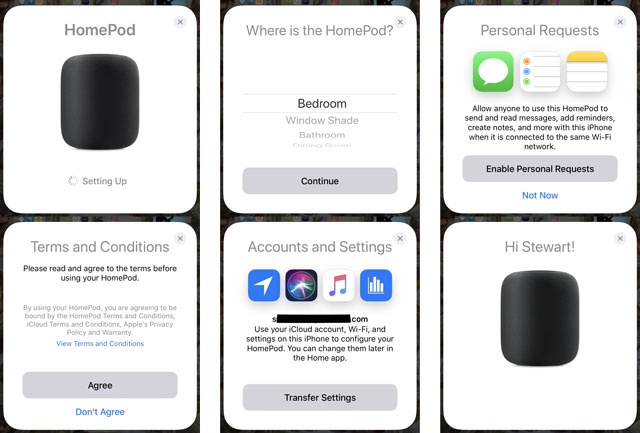 The setup sequence even correctly pictures which color HomePod you bought (white or space gray) and identifies you by name at the end. You can adjust what few settings there are through Apple's HomeKit app, which is preinstalled on your iPhone. One drawback: At this writing, Apple hasn't yet added HomePod as a category on its support website; on the off-chance that you run into setup or usage trouble and need to call, you'll have to pick an Apple product you own and then wait to be transferred.
3. Smart home neophytes
True, there are far fewer HomeKit-compatible smart home products than there are for Alexa or Google Assistant. But there are enough smart gadgets in the major products categories – lights, locks, thermostats, security cameras, etc. – to get you started (peruse a list of HomeKit-compatible smart home products here), even if some top products, such as the Ring doorbell cam, are missing. Also, adding these third-party products to HomeKit is less complicated than the corresponding process is with Alexa or Google; on the HomeKit app splash screen, just hit the "+" sign in the upper right-hand corner and scan the HomeKit-specific barcode on the compatible product when prompted, and the device is discovered and added. Alexa and Google require you to search a list first to find your third-party smart device.
4. Modern music lovers
Much has been made of HomePod's outstanding aural attributes – and they are impressive; even through its one speaker, your room is drenched with a consistently broad spectrum of sound regardless of where you're positioned. But after listening to a wide swath of music — including Taylor Swift, Pink Floyd, Kendrick Lamar, The Beatles, Prince, Frank Sinatra, David Bowie, Dave Brubeck, Beyoncé, the "Alexander Hamilton" soundtrack, James Taylor, Katy Perry, Miles Davis, Bruno Mars and Beethoven – it's apparent that HomePod's sonic tendencies lean toward the bottom end, which makes it much more conducive to listening to hip-hop, rap, electronic dance, house and other modern musical genres that are heavy on bass and beat. By comparison, the Sonos One sounds brighter and clearer across the frequency spectrum, but especially the midrange, so is superior for pop music, jazz, classical and vocals. On a functional note, Siri never failed to hear me call — which can be an issue with some less-endowed smart speakers (occasionally with the Sonos One; more often with the JBL Link 20 Google Assistant speaker) — regardless of how loud the music was blaring (although your nearby Watch or iPhone may also respond). In my usage, though, even when my iPhone or Watch responded, HomePod carried out my spoken command.
5. Lovers of fine objects
HomePod is solidly built and a piece of technological art that easily blends into a room's décor. It certainly makes for an impressive conversation piece. But, caveat emptor: Apple has admitted that HomePod will leave a white ring on wood surfaces, so a coaster is recommended.
Who shouldn't buy a HomePod
1. Those who want a Bluetooth speaker
Unlike with Amazon's Echo, you can't directly stream music from your phone to HomePod via Bluetooth – HomePod's Bluetooth is for setup only. In other words, unlike the Echo, HomePod is NOT a Bluetooth speaker and can't be used as one. By comparison, both Echo and Sonos One can, as can the Google Assistant-enable JBL Link ($400 on Amazon). Instead of Bluetooth, you use Apple's AirPlay to play locally-stored music or music streaming services from your iOS device on your HomePod. Just choose the HomePod in the audio source list on the song screen in the Music or other streaming service app. While AirPlay may actually seem easier than Bluetooth, this misses the point because…
2. Spotify and Pandora subscribers
HomePod can directly voice-access only a limited number of music sources – just Apple's, including Apple Music ($9.95/month) — not even including your own music stored on your iPhone unless it was purchased through iTunes or stored in an Apple iTunes Match account. Of course, both Amazon and Google also require subscriptions (limited free or complete paid) to their respective music services, but you can ask both Alexa and Google Assistant to access Spotify and a variety of other streaming services directly (and you can even select one as your default service), rather than requiring your smartphone, as HomePod does. (See how to link third-party music streaming services for Alexa here, and for Google Assistant here.)
3. Those who want multiroom capability
At some point you'll be able to pair two HomePods to create a stereo pair. But, unlike Alexa-enabled speakers and a growing number of Google Assistant smart speakers, multiple HomePods can't be linked to create a multiroom system – at least not at the moment. Apple has promised multiroom support; it just hasn't said when.
4. People who want a "smart" smart assistant
Since HomePod is a Siri-compatible product, you can also create Notes, Reminders, Messages and Alarms, as well as messages via some third-party messaging and organizational apps such as WeChat and Evernote, by voice. For some bizarre reason, though, HomePod doesn't connect to Apple's own Calendar app. When you ask HomePod what's on your Calendar schedule, it tells you it can't get that information, even though asking Siri through your phone will list your upcoming appointments. Even Amazon's Alexa connects to your Apple Calendar as well as Google, Microsoft Outlook and Office 365 calendars (Google can only access Google calendars). HomePod suffers from several other lapses. Unlike Alexa and Google Assistant speakers, for instance, HomePod can't initiate a phone call. And when you ask Alexa or Google Assistant to set a reminder for a particular day, you'll get a follow-up "What time?" response. Siri, however, simply defaults to 9am on the specified day. A recent report from Loop Ventures found that HomePod was the stupidest smart speaker platform – Google Assistant (the smartest), Alexa and even Microsoft's Cortana were able to answer more queries correctly than Siri and HomePod (Samsung's Bixby wasn't included).
5. Bargain hunters
HomePod costs $349, and is probably worth every penny, considering its solid build quality and impressive sonic skills. But for the same price, you can buy TWO equally impressive Sonos One Alexa speakers (which will soon be compatible with Google Assistant as well). Two Sonos Ones can easily be paired together wirelessly to create a stereo couple that sound fuller than a single HomePod.
Summary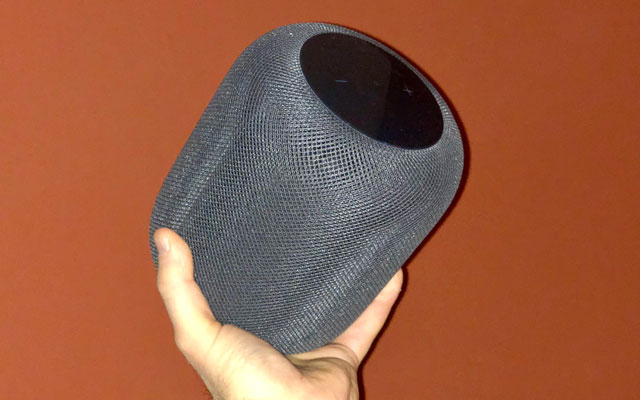 It's difficult to recommend the HomePod to anyone except Apple adherents, especially since you have to own an iOS device to operate it. You can perform the same HomeKit and personal assistant smart home control functions from an iPhone or Watch, or you can buy an Amazon Dot ($39.99 on Amazon) and pair it to any equivalent or superior-sounding and less-pricey Bluetooth speaker such as the Riva Turbo X ($179), which many (including this writer) consider the best-sounding Bluetooth speaker available. I simply cannot comprehend what needs Apple's HomePod fills or what value it presents.
[Image credit: Apple, Stewart Wolpin/Techlicious]
Discussion