We may earn commissions when you buy from links on our site. Why you can trust us.

Review of the Bose Frames

Combining classic flat-black frame fashion sunglasses with discrete onboard speakers, the Bose Frames ($199.99, check price on Amazon) are my favorite audio wearable of 2019. Viewed head-on from the front, Bose Frames look, and function like conventional sunglasses. The giveaway is with the side view – of distinctive, wedge-shaped arms that hide an abundance of battery-powered audio circuitry for your personal listening pleasure that's shockingly hi-fi in quality.
Sound quality
The Frames are ripe for all kinds of music, except maybe deep bass hip hop, heavy rock, and electronica. Thump, they don't.  With recessed micro-speakers firing down out of the bottom edge of the Frame arms, just above your ears, listeners are enveloped in a surprisingly lush cloud of stereophonic music that's seemingly floating around your head. It's artfully detailed - from tautly vibrating bass notes to shimmering cymbals and all stops between.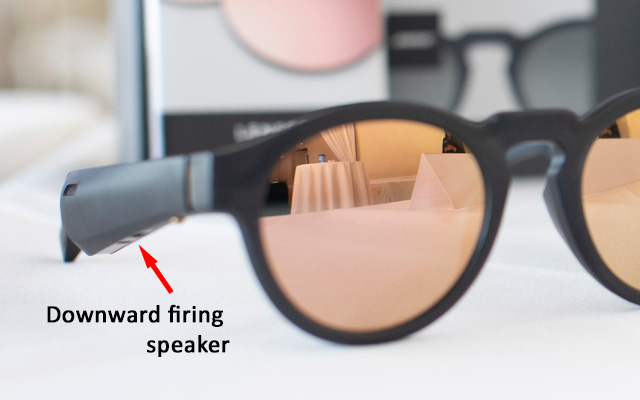 The best thing about Frames – from both a sociological and safety perspective – is that they don't isolate and alienate the wearer from the outside world (nor physically fatigue) like ear canal-plugging buds and cans (over-the-ear headphones). And even if you run the Frames at a moderately loud level (the best they can do), the music won't bother fellow travelers. Friends and strangers hovering just a few feet away from a Frames wearer/listener hear almost none of what you hear, even in an otherwise quiet environment.  How? Bose has reverse engineered its trailblazing noise cancellation magic for this new toy. So, what happens in your personal space stays in that space.
The Frames are a first-rate sonic performer at home or in the office, quite good on the bus or train, or when walking down a quiet street. But be forewarned, the music fades to nearly nada in a heavy traffic roar. 
Call quality
Bluetooth wireless-enabled, iOS, and Android-friendly, Frames are also miked and ready for hands-free phone calling and for Siri and Google Assistant operations.  In a phone conversation, the party at the other end sounds really "up-close and personal" in my ears. And how did I sound to them? Slightly muffled but discernable, with hardly any ambient noise getting in the way. That's all because the microphone sits on the inside of the sunglasses' right arm.
Onboard controls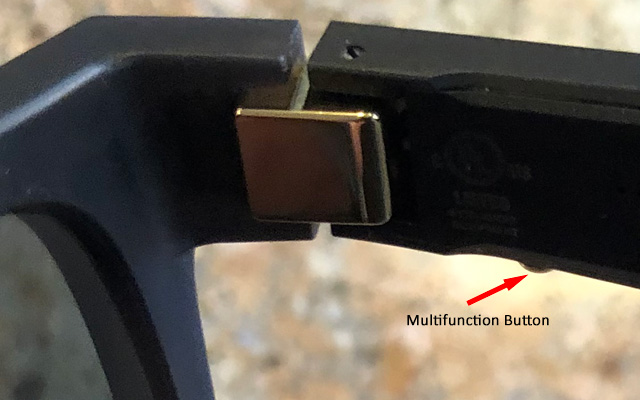 Near flawless operation of Bose Frames is achievable with a single, multi-function button, with voice commands, or with a connected app. The multi-function button is located on the right arm of the Frames and can be single, double, or triple tapped to turn on power, open the microphone for commands, pause/play music, and jump ahead or back a track. With practice, it's also possible to initiate, answer and even juggle two phone calls with that same button. Shutting the Frames off is really easy – just flip the Frames upside down, as you'd likely do to rest them on a table.
Glasses performance
The first-gen, squarish-shaped Bose Frames Alto shades (think Ray-Ban wannabees) were too big for my face, though so light – just 1.5 ounces – it's easy to forget I'm wearing them. The round-lensed Bose Frames Rondo sunglasses  are slightly smaller, a better personal fit, though I'm not crazy about the bookish, "Harry Potter" look they convey. The Rondo Frames are cuter on female wand-wielders. Ah, but now users also have a brand new, third option – a downsized "S/M" version of the Bose Frames Alto. These fit my narrower mug and "Austin Powers - Man of Mystery" persona just right.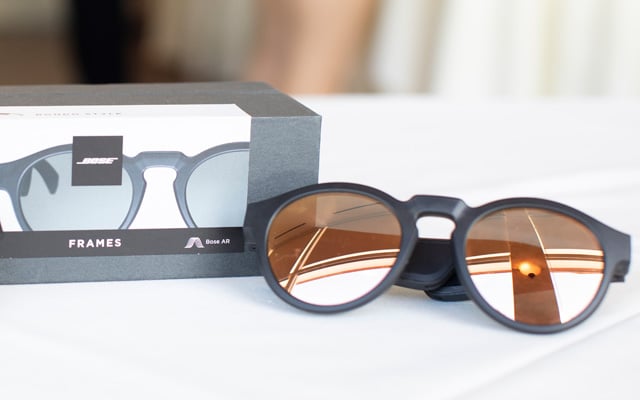 Bose has also quickly answered the complaint of users who don't like the standard-issue grey tint lenses in Frames. For $19.95, you can now buy your choice of swappable (pop out, pop in) Rose Gold, Blue Gradient, or Mirrored Silver lenses with UVA/UVB ray protection. And for $10 more,  you can get polarized lenses.
But the really big news is the availability of prescription lenses with the recent opening of a Bose-lens department at GlassesUSA.com.  Send the site your prescription and they'll custom grind you lenses to pop into the Frames, starting as low as $49 (with coupon) for single vision clear lenses. Of course the add-ons can really raise the price – if you need  bifocal or progressive lenses (a $169 uptick),  protective coatings and a sunglass tint, or go all-in with photochromic lenses (a $59 upgrade) that are clear indoors then turn into grey-tinted sunglasses when you walk into bright light. One might make the argument that souped-up Frames could function as your one and only pair of glasses – with built-in stereo/communications system.
Cautionary note: As GlassesUSA.com is an independent supplier and not officially sanctioned by Bose, installing GlassesUSA lenses voids your original Frames warranty. I lowered my risk of accidental breakage by having a local optician swap out the lenses. It took a minute with no charge.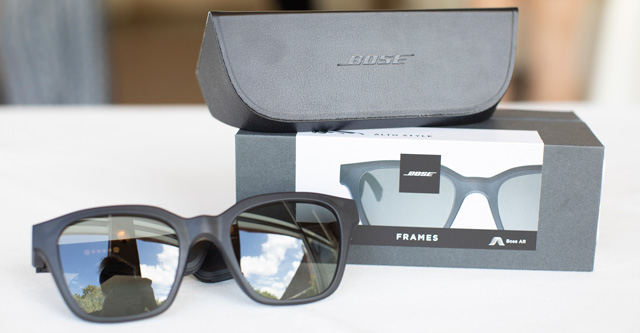 I do have a quibble about the triangle-shaped carry case. It feels bulky in my jacket pocket. Hopefully, they can slim it down for next time.
Augmented reality apps
In addition to speakers, the Frames pack an on-board gyroscope at the core of a 9-axis head tracking, direction sensing/steering circuit, and companion software. In tandem with your smartphone,  all that tech measures not only your location but also where you are precisely looking to enable special augmented reality apps. Growing in number (with Bose funding), these unique audio excursions range from guided meditation to 360-degree sound field trippin' to tours of town landmarks and golf courses. A merging of talents the developer calls audio augmented reality or Bose AR.
I took the apps out for a spin and really enjoyed the Bose Frames guided tour through New York's Central Park, commencing at The Dakota apartments and "Strawberry Fields" John Lennon tribute territory and ending up across the park near the Metropolitan Museum of Art.
Battery life
When listening at a moderate level, I score four hours of play time per battery charge. In standby mode, ready to answer a call, the Frames stay awake for 12 hours. A battery fill-up, only manageable off your head with a special magnetically attached USB charge cable, then takes about 2.5 hours.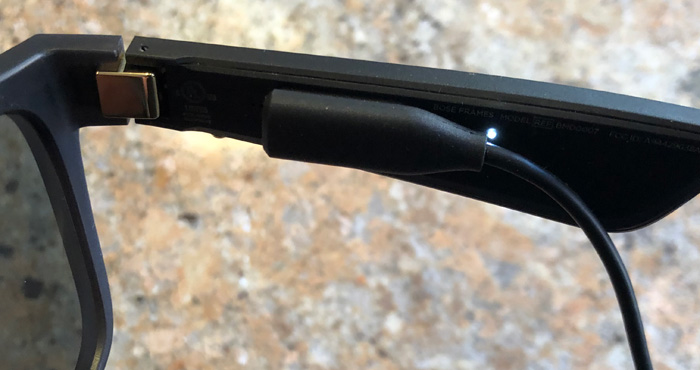 Hopefully, the Bose engineers can up the Frames' run times in Gen II. Or at least add a fast charge function that might deliver an additional hour of play after, say, ten minutes of charging, a perk found in some wireless earbuds and headphones. 
The competition
Several cheap ($69-$79) variations on the Bose Frames have recently emerged on Amazon from makers like Inventiv and Trendloader Sigma, likewise touting an "open ear audio design" for safe listening to music and hands-free calls. But user reviews say the audio quality falls short, and sound leaks out of these things like a sieve, disturbing the neighbors. Because these knockoffs lack Bose's amazing noise cancellation skills.
Amazon will doubtless do better with its own branded Echo Frames, teased at a press preview in September. These are being designed to run Amazon Music with Alexa voice control when connected to an iPhone (something not supported by the Bose Frames). Echo Frames will weigh in at a mere 1.09 ounces and should start at $179.95, with prescription lens upgrades available prior to shipping.
The bottom line
The Bose Frames liberate a listener differently than conventional wireless earbuds or headphones – by keeping your music private while keeping you in the loop, eliminating the isolation that can get a distracted person into trouble.  And bonus points – these audio sunglasses also eliminate eye strain – another cause of walk-around stress. While not as punchy and loud as tightly sealed earbuds or headphones, Frames certainly fill the role of headphones respectably, and put a secret smile on your face like nothing else in portable sound today. And now, with the third-party prescription lens option, everybody can get in on the fun.
For this holiday gifting season, the Bose Frames are the only first-class ticket to traveling incognito, with no squinting and a sweet song playing in your head.
Price: $199.99 on Bose, check price on Amazon
[Image credits: Jonathan Takiff/Techlicious, Leah Roth/Techlicious]
---
Discussion