Review of the iPhone 4S
Techlicious editors independently review products. To help support our mission, we may earn affiliate commissions from links contained on this page.
Yes, the iPhone 4S has set all manner of sales records in its first days of availability. But if you haven't yet indulged, you have a critical price-performance decision to make.
iPhone 4S is barely an upgrade to the 4, and now a 4 can be had for $99 vs. $199 for the base 16GB 4S model. Apple's biggest iPhone upgrade hasn't been hardware though, but its recent mobile operating system overhaul.
iOS 5 is a major step forward, especially the new Reminders app (essentially a fancy, and quite welcome, to-do list), a remarkably accurate text-to-speech dictation option for email and texting, Twitter integration – you can now simply upload a photo to your Twitter feed.
And since iOS 5 comes with the 4 (or current 4S can be upgraded), and Apple's new iCloud storage and sharing service, 4 users lose nothing operationally by staying put.
But iPhone 4S offers have one exclusive draw: Siri, a voice-controlled personal assistant that not only is both fun and functional, but may represent as the first major machine-user interface paradigm shift since Apple introduced the point-and-click GUI on the Macintosh more than 25 years ago.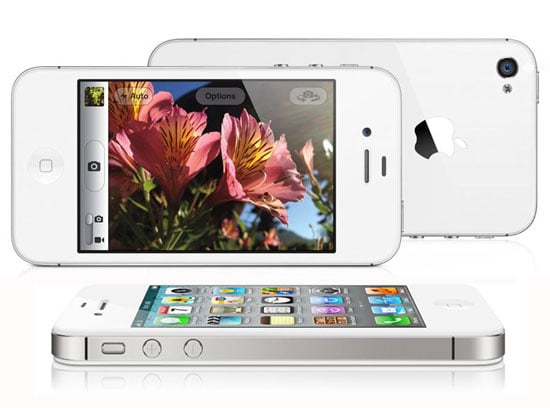 How it feels in the hand
Externally, the iPhone 4S is exactly the same as the 4, just .1 ounces heavier, which is hardly worth mentioning (even though I just did). Like its predecessor, 4S is still a slippery little devil, and you will want to encase it to make it more securely graspable (even though encasing the 4S destroys the iPhone's carefully wrought design aesthetic – a paradox I've been unable to fathom).
Display & Sound
Android smart phones now regularly sport 4-inch displays and larger; the screens on the Sprint and T-Mobile versions of Samsung's Galaxy S II measure 4.52 inches.
Which means the 4S has a screen a full inch smaller than these newest models, which gives me a severe case of screen envy. But Galaxy S II's vaunted Super AMOLED fades in direct sunlight, while 4S' screen cuts easily through the daylight's glare.
I could detect no difference in speaker sound quality between the 4 and the 4S, which means you get plenty of clean conversation without holding 4S up to your ear.
Web browsing & mobile hotspot
Two improvements provide faster Web browsing in the 4S – a more powerful 800MHz Dual Core A5 (vs. a single core 1GHz in the 4) and, for AT&T customers, a doubling of the connection speed from 7.2 megabits per second (Mbps) in the 4 to 14.4Mbps in the 4S. But these are 3G, not 4G connection speeds.
To be honest, these ratings are theoretical. In actual usage testing (using the speedtest.net app available in the iTunes store and Android market), I discovered 4S supplied only around a 25 percent speed boost.
But these improvements – and whatever else Apple does to make iPhone perform beyond the sum of its parts – is enough to make the 3G iPhone 4S not only faster than the 4, but faster than the 4G Sprint Galaxy S II for loading Web pages, less buffering for video playback and uploading even high-resolution 8MP photos.
Camera & video recording
Much hullabaloo has surround the upgrade from 5MP in the iPhone 4 to 8MP photos in the 4S (along with the addition of an extra lens in the assembly), but I found only a marginal improvement. The 4 already took surprisingly high-quality photos, the 4S a little more so.
And iOS 5 provides in-camera rotation, auto-fix, red-eye removal and cropping for both the iPhone 4 and 4S.
Videos are bright and colorful, but with a hint of jitter produced by the digital image stabilization, but this is far less jitter than you'd get without the stabilization.
With iOS 5, the volume up button now doubles as the camera shutter release. Unfortunately, this places the pinhole camera lens on the lower right, right where you'll be gripping the phone to reach the volume up key. You have to be wary of light bouncing off the top of your thumb into the lens as you support the bottom of the 4S as you shoot, and your free fingers wandering into the view finder.
Like previous iPhones, there are no additional settings, such as stepping down resolution for still or video, or – most annoying – self-timer options.
Keyboard & Navigation
It's an iPhone – navigation is stupid simple.
iPhone's keyboard has always been an acquired taste, especially for newbies, which makes iOS 5's text-to-speech transcription for texting and email all the more welcome. Thus far, it has tripped up only once – on "4S". It thought I said "for ass."
But iPhone 4S' real wonder is Siri. Simply by bringing the iPhone 4S up to your ear, she "pings" to let you know your wish is her command. You can ask her in normal conversational English for information you'd normally look up in Wikipedia, ask directions, the weather, or to perform an iPhone function – make a call, create a reminder, play a song, set a wake-up alarm, whatever. For instance, I asked Siri for the nearest restaurants, the phone number of a local hardware store, the time in Berlin, who Victor Herbert was (he came up over dinner), and she sweetly answered with unerring accuracy.
Siri also can handle more complex tasks – setting up a calendar appointment, addressing, composing and sending an email – all via voice, all without needing to even look at the screen. She also answers some esoteric questions – several Web sites have already begun to document Siri's fascinating responses to abstract questions.
Like a real digital assistant, Siri saves you a lot of time and screen tapping, as long as there is no other ambient noise to distract her or distort your request, and as long as your iPhone 4S is connected to the Internet. Siri's communication to her cloud-based brain often results in a lag of two-or-three seconds.
What's most remarkable about Siri is this is her debut. She performs far more maturely than most version 1.0s of any technology I've ever used, stunning since this kind of voice communication – without you having to train her to understand your vocal peculiarities or the need for you to use specific Siri syntax to form your questions – is the kind of techno-magic we've come to expect from Apple.
Storage
New with the 4S is a larger 64GB capacity, which has allowed me to load in more than 10,000 music tracks.
Don't simply dismiss this extra-large capacity when deciding which model to buy. Bear in mind 8MP photos and 1080p video take up a lot more space than you think – one photo, for instance, can total around 3.5MB.
Battery life
While time did not allow a true test of 4S' battery, Apple has never fudged on its ratings.
There are only two differences between the battery in the iPhone 4S and the 4 – you get one hour longer in talk time, but, bizarrely, 100 fewer hours (300 vs. 200) of standby. Other than these differences, both the 4 and the 4S provide the same 6 hours of Web surfing, 10 hours of video playback and 40 hours of music listening.
Pricing and availability
The iPhone 4S comes in three storage configurations from AT&T, Verizon and Sprint: $199 for 16GB, $299 for 32GB, $399 for the new 64GB configuration.
For most folks, the 32GB model is the sweet spot, mostly to accommodate the heftier 8GB photos and 1080p video you're sure to shoot.
Should you buy it?
If you currently own an iPhone 4, the only reason to upgrade is Siri, which works only with iPhone 4S' more powerful processor and speedier Internet connection.
For everyone else, the 4S may not match-up spec-wise with other new Android models, but in the short time I've used it alongside a Samsung Galaxy S II, it performs nearly every task, connected or not, faster and more powerfully in nearly all respects. In only one area does the 4S lag behind its Android competitors – Apple's stunning decision not to increase even incrementally its screen size. But this isn't as much a drawback as just annoying.
One caveat: we all thought Apple was working on a true next-generation iPhone 5. My guess is it still is, the same way it was likely plotting the 4 even when introducing the 3S.
iPhones usually have bowed in June/July. One reason for the initial geek disappointment in the 4S is that it took so long to get here, only to not be the 5. Your only question is, if the iPhone 5 goes on sale in less than a year, will you be cheesed off about buying the 4G?
When it happens, yes. Now? Nope. For the time being, Siri will make you pleased as punch.
Rating: Highly recommended for all but current iPhone 4 owners.
Detailed Specs
Talk and Standby Time: Up to 8 hours talk time, up to 8.3 days standby
Band/Modes: UMTS/HSDPA/HSUPA (850/900/1900/2100); GSM/EDGE (850/900/1800/1900); CDMA EV-DO Rev. A (800/1900)
OS: iOS 5
Weight: 4.9 oz
Dimensions: 4.5 x 2.31 x 0.37 inches
Display: 3.5" LCD (960 x 640)
Battery: 1430 mAh
Video: 1080p, image stabilization
Camera: Rear-facing 8.0 megapixel, Digital Zoom, Auto Focus, LED flash
Front-facing Camera: VGA
Mobile hotspot: Up to 8 devices
Processor: 800 MHz Dual Core A5
Memory: 512MB RAM, 16GB, 32GB or 64GB onboard storage
Discussion
New Articles on Techlicious