Review of the Samsung Galaxy S II Epic 4G Touch (Sprint)
Techlicious editors independently review products. To help support our mission, we may earn affiliate commissions from links contained on this page.
The Samsung Galaxy S II Epic 4G Touch is a massive phone with very strong features. Media junkies will appreciate the 4.5-inch display and powerful dual-core processor. Photo buffs will love the Epic 4G Touch's excellent 8MB camera and 1080p video. It's an all-around great phone.
In fact, the only criticisms I can weigh against the Epic 4G Touch are that the large size is best suited to those with man-hands and Sprint's WiMAX 4G network comes up a distant second against Verizon's LTE network. And even the size is not as much of an issue as you may think, thanks to its light weight and slim profile.
For Sprint customers, the Epic 4G Touch joins the Motorola Photon as our "highly recommended" choice.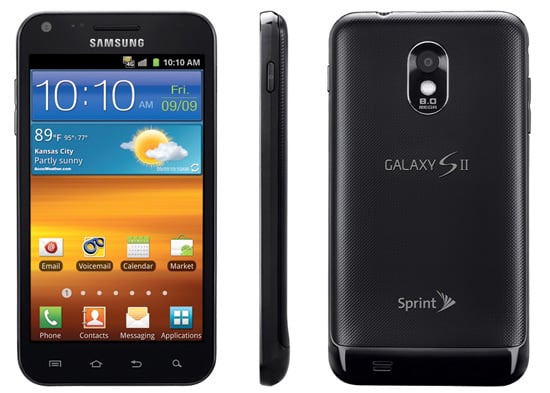 How it feels in the hand
There's no way around it, the Epic 4G Touch is not a small phone. Measuring 5.11" x 2.74" x .38", it's among the widest phones I've tested. If you have petite hands, you should look elsewhere. But it's also very slim and extremely light at 4.6 ounces, so it can slide easily into a pocket. Thankfully, Samsung went with a textured matte-finish back, which aids the grip.
Buttons for power and volume are on the small side and feel like cheap plastic, but they work well enough.
Display & Sound
The Epic 4G Touch has a 4.52" (800 x 480) Super AMOLED Plus display. The display is bright and offers exceptional color and contrast. The resolution is lower than the qHD display (960 x 540) of the Photon and the display is larger, but I didn't notice any difference with image or text clarity in day-to-day use.
The built-in speaker was loud, though provided somewhat muddy sound. Call quality was otherwise very good for a Sprint phone, but I've had mixed call quality results with all Sprint phones here in New York City.
The Epic 4G offers HDMI out through its micro-USB port (requires adapter cable).
Web browsing & mobile hotspot
With 4G in its name, you may have high hopes for the data speed on the Epic 4G Touch. Unfortunately, my experience continues to show that Sprint's WiMAX network is highly inconsistent here in New York City. At best, it still doesn't come close to Verizon's LTE network. At worst, it slows to a crawl. I did manage to hit download speeds of 12.5Mbps on one occasion. The rest of the time it bounced around between 1Mbps and 4Mbps, with occasional dips into sub 500Kbps territory.
The Epic 4G Touch can act as a mobile hotspot for up to eight devices.
Camera & video recording
The 8MP camera in the Epic 4G Touch truly excels. It is absolutely top of it's class for picture quality, offering sharp, clear photos with natural colors and little noise. It will be interesting to see how the Epic 4G Touch compares to the iPhone 4 S camera when it is released in a few days.
Camera controls are also among the best on any phone. The numerous settings are accessible from a single menu button, and there are four shortcut buttons that you can customize for easy access to any of the settings. There is a single LED flash.
On the front there is a 2MP camera, which was notable for its ability to handle poor lighting conditions.
The Epic 4G Touch of the few phones that has the power to handle 1080p video recording. I was very impressed with the lack of stutter or artifacts I see all too commonly in cell phones. The Epic 4G Touch was also able to refocus quickly as I panned around — another welcome improvement. The video was a little shaky from my hand movement and there was a bit of wobble, but solid overall.
Keyboard & Navigation
The Epic 4G Touch runs Android 2.3.4 Gingerbread, with tweaks from Samsung for its TouchWiz interface. Thanks to its 1.2GHz dual-core processor, navigation on the Epic Touch flies. Opening menus, scrolling contacts, launching apps, the Epic 4G Touch is the fastest phone I've tested.
As you might expect from such a large display, the keyboard is well-spaced, ad both Swype and a multitouch keyboards are options.
Storage
The Samsung Epic 4G Touch comes with 16GB of onboard storage and a slot for up to a 32 GB microSD card.
Battery life
Every Sprint 4G phone I've used has had poor battery performance. So it was quite a surprise to see how well the Epic 4G Touch performed. Even with 4G on, the phone lasted through the day under normal usage, and well into the next with light use. With 4G off, it improved even further. Samsung's decision to pack a massive 1800mAh battery into the Epic 4G Touch was a wise one.
Pricing and availability
The Samsung Galaxy S II Epic 4G Touch is available for $199.99 from Sprint with a new, two-year customer agreement. Or you can pick it up from AmazonWireless
for only $99.99.
Should you buy it?
The Samsung Galaxy S II Epic 4G Touch is provides Sprint customers with a great choice for an Android device. The beautiful display, excellent camera and super snappy operation make it a real pleasure to use.
Is it better than the Photon 4G? The general answer is, "Yes." However, some people will definitely find the Epic 4G Touch a little too large to use comfortably. And while the Photon is hardly small with a 4.3" display, it was a better match for my hand. The Photon also offer worldphone capabilities — necessary for overseas travel.
Of course, with the iPhone 4S coming to Sprint, many people will be tempted to go that route. If you're looking for a smaller phone and love the Apple ecosystem, that's the way to go. But while Sprint's 4G service may not be leading the market, their 3G network is far worse (at least here in NYC). And the iPhone 4S will cost you $100 more than an Epic 4G Touch through AmazonWireless (though you won't have to pay the $10 a month 4G fee for Sprint Sprint will be charging a monthly $10 premium for the iPhone 4S, even though it is not a 4G phone).
When considering the features and price, the Samsung Galaxy S II Epic 4 G Touch is a phone that I feel very comfortable recommending.
Rating: Highly Recommended
Detailed Specs
Talk and Standby Time: Up to 8.7 hours talk time, up to 10.5 days standby
Band/Modes: WiMAX 2.5, CDMA 800/1900
OS: Android 2.3.4
Weight: 4.6 oz
Dimensions: 5.11 x 2.74 x 0.38 inches
Battery: 1800 mAh
Display: 4.52" Super AMOLED Plus (800 x 480)
Video: 1080p
Camera: Rear-facing 8.0 megapixel, Digital Zoom, Auto Focus, LED flash
Front-facing Camera: 2 megapixel
Mobile hotspot: Up to 8 devices
Processor: 1.2GHz Dual Core (Samsung Exnyos C210)
Memory: 1GB RAM, 16GB onboard storage and microSD slot up to 32GB
Discussion
New Articles on Techlicious