We may earn commissions when you buy from links on our site. Why you can trust us.

Review of the LG Optimus G (AT&T & Sprint)
LG Optimus G review summary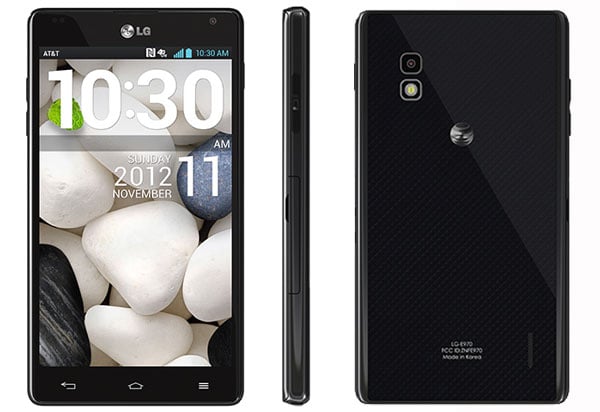 The LG brand is widespread, gracing products from televisions to microwaves to smartphones. In that last category the cache isn't so high. Though LG has been trying for years to make Android devices that inspire envy, often the handsets fail to capture the attention thanks to uninspiring design and difficult interfaces.
Of late, LG phones have gotten much better, and the LG Optimus G is the result of that climb to a better smartphone. With this phone you get a slick, holdable device that may not have the flash of a Samsung or HTC phone, but isn't just a slab of plastic and glass, either. Available for $199 on both AT&T and Sprint, the Optimus G is out to stand shoulder to shoulder with other large-screen phones like the Galaxy S III and Droid Razr HD.
How does it measure up? I was surprised to find that the answer is: really well. This is a powerful Android phone with some good features and a great screen. My full impressions are below.
How it feels in the hand
The Optimus G is more comfortable to hold than you'd assume by looking at it because LG doesn't do much to minimize the blocky, angular look of the phone. It's a rectangle with rounded edges, nothing more fancy than that. However, the edges have a comfortable, rounded curve to them, so the phone doesn't feel blocky. The buttons are nicely placed as well – power on the upper right and volume on the upper left, both of which are easy to reach without having to shuffle your hand up and down.
The Sprint and AT&T versions have slightly different designs, but the same overall feel. The Sprint one is a little slimmer and lighter, which you can only tell by holding them both at once.
Thanks to a relatively thin bezel, the 4.7-inch display doesn't make the Optimus G feel giant. It's possible to use the phone one-handed, it's just not the most comfortable.
Display & sound
Gorilla Glass 2 protects the display from scratches and some hard knocks, and you definitely don't want to mar this beauty. The IPS Plus screen has a 1280 x 768 pixel resolution and colors that pop. You'd have to hold the phone at an extreme angle to see any color distortion thanks to the excellent display technology. So whether you're watching movies or playing a game that requires tilting, your view won't be hampered by dark or distorted pixels. Sunlight readability is good thanks to a the very bright screen.
On the back sits a small speaker grille that's capable of nice, loud volume for speakerphone calls and music. Unfortunately, once you set the phone down the sound is almost completely muffled. Call quality in itself is very good via the speaker or the earpiece. Callers reported that my voice came through clearly, but the phone didn't eliminate all background noise. I got great quality when calling via Bluetooth headset as well.
Web browsing & network
Both the AT&T and the Sprint versions of the Optimus G are LTE-ready. If you're a Sprint customer in an area where the LTE network is on, then you'll likely experience really fast downloads and web surfing. Since Sprint's LTE coverage is so small right now, most will have to contend with the carrier's 3G network, and that is a sad thing, indeed. Sprint's 3G can be painfully slow. If the phone fell back on 4G WiMax the wait for LTE might not be a big deal. Sadly, that's not the case.
AT&T's 4G LTE network isn't nationwide yet, either, though it is available in more cities than Sprint. When there's no LTE available, the Optimus G models from this carrier fall back on the HSPA+ network. While not as impressive as LTE, it's much faster than 3G and delivers bearable speeds as you wait for AT&T to build out their network.
Both Optimus G's come with the stock Android "Browser" and the newer Google Chrome browser. The latter is the better choice for a variety of reasons, the most prominent being that it's more likely to get regular updates and it can sync with the Chrome on your computer, making it easier to keep track of bookmarks and web history across devices.
Camera & video recording
Another difference between the AT&T and Sprint models is that the Sprint version has a 13-megapixel camera on the back whereas the AT&T one has a more standard 8-megapixel shooter. Extra pixels don't always mean better quality, and in this case the results are mixed. Outdoor shots taken with the Sprint version looked better and had more color depth, though the AT&T version produced crisper photos. AT&T's Optimus G also did better indoors.
Fiddling with the settings on both versions produces better results. The camera app contains a wealth of settings and functions to help make pictures even better, especially if you know what you're doing. You get control over white balance, ISO, and exposure plus scene modes, HDR, and a macro setting. It's nice that LG includes some voice commands, so you can take a picture by just saying Cheese.
Both are capable of recording 1080p video and the results are quite good. Videos are crisp with good audio even in noisy situations.
Keyboard & navigation
The LG Optimus G runs Android 4.0 Ice Cream Sandwich with a user interface "skin" or overlay called Optimus UI 3.0. This skin tweaks the look and functionality of Android a little and makes the icons look somewhat less sophisticated. There are benefits to skins, especially in the form of good widgets for the Home screen. However, if you don't like it when companies mess with how Android looks, the Optimus G won't be your cup of tea.
Optimus UI's additions and tweaks are awfully reminiscent of Samsung's TouchWiz. They say imitation is the sincerest form of flattery, and so perhaps Samsung should feel very flattered. Elements like QuickMemo for drawing notes on the screen or a screen shot, Wise Screen for detecting your face so the display doesn't turn off while you're looking at it, and placing toggles for wireless radios and other settings at the top of the Notification drawer are all things I'm used to from Galaxy S phones. Is it a bad thing that LG is utilizing these good ideas? Not at all.
Optimus UI also offers a fair bit of eye-candy, allowing users to choose the animation for unlocking the phone and swiping between home screens. Thanks to the 1.5 GHz quad-core processor and 2GB of RAM, these extras don't slow the phone down. Overall performance is impressive, with apps opening quickly and gameplay on intense titles smooth.
The LG Keyboard is well-designed and offers word suggestions and the ability to slide a finger continuously to spell words. Punctuation is available via long-press and both the period and comma keys require a single tap, so composing short text is speedy and easy.
Storage
AT&T's Optimus G comes with 16GB of internal storage and a 16GB microSD card is included. Sprint's Optimus G comes with 32GB of internal storage. The microSD slot on the left edge of both models accepts cards up to 64GB.
Battery life
Though we weren't able to test the Sprint model on an LTE network, the phone didn't last much longer than the AT&T version, which was on 4G LTE during testing. Both phones lasted all day with medium-to-heavy usage and without any power-saving tweaks. The AT&T version impressed me by going for a full 12 hours before dropping below 15 percent.
Pricing & availability
The LG Optimus G is only available in one color and from just two carriers.
AT&T $199.99 (from $99.99 on Amazon Wireless
)
Sprint $199 (from $99.99 on Amazon Wireless
)
Should you buy it?
The Optimus G is one of the best smartphones LG has ever produced. It doesn't wow with looks, opting instead to impress with speed, performance, a beautiful display, and a good user experience. Among the big superphones out there it's not the flashiest, but stands up to the likes of the Samsung Galaxy S III and the HTC One X.
The question is then, Sprint or AT&T? If you already live in a city with Sprint's 4G LTE network, the Optimus G will serve you well. However, for those still waiting, having to deal with 3G during that time may completely frustrate you. This kind of phone begs for a speedy connection so you can enjoy web pages and download apps in a flash.
The AT&T model has the benefit of faster speeds even when LTE isn't available, though you will have to deal with the carrier's usual overload of bloatware. Battery life may be even better than Sprint, which is a big plus.
Rating: AT&T - Highly Recommended; Sprint - Recommended
---
Detailed Specs
Talk and Standby Time: Up to 10 hours talk time, up to 13.5 days standby
Band/Modes: GSM/GPRS 900/1800 MHz, HSPA+21 Mbps 850/1900/2100 MHz, LTE Cat. 3 CSFB 700/1700/ MHz
OS: Android 4.0 Ice Cream Sandwich
Weight: 5.19 oz
Dimensions: 5.15 x 2.82 x 0.33 inches
Battery: 2100 mAh
Display: 4.7" True HD IPS Plus Display (1280 x 768)
Video: 1080p
Camera: Rear-facing 8.0 megapixel, Auto Focus, LED flash
Front-facing Camera: 1.3 megapixel
Mobile hotspot: Yes
Processor: 1.5GHz Quad Core
Memory: 2 GB RAM, 16GB onboard storage and 16GB MicroSD, with support for up to 64GB of expandable memory
Discussion