Review of the Samsung Galaxy Note (AT&T)
Techlicious editors independently review products. To help support our mission, we may earn affiliate commissions from links contained on this page.
"Is that a phone or a tablet?" That was the reaction I received each time I pulled out the Samsung Galaxy Note in front of the uninitiated. The answer? "Both."
Samsung is treading that no-man's-land between phone and tablet, where few have dared journey since Dell's 5-inch Streak received a ho-hum reception from both consumers and the press. But the 5.3 inch Samsung Galaxy Note is a far better device than the Dell Streak was, and may find a following among those who who are looking to consolidate products and don't need a full-size tablet.
As a phone, the Galaxy Note is among the best out there, with a beautiful display, excellent camera and strong battery. As a tablet, it's pretty small and doesn't offer as much battery life, but it can make calls. So is it right for you? Read on and decide.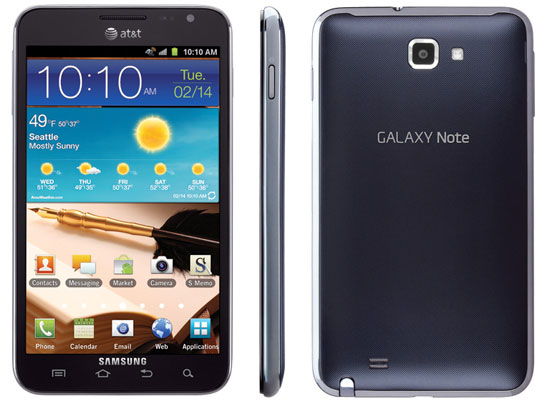 How it feels in the hand
This is a very large phone at 5.8 inches x 3.3 inches x .38 inches. The super-thin profile, textured back and rounded corners all contribute to a comfortable grip—if you have big hands. Many women will find it too wide to hold easily. Samsung manages to keep the weight down to a mere 6.28 ounces.
And you notice that size when you hold the Galaxy Note up to you head to make calls—if you had two of them, they would do an excellent job mimicking the horse-blinders they use for carriages in Central Park. But if you can get past the potential social awkwardness, most people won't find it a bother. And there's always the option of using a Bluetooth headset if you do.
Beyond the hand, the Galaxy Note also feels large in pants. If your plan is to carry it in a jacket pocket or purse, you'll find it fits just fine.
The power button is placed appropriately on the top right side and is easy to feel with your thumb. The two volume rockers on the left side are likewise easy to control.
Display & Sound
The HD Super AMOLED display (1280 x 800) is superb—it's bright, has rich colors and, well, it's big. Plus, the HD resolution lets you watch movies in their full HD glory, while providing sharp text. Whether you're a movie junkie or just want to browse the web, display-wise, there may be no better phone on the market.
Sound through the built-in speaker was loud and well-defined.
Web browsing & mobile hotspot
The Samsung Galaxy Note runs on AT&T's LTE network—a huge step up from their "4G" HSPA+ network. Typical download speeds on the LTE network were in the 15-17 Mbps range, with upload speeds around 10-13 Mbps. AT&T's LTE network is still not as widespread as Verizon's, and we were often stuck with far slower 4G speeds. But there's no question an LTE phone is the way to go if you're in an area with coverage.
That speed, combined with the Note's 5.3-inch display, made web browsing a pleasure. On a recent business trip, I used the phone to enter stories into our online content management system
The Galaxy Note can be used as a WiFi mobile hotspot for your other wireless devices or via USB tethering. It will also automatically connect through to an AT&T WiFi network when in range (such as your local Starbucks), but you can't use it as a hotspot while the Note is connected to a WiFi network.
Camera & video recording
The Galaxy Note has one of the best cameras of any phone I've tested (a welcome change from my recent experiences with flagship devices from its competitors, the Motorola Droid Razr Maxx and LG Spectrum). Colors were vibrant and accurate, without the over-saturation I saw on earlier Samsung devices, and details were excellent. The camera focused quickly (and accurately), which reduced shot time. In fact, the camera was almost as good as many point-and-shoots I've used—high praise indeed. (the photo below doesn't do it justice)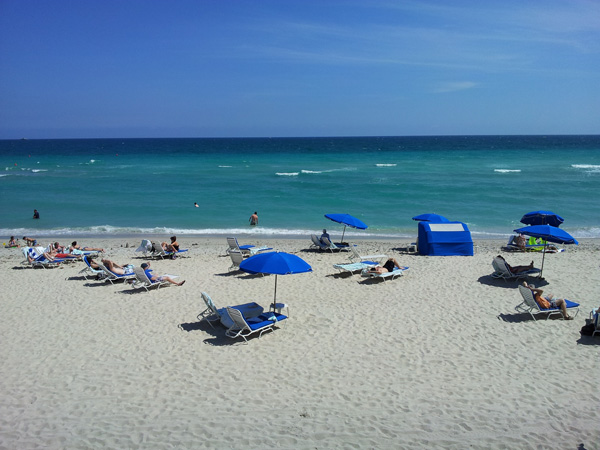 The Note also shoots 1080p video with similarly excellent results. Even on a gray, overcast day, colors stood out and there was plenty of detail.
Keyboard & Navigation
The Galaxy Note runs Android 2.3.6, which doesn't always mesh with the Note's high-resolution display. Some apps, such as the calendar, do better; with Samsung taking advantage of the extra real estate to add helpful navigation tabs along the side. And the larger display has the width for five columns of app icons, rather than four.
But apps designed for lower-resolution displays, including Amazon's Appstore, would often display text that was too small to be legible. Samsung says that the Note will be upgraded to Android 4.0 (Ice Cream Sandwich) at some point, but hasn't confirmed a date. That upgrade should allow it to take advantage of apps designed for tablets, which may resolve the sizing issue.
Performance on the Note was great. The 1.5 GHz dual-core processor had no trouble handing any of the tasks thrown at it.
Of course we can't talk about navigation without mentioning the stylus (called the "S Pen"), tucked discretely into the bottom of the Note. The S Pen is a very sensitive input device, able to sense 256 levels of pressure—if you're the artistic type, it makes the Galaxy Note an interesting pocket sketchpad. I can't draw to save my life and, even if I could, the Note wouldn't be my first choice for sketching my next masterpiece. You can also use the S Pen to annotate photos, which may come in handy every once and a while, but still isn't selling the stylus's necessity for me.
One promising use of the stylus is handwriting recognition. Anywhere that you can enter text, you can switch out the keyboard for a text input pad. Unfortunately, like every other handwriting recognition device I've used in the past, the Note did a poor job translating what I was writing. Often the Note displayed complete nonsense words, with a mixture of letters and numbers, indicating that there was little artificial intelligence at play. In the end, it was much easier just to use the standard keyboard.
Storage
The Samsung Galaxy Note has 16GB of internal storage and an microSD card slot for an additional 32GB.
Battery life
With a screen this large and a powerful processor, I expected the Note to have terrible battery life. I was wrong. The 2,500mAh battery kept it going strong through the day. On a recent business trip, the Note lasted 12 hours with me clanking away at it on a regular basis. With lighter use, I got close to 36 hours. Very impressive numbers for a phone of this scale.
Pricing and availability
The Samsung Galaxy Note is $299.99 on AT&T, a decent price given the Note's features. And you can pick it up for $249.99 on AmazonWireless.
Should you buy it?
The Samsung Galaxy Note has a terrific set of features—LTE speed, excellent HD display, superb camera, fast processor—that make it one of the best phones on the market. And on those features alone, it's easy to highly recommend it. But the real wildcard is its size, and that's a question you need to decide for yourself.
Rating: Highly Recommended
Detailed Specs
Talk and Standby Time: Up to 10 hours talk time, up to 10.4 days standby
Band/Modes: GSM/GPRS/EDGE: 850/900/1800/1900 MHz
OS: Android 2.3.6 Froyo
Weight: 6.28 oz
Dimensions: 5.78 x 3.27 x 0.32 inches
Battery: 2500 mAh
Display: 5.3" HD Super AMOLED (1280 x 800)
Video: 1080p
Camera: Rear-facing 8.0 megapixel, Auto Focus, LED flash
Front-facing Camera: 2.0 MP
Mobile hotspot: Yes
Processor: 1.5 GHz Dual Core
Memory: 1GB RAM, 16 GB onboard storage and microSD card slot (expandable to 32GB)

Discussion