We may earn commissions when you buy from links on our site. Why you can trust us.

Review of the T-Mobile MyTouch 3G Slide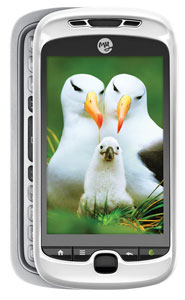 T-Mobile launches the new MyTouch 3G Slide today. The phone is available for $179 (based on a 2-yr plan and with $50 mail-in rebate), and comes in black, red or white.
A month ago, we gave our initial impressions of the new T-Mobile MyTouch 3G Slide. And over the last week, I've had the opportunity to review the MyTouch 3G Slide hands-on.
The MyTouch 3G Slide is a great phone, especially for those new to smartphones, with every feature the average phone user would want—5 MP camera with flash and face detection; fast 3G web browsing; slide-out keyboard; easy integration with email, Facebook and other social networks—plus a few nice surprises that should even make techies consider it as an option.
The MyTouch 3G Slide runs on the Android platform (version 2.1, to be specific). The Android marketplace has nearly 40,000 apps and offers serious competition to the iPhone. T-Mobile uses a customized version of Android for the MyTouch 3G Slide, which may make it difficult to upgrade to newer versions of Android down the road. But realistically, most people probably don't upgrade their phones anyhow.
The MyTouch 3G Slide offers a 3.4-inch touch-screen capacitive touch display with multitouch abilities and hepatic feedback—a tactile response to interaction with the touch screen. Touch-based actions worked smoothly for me and the screen is reasonably bright, but becomes washed-out in sunlight.
Setting up the MyTouch 3G Slide
Set-up was simple. The phone walks you through the basic email and social network syncing, and other personalization settings. If you have a Facebook account, the set-up will automatically pull your Facebook friends into your contacts, along with their phone numbers and photo—very convenient.
Through the set-up, you can also add your key contacts to Faves Gallery, an app that will highlight their Facebook posts, text messages, photos calls and email. Plus, you can set your alerts to only trigger when there's a message or update from your Faves, not everyone.
The homescreen is divided into five pages (expandable to seven), and is easy to customize with your own apps. Unlike the iPhone (at least until the new 4.0 operating system rolls out), apps can be grouped in folders, which makes it very easy to organize.
Using the MyTouch 3G Slide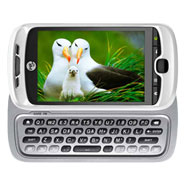 While the MyTouch 3G Slide has a slide-out keyboard (Hence the name. Get it?), I didn't find it particularly easy to use. The flat keys made typing difficult and I found myself hitting the backspace button all too frequently to correct errors—the keyboard is one area where Blackberry still rules. The on-screen keyboard wasn't much better.
But, what makes the MyTouch 3G Slide special is the Swype capability. While not unique to the 3G Slide, with Swype you don't type each letter individually. Instead, you just swipe your finger across the letters to spell out each word. It's dead-simple to learn and, for me, was much faster and more accurate than the other methods. Perhaps, even better than my beloved Blackberry keyboard...
Another terrific addition to the MyTouch 3G Slide is it's "Genius Button". The Genius Button uses natural language processing to issue commands. For instance "Find Starbucks near me" or "Send text to Josh Kirschner. I'm running late. Start without me." Built on Nuance's Dragon Dictation, the MyTouch 3G Slide learns your voice over time, which makes it more accurate.
In my experience the Genius Button worked surprisingly well and became my default for web searches. Though I wish they offered an "add a word" to the system for non-standard terms or names. "Techlicious" usually came up as "text wishes" or some other variation.
While generally intuitive, some of the menus were quirky. For instance, while a notification bar is conveniently located at the top to display information about new emails, phone messages, etc., actually navigating through the notifications was frustrating. After acting on one notification from the list, I couldn't find a way to simply go back to the list without multiple clicks. I also was unable to snooze or cancel reminders individually—only "snooze all" or "dismiss all".
Web browsing on the 3G network was reasonably fast. I measured downloads speeds of around 720 Kbps; good enough for casual web browsing and streaming standard definition video. Of course, being an Android phone, it handles Flash, as well.
Finally, the MyTouch 3G Slide can operate as a very effective navigation system—with turn-by-turn directions, voice prompts and integrated traffic conditions—using Google Maps and the built-in GPS receiver.
Should you buy it?
The MyTouch 3G Slide is a solid phone with enough features to satisfy almost everyone. It has some quirks, but nothing that is a deal killer.
With the iPhone 3GS recently cut to $97, the MyTouch 3G Slide seems a little pricey at $179. But when you consider that the MyTouch can replace having a separate nav system, as well as doing most of what the current iPhone can do (and sometimes more), the price isn't too out of line.
If web browsing and video streaming play heavily into your day-to-day, you may want to consider a 4G phones, such as the HTC EVO 4G from Sprint for only $20 more ($199 after $100 mail-in rebate).
---
Discussion