We may earn commissions when you buy from links on our site. Why you can trust us.

T-Mobile 5G Home Internet Offers Lots of Promise but Has Some Quirks
In the land of home internet, most consumers have little choice of a provider. Cable monopolies, whether legislated or market-driven, are common in most markets. According to a Consumer Reports survey, more than half of the respondents had a choice of two or fewer Internet Service Providers (ISPs) in their area. Given the lack of competition, it should not be surprising that these companies receive abysmal ratings for both service and value in the same Consumer Reports study. And while fiber technology options, such as Verizon FiOS and Google Fiber, fare better, fiber is only available to fewer than 20 percent of households.
That lack of consumer choice and satisfaction creates a huge opportunity for services like T-Mobile 5G Home Internet, which utilizes the same 5G cellular networks powering our smartphones to deliver broadband inside your home. Because T-Mobile 5G Home Internet is cellular based, there is no need to run wires to your house. And it should, eventually, be able to support consumers wherever the T-Mobile 5G cellular network covers, even in rural areas where cable isn't available. However, because the cellular network needs to be able to support the additional internet traffic, T-Mobile is rolling out Home Internet gradually in parallel with those network upgrades, and you may not be able to sign up immediately in your area, even if your neighbor is already on it.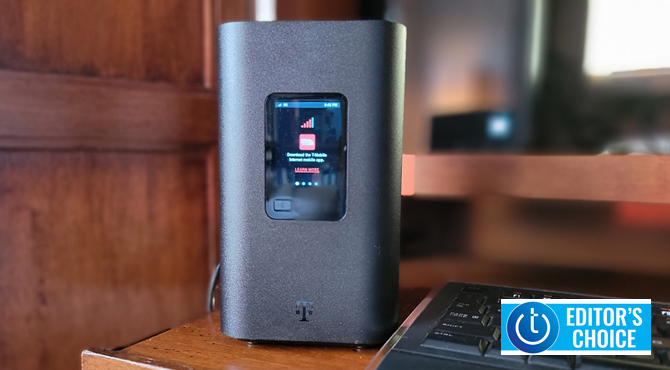 + Pros
– Cons

Affordable, simple pricing with no commitment
Easy setup, no wiring required
Fast speed

No port forwarding or other advanced router features
You may experience dropped connections, depending on your location
Pricing
From a pricing perspective, T-Mobile 5G Home Internet is refreshingly simple, especially for anyone used to paying the absurd extra fees associated with most cable bills. Home Internet is $55 a month, or $50 a month if you choose the autopay option, with no extra fees or taxes. You won't pay extra to rent or buy a T-Mobile gateway. And there is no annual contract, so you can cancel at any time if Home Internet isn't working for you.
My testing
To determine how well T-Mobile is delivering on this promise, I tested it over a couple of months head-to-head against my Verizon FiOS service here in New York City. Before sending me a 5G gateway test unit for review, T-Mobile confirmed that 5G Home Internet was available in my location (meaning the cell towers near my address had the capacity to handle Home Internet), and I also confirmed it directly via T-Mobile's availability checker.
Set up
Setup with the 5G gateway is dead simple. First, you download the T-Mobile Internet app, which will guide you through the proper placement of your router. Since 5G signals don't travel well through walls, putting the router near a window facing your local cell tower is important for the best connection and speed. The app walks you through this with a nifty virtual reality experience using your phone's camera. Then you plug in the router, let it boot up, and scan the QR code on the back with your phone to pair the router to the T-Mobile app. Now you're fully set up and ready to pair all your devices to the T-Mobile WiFi network.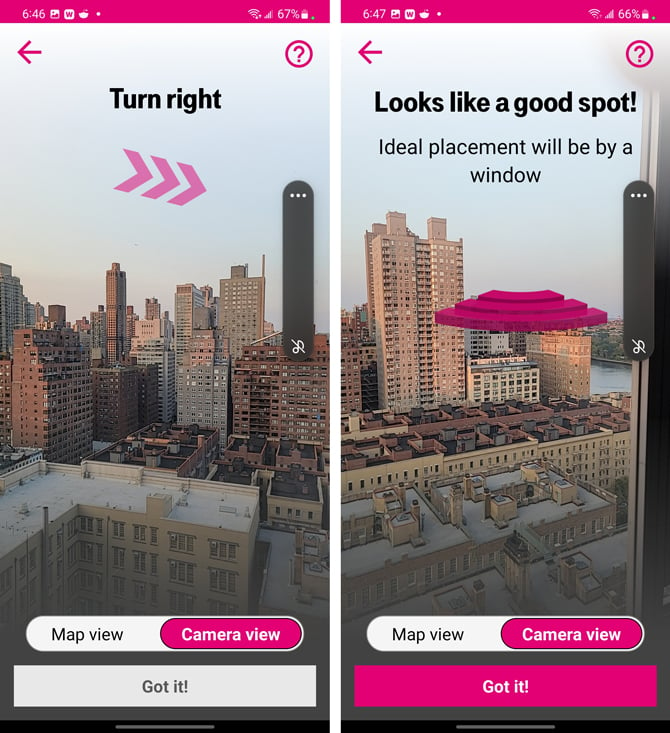 The T-Mobile gateway has a built-in WiFi 6 router with your standard 2.4GHz and 5GHz frequency bands. Beyond changing your network name/password and your WPA encryption settings (which you likely won't do) in the app, there's nothing in the way of additional customization offered. If you need to enable port forwarding for gaming or other applications, there's no way to do it through the device. And while it's easy to hook up Eero or another mesh network using one of the T-Mobile gateway's two ethernet ports, you can't turn off the T-Mobile WiFi network to avoid conflicts with the mesh network WiFi (which I encountered in my setup). You'll have to manage the conflict by ensuring some physical separation between the T-Mobile gateway and your mesh router. But for most home users, neither of these limitations should impact them.
The 5G gateway has a small screen that can display your network connection quality, the number of devices connected (but not what they are), and text messages to whomever the prior owner of the phone number associated with the 5G SIM card was (easily ignored, but humorous). T-Mobile says this text feature is to allow them to send support messages directly to your router. Though, it seems like a very clunky way of providing support updates, and in the six months since I first set the router up, I haven't received a single support message.
Speed & reliability
Once up and running, T-Mobile 5G Home Internet is very fast. I consistently measured download and upload speeds in the 100Mbps range. That should be more than enough capacity for the typical household, even with multiple people streaming and 4K content. The range of the built-in T-Mobile gateway WiFi router is roughly equivalent to what I experience with my current Verizon FiOS router. So, if you needed a mesh network before to reach across your home (as I do), you'll need one with T-Mobile, too.
While speed was more than sufficient, I experienced some hiccups with network reliability; occasionally, my internet connection would cut out entirely for a minute or so. And, per Murphy's Law, these drops always happened when I was on a work Zoom call or downloading a large file. I suspect the issue was related to constrained capacity on my local network tower. Conversations with T-Mobile suggested they also believed that to be the case. Unfortunately, that means there is no solution other than to deal with it while T-Mobile continues to upgrade its 5G network to handle Home Internet traffic. Your location may have fewer (or more) of these issues. Though, in the same Consumer Reports survey I mentioned earlier, T-Mobile 5G Home Internet is ranked very highly for performance, so I suspect these problems are rare. And, since T-Mobile 5G has no setup fee or contracts, you can try it out and see if it works well for you with little investment.
My recommendation
For anyone looking to replace their current ISP for reasons of cost, service, or otherwise, T-Mobile 5G Home Internet offers a compelling alternative. It's easy to set up, provides quick internet access, and has a straightforward fee structure that requires no upfront or ongoing commitment. It may not be the best choice for gamers who need special configuration options, and the internet reliability has its quirks. Still, there's a lot to like for most homeowners if it's available in your area. Here's how to check if it's available in your location.
[Image credit: Techlicious, screenshots via Techlicious]
Josh Kirschner is the co-founder of Techlicious and has been covering consumer tech for more than a decade. Josh started his first company while still in college, a consumer electronics retailer focused on students. His writing has been featured in Today.com, NBC News, and Time.
---
Discussion