Review of the Temptu Air Airbrush Makeup System
Techlicious editors independently review products. To help support our mission, we may earn affiliate commissions from links contained on this page.
For many of us, airbrush makeup is a treat reserved for wedding days and other special events. But Temptu airbrush systems are slowly making flawless makeup an everyday luxury.
Originally for professional use only, airbrush machines use a stream of air to turn makeup into a micro-fine mist that lightly coats the skin, providing a flawless natural look. Temptu's popular consumer machines use snap-in pods for foundation, blush, highlighter and bronzer (Whereas professional machines are designed with a small cup that holds liquid foundation and colors). The introduction of Temptu pods has made airbrushing easier for the novice, at-home user.
In September 2015, the company released the Temptu Air ($195 stand alone or $240 with a foundation pod included), the first cordless, handheld airbrush machine. It's been touted as a beauty industry game changer for its use-anywhere portability, but I wanted to find out for myself. I used the Temptu Air for two weeks straight, and I have to agree. As a beauty editor for more than a decade, I can assure you that the hype is real. Here's why.
Simple to Use
If you're new to Temptu, your first step, foundation shade selection, could very well be the most challenging. I found my shade by checking out the models who corresponded to each of the 12 shades on the site. All 12 Temptu Airpod Foundation colors, $45 each, are one of two tones—pink (cool) and yellow (warm). To determine your tone, use a tried-and-true method: Step outside and look at the veins on the underside of your wrist. Warm undertones make veins look greenish, and cool tones make them seem purple. Armed with that info, shade selection should go smoothly. But if you aren't happy with your pick, Temptu will exchange the pod for free.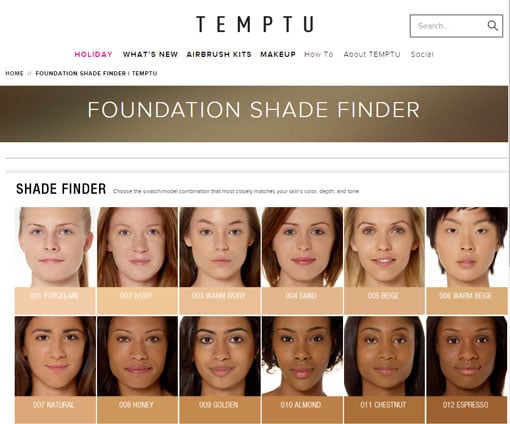 The Airpods are simple to snap in and get perfect color and application. I've used the other big-name at-home airbrush system, the Luminess Air, and while the result was beautiful, it's not as easy to use because you mix your colors and add them to the applicator. While you do get more flexibility by mixing your colors, the range of shades available for the Temptu covers a wide range of skin tones and the pods get you up and going immediately.
The Temptu Air is a point-and-shoot device. Wherever you feel air, that's where the makeup is going. Unlike professional airbrush machines, which allow users to completely control both the quantity of air and product flow, the Temptu Air keeps things simple. It has three air flow settings and a trigger that controls the density of foundation mist. Senior makeup artist at New York City-based beauty bar Rouge NY, Jessica Sanner, suggests the middle air flow setting. "The Temptu system has a margin of error," she said. "For example, if it feels like you're in between two foundation colors, it's OK. You can just pull away to go lighter and get closer for darker color. That's why this is so good for regular, everyday women."
For sheer coverage, apply one light layer and build from there for medium and full the coverage. The key, Sanner said, is to work in light layers and dry the makeup between applications by releasing the trigger to let air flow through. "Just apply a little at a time. And keep your face relaxed — don't squint or frown — to get the smoothest application." I realized, even after just my first time wearing it, the Temptu foundation feels like second skin and it looks more natural than any other form of foundation I've used.
Temptu blushes, highlighters and bronzers are also very subtle and pretty. Because the colors are meant to be applied in layers, they don't come out too saturated or streaky, as might happen if you go heavy on powder or cream blush.
A couple of things to consider
There is a tradeoff to using the Temptu Air. Application takes longer to build up coverage than other methods of applying makeup. For example, powder foundation can be dusted on in seconds and a multipurpose tinted moisturizer combines two (or more) steps in one. But airbrushing requires patience. I spent about six minutes applying thin layers to build to full coverage. For the end result, though, I find the extra time getting ready is worth it.
The foundation formula is universally flattering and it works well on all skin types, but those with extremely dry skin might want to do a little prep first. "I do a light peel, like an alpha beta acid peel, and rich moisturizer when someone has patchy dry skin," said Sanner. A physical exfoliator might be a bit abrasive for dry, sensitive skin. The 12 shades cover a solid range, "I'd say they range from the palest, Tilda Swinton-tone, to deep skin, like Lupita Nyong'o's," said Sanner. You don't need a primer or setting spray, but oily skin types may want to sop up excess sheen with blotting papers or dust a translucent powder on trouble areas. When I used the spray-then-dry method, my foundation lasted about nine hours — a true feat for my oily skin. I've tried hundreds of foundations over the years and this is one of the best.
The bottom line
The Temptu Air is worth the investment. The $45 Air Pods are actually a good value, as they deliver more than 300 applications and can last over a year. Remember to clean the tip and foundation plug with an alcohol-soaked cotton swab whenever you see product building up. Given the uniqueness of the long-lasting, natural-looking coverage, the Temptu Air technology is definitely worth its $195 price tag on temptu.com.
[Image credit: Temptu, Crystal Martin/Techlicious]
Discussion