The Best Large Android Tablet
Techlicious editors independently review products. To help support our mission, we may earn affiliate commissions from links contained on this page.
A thin, light design, powerful processor and crisp display make the Sony Xperia Tablet Z our pick for Best Large Android Tablet.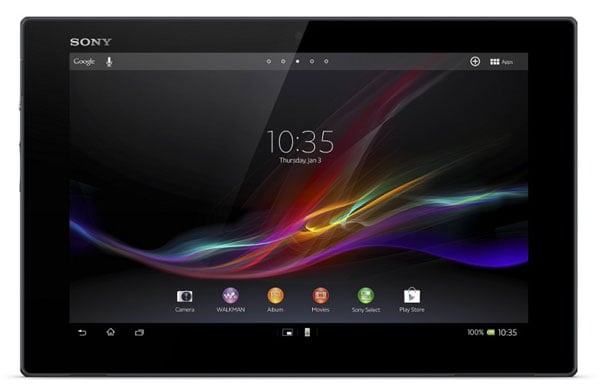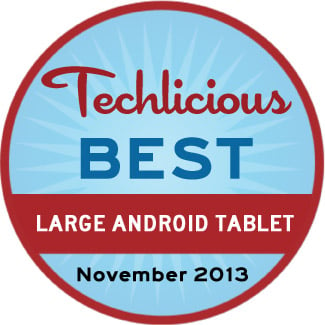 Large Android tablets aren't enjoying as much attention or popularity as their 7- to 8-inch cousins right now. When most people think tablet, they think portable — and smaller tablets are easier to tote around due to their size and weight and because they're more maneuverable and easily fit into pockets and tiny bags.
Larger 9- to 10-inch tablets tend to stay at home, where their portability is still appreciated, just for different reasons. You can sit with these tablets in front of the TV, take them with you into the bedroom at night, and set them up in the kitchen. You can use them to watch streaming video, update social networks while you watch your big TV, listen to music, wake up in the morning, play games, surf the web and look up recipes.
Bigger Android tablets come with another bonus: They're great for productivity — better in many ways than the iPad. With Android, you have access to the file system just like on a computer, and you can transfer any type of file to the tablet from your PC, USB key or SD card (with the right dongle). Android's multitasking is more robust than the iPad's, and some manufacturers make that even better with pop-up apps or split screens.
The best Android tablets I've tested and reviewed address all of these needs with speedy performance, high-resolution displays, easy connectivity to accessories and other devices, well-curated apps, useful tweaks to the base operating system and a design that looks and feels good, with a dash of sturdiness as well. Very few of the dozens of Android tablets I've seen this year meet the majority of this criteria.
The large Android tablet that meets or exceeds all my requirements is the Sony Xperia Tablet Z.
Best Large Android Tablet: The Sony Xperia Tablet Z
Weighing a hair over a pound and measuring less than 0.3 inches thick, the Xperia Tablet Z is one of the lightest and thinnest 10.1-inch tablets around. If you're the type who wants a portable large screen tablet, this tablet is for you.
The design itself seems minimal but includes touches important for a tablet this size. The edges are just tapered enough for a comfortable hold, and the matte, soft-touch back feels good under your fingers while making the tablet easier to grip. The not-too-wide bezels around the display give you a place to rest your thumbs that won't activate the touchscreen.
Waterproof for every day use
Each of the ports that line the tablet's edges has a rubber cover — and this is the key to the Xperia Tablet Z's standout feature: It's waterproof. With all ports properly covered, you can drop the Z in a bathtub, use it out in the rain, or wash it off in the kitchen sink without worrying about damaging it. It's not usable underwater, but that's not the point. Sony wants you to be able to use the tablet in the kitchen without worrying about getting splashes of pasta sauce or goop on the display.
Kids love tablets, but they don't always love washing their hands before they start tapping and swiping. With the Z, you can rinse it all away.
Crisp, clean display and power under the hood
The Xperia Tablet Z's display is full HD (1920 x 1080 pixels) and beautiful. It's a good screen for watching video, though that isn't the real reason to care about the high definition. Fonts stay crisp even at smaller sizes, which benefits reading and web surfing. And the Z makes a stunning photo frame when you're not using it as a tablet.
The tablet's insides are just as important as its outside. Sony paired a quad-core chip with 2GB of RAM, so the Xperia Tablet Z is not only fast but can handle running several apps at once. That becomes important when you start to use Sony's Mini Apps, which are apps that float on top of others to allow you to do more computer-like multitasking. Mini Apps range from simple apps like calculators on up to a mini browser.
Mini Apps aren't a feature you'll find on every other Android tablet. Though the Xperia Tablet Z runs Android 4.2 (Jelly Bean), extras like the Mini Apps are specific to Sony. Sony doesn't mess with how Android looks and acts on a basic level the way Samsung does, so the interface will look familiar to people who've seen and played around with Nexus devices.
Quad-core performance is key to the tablet's entertainment fun and productivity. The processor and graphics card make videos run smoothly, allowing high frame rates for gaming.
Connections and battery life
The Xperia Tablet Z is capable of multiple connections to other multimedia devices. DLNA technology allows owners to fling video from the tablet to a larger screen, for instance. And the NFC chip inside is designed to make pairing with Sony TVs, Bluetooth speakers, and other devices easy — just tap and you're connected. An IR blaster inside works with almost any TV, cable or set top box or media center device, so you can use the Z as the ultimate universal remote.
The Xperia Tablet Z's battery will last a day or two, depending on how heavily you use it, before needing to charge. If you're planning to take your tablet on a trip, you can watch video or play games for about eight to 10 hours before it conks out; there's a setting that will stretch the battery if you really need it.
The Sony Xperia Tablet Z: What's not to like?
The biggest drawback to the Xperia Tablet Z isn't even Sony's fault: lack of good tablet apps. The tablet can run almost any Android app; there just aren't many made to take advantage of a large screen. You end up with apps that stretch out instead of using the space natively.
Still, this isn't as huge a deal as some reviewers make it out to be. And Google is pushing developers to updates apps to alleviate this problem.
The Z's charging connector requires very precise seating. Bumping the tablet might cause it to stop charging, and this issue makes the tablet almost impossible to use while connected to power unless you invest in a cradle.
A few reviewers have mentioned weak Wi-Fi signals, despite a dual-band a/b/g/n card inside. I didn't experience this while testing my review model, so it may be a problem that only affects some units.
Reviews of the Sony Xperia Tablet Z
Issues with the Sony Xperia Tablet Z are relatively minor, so it's not a surprise that reviewers rate the Z as one of the best Android tablets available.
The thin and light design impressed Engadget's Mat Smith, even though he assumed the corners and thin profile would "prove uncomfortable." Instead, "the lightness actually ensures that it's perfectly comfortable to hold in both landscape and portrait." David Pierce of The Verge said that "more than any tablet I've ever used, holding the Tablet Z feels like you're just holding a screen."
I have to agree with Alex Dobie's assessment that the place where the glass over the display meets the chassis is a "magnet for dust and lint" due to the "millimeter gap between the screen outer edge of the chassis." In his Android Central review, he did note that the outer exoskeleton is supposed to absorb the impact from minor tumbles.
Even though the Tablet Z doesn't have as high a resolution display as the Nexus 10, it still got high marks from Eugene Kim at PCMag. "The display ... features inky blacks that give AMOLED panels a run for their money, without the blue tint to whites." CNet's Eric Franklin found that "images are richer and faces in movies look more lifelike than on the Nexus 10, despite its screen's higher pixel count." Pixel count isn't the only measure of display quality, as Sony proves.
I noted smooth performance during my testing, as did most reviewers. Laptop's Mike Prospero was "able to move easily through battles and blast baddies with no dropped frames or freeze-ups." "From rapidly switching between multiple running apps to playing graphically intensive games like Real Racing 3, the Tablet Z handled everything we threw at it easily," says CNet.
There are mixed feelings about the 8-megapixel camera on the rear. CNet says that the Xperia "fails to produce nice-looking shots in low light," despite promises from Sony. I found this to be true in my tests as well; the camera doesn't have a wide dynamic range, struggling in both bright sunlight and dim indoor spaces. Even in balanced lighting, AC's Dobie observed that "there's a lot of noise reduction being done to shots before they're saved, meaning there's not much fine detail to be had."
The front-facing camera is high enough quality for video chats and "produced better images than the main rear-facing cameras on other tablets did," according to Laptop.
Most reviews peg the $500 MSRP as being high for an Android tablet, especially one with 16GB of internal storage. I disagree. While $500 is a hefty price, it's not out of line with what the Xperia Tablet Z offers in performance, design, build and features. The 16GB Wi-Fi iPad Air is the same price and can't boast a microSD card slot for expansion, NFC, easy compatibility with TVs and other media devices (without the purchase of extra equipment) or this level of multitasking. Sony justifies the price with features and hardware that deliver.
The Sony Xperia Tablet Z


Top alternatives for best large Android tablet
Samsung Galaxy Note 10.1 2014 edition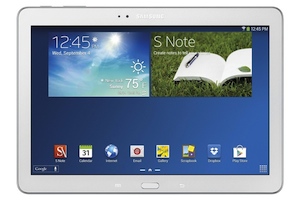 The newest contender for best Android tablet is the Samsung Galaxy Note 10.1, 2014 edition. This is the second generation of the large-screen Galaxy Note, and it has many of the same virtues as the Xperia Tablet Z.
The new Note is light and slim with a comfortable, holdable design. It has a beautiful high-resolution display (higher than the Tablet Z's) plus tweaks to make Android more useful. It adds even more useful multitasking and high-end stylus input.
The new Galaxy Note costs only $50 more than the Xperia.
What stops the Galaxy Note from being my top pick is overall performance. There's a quad-core processor inside and even more RAM, yet the Note stutters or is sluggish often enough to be noticeable and frustrating. This same issue cropped up on the first generation tablet, too, but eventually went away after software updates from Samsung. Updates have come through since launch, and performance is better and will hopefully keep improving.
If the software and performance issues get worked out, the only major advantage the Note will have over the Tablet Z is the stylus input. This feature is a big deal for the people who use and love it. If you don't see much use for a pen on your tablet, then there's no compelling reason to choose this tablet over the Tablet Z. But if you love the pen, the Note 10.1 is definitely worth considering.
Samsung Galaxy Note 10.1 2014 Edition


Kindle Fire HDX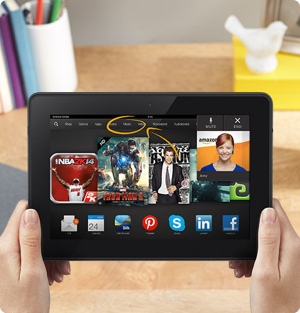 The new Kindle Fire is a good choice for kids and tweens thanks to the FreeTime app, which gives parents control over when and how their children use the tablet. Speedy performance and a beautiful screen make it a great media and gaming tablet, something else young people will like. And parents who aren't quite as tech-savvy will appreciate the Mayday feature that gives one-tap access to help from a live person over video chat.
However, the Fire HDX is not my pick as a good all-around tablet, since the tablet is locked to Amazon's ecosystem. You can't get apps from the Google Play store, limiting you to Amazon's far less-populated app store. The same goes for e-books and digital video content. However, if most of your media comes from Amazon anyway, then the Fire HDX is a great way to consume and buy it.
Kindle Fire HDX


Discussion