The Best Small Tablet
Techlicious editors independently review products. To help support our mission, we may earn affiliate commissions from links contained on this page.
A best-in-class display, solid design, the latest version of Android and performance that blows past more expensive tablets, make the new Nexus 7 the best small tablet.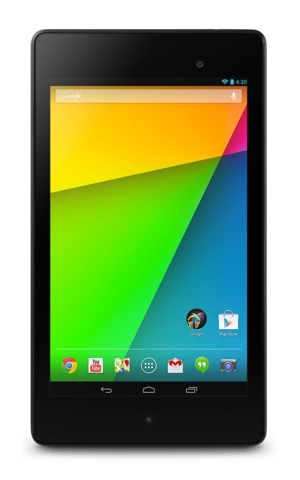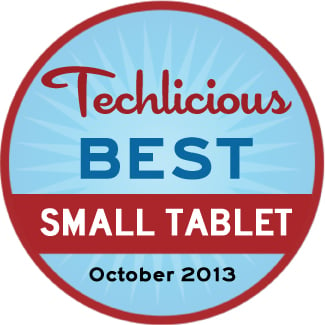 Even though it took Apple three years to release a mini version of its popular iPad, tablet buyers have gravitated to small tablets from the beginning. Tablets with 7- or 8-inch screens are easier to hold in one hand and to hold for long periods of time. They're easier to pull out and use in crowded situations and more maneuverable for small hands.
Another bonus: Smaller tablets tend to be less expensive.
Don't mistake low price for limited functionality. The Nook tablets and Kindle Fires may have started the low-price tablet trend, but these days some of the most powerful tablets available are the smallest. And they don't skimp on the features you want: cameras, Bluetooth, GPS, and high-definition displays.
In the past few months, I've tested and reviewed several 7- and 8-inch tablets, many of which are good picks. However, the best of them comes right from the source of Android itself. The second-generation Google Nexus 7 ($229) is the best small-screen tablet on the market.
Why the Nexus 7 comes out on top
With small tablets, design and weight are two of the most important factors. The Nexus 7 is thinner, lighter and more solidly built than its first generation version (released in 2012). It isn't too wide to wrap your hand around and won't weigh your arm down during hours of reading. The Nexus 7 is good looking without being flashy, drawing all attention to the display on the front.
The next important element: the screen. You want a display that's bright with rich, true-to-nature colors and crispness. That last feature often depends on display resolution and pixel density, and the Nexus 7 has that covered big-time. This is the only 7-inch tablet with a full HD 1920 x 1200 screen. This translates into a high 323ppi pixel density, keeping graphics sharp and fonts crisp even when they're small. You don't need this high a resolution to have a good viewing experience. However, this isn't one of those features that just looks good on paper. It makes a real difference when using the tablet.
Final crucial feature: speedy performance. Tablets are no good when they lag and take forever to open apps and load web pages. The Nexus 7's powerful hardware can handle complex apps, multitasking and high-performance games without choking. Even simple things like navigating the operating system or flipping through pictures are impressive on the Nexus. If you like playing graphics-heavy games, you won't have to worry about stuttering or unresponsiveness. When watching HD video, you won't see dropped frames.
Tablets should also offer enough power to get you through the day with on-and-off use and manage at least a cross-country flight while watching video or playing games. The Nexus 7 fits that bill. It doesn't have the longest battery life in this class, but it will make it through the day with medium to heavy use.
The Nexus 7 was the first device to run Google's latest version of Android, Jelly Bean 4.3. Like other Nexus devices, this tablet will get upgrades to new Android versions sooner than most others. Getting new features and functionality first might not be your top priority, but it will keep your Nexus 7 current and usable for longer. Android 4.3 is a smooth and user-friendly operating system, moreso than some past versions. It's the only version to include Restricted Profiles, a feature that makes it possible to set some limits on a profile — for instance, restrictions on apps.
Aside from the must-haves, the Nexus 7 includes several other important features. The wireless radio is dual band (2.4GHz and 5GHz) to take advantage of speedier connections where available. Models with baked-in LTE connectivity are also available. Bluetooth 4.0 LE allows for connections to low-power accessories like heart rate monitors and smartwatches without draining much power. NFC is a nice addition, especially now that many accessories use it to make pairing easier. The Nexus 7 can charge wirelessly. And this generation has a camera on the front and back.
A few drawbacks for the Nexus 7
This model of Nexus 7 addresses several issues found in the last one, but not all. The biggest letdown is that there is still no microSD slot for expanding the internal storage. For this reason, many reviewers suggest getting the 32GB version for $270. Google intends Nexus owners to rely on the cloud, and that's not always possible or desirable.
Another design issue is that the thin bezels on the long sides of the Nexus don't offer much room for resting your thumbs in portrait mode. Some reviewers found this to be a bigger problem than others.
It would be nice if the rear camera (new to this model) was better. It has some uses, and the pictures it producers aren't completely terrible. It just seems odd to add a camera at this low level of quality. Price isn't the whole issue — after all, the Memo Pad HD 7's camera is better.
Experts review the Nexus 7
Reviews for the Nexus 7 almost uniformly praise the screen. "This is one of the best displays available on a tablet today," says Android Central. Engadget points out that the screen is a "much better canvas for playing games or watching movies" than the original, thanks to "more natural colors."
The Nexus 7's overall design scored well with most reviewers. SlashGear feels that while the Nexus 7 is "not quite as premium in the hand as Apple's iPad mini ... neither is it embarrassingly behind." Android Central is more positive, saying that the "overall improvement in materials and craftsmanship ... is immediately apparent when you pick it up for the first time," praising the Nexus 7 for the "premium vibe" it gives off.
The one design flaw reviews consistently called out is the Nexus 7's lack of a microSD card slot.
Reviews are mixed on the rear camera. LaptopMag found the outdoor shots "generally very good," but Engadget says that the camera "couldn't reconcile shadows and highlights at the same time" in both indoor and outdoor testing. Android Central says the same: "Even in great light, the Nexus 7 struggles to properly meter and adjust for points of very high or low lighting."
However, tablet cameras are rarely very good and shouldn't be your first choice for snapping pictures or capturing video anyway. PCMag put the Nexus 7's camera in perspective, saying it "will do just fine for augmented-reality apps, bar code scanners, language translators and all the things you really should be using a tablet camera for."
Reviewers were happy to see the introduction of Restricted Profiles, especially for families sharing a tablet. However, LaptopMag pointed out that while it's "a good step toward enabling parental controls ... [FreeTime on] the Kindle Fire HD is better."
Each outlet put the Nexus 7 to different tests, and the overall result is the same. The tablet is "quick, smooth and responsive," says Android Central. Engadget and LaptopMag both specifically praised the graphics, the former saying "ASUS has definitely taken the graphics up a notch" and the later noting the "greater detail and effects within games."
The Nexus 7's competitors
The Nexus 7 stands at the top of the heap, but other small tablets that offer one or two things Google's tablet doesn't are also worthy of consideration.
ASUS Memo Pad HD 7
From the same manufacturer as the Nexus 7 comes the very inexpensive ASUS Memo Pad HD 7 ($149). That low price plus solid performance and great display make it the best choice for the budget conscious, but not the best choice overall.
Samsung Galaxy Tab 3
A 7-inch size used to be the default for small tablets. These days, 8 inches is more in style, and not just because of the iPad Mini. The Samsung Galaxy Tab 3 8.0 shows how that extra inch can make a big difference. You get more screen real estate for reading magazines, web pages, emails and so on, without adding too much bulk. The Galaxy Tab 3 is still narrow enough to wrap a hand around, very thin and still quite light. However, you will pay a premium for the extra space; this tablet costs $300.
Galaxy Note 8.0
Samsung makes one other 8-inch tablet, the Galaxy Note 8.0. This tablet also has a premium price ($360) but justifies it with functionality few other tablets have. The Note comes with an active digitizer pen, perfect for taking notes, drawing and other pen-specific activities. I recommend it most often for students, since using the tablet pen offers an experience similar to using a normal pen on paper while adding the convenience of digital note-taking such as search, tagging and handwriting recognition.
Though the Galaxy Note 8.0 is quite a bit more expensive than the Nexus 7, it's worth it if the pen technology is the main draw.
Kindle Fire HDX
The new Kindle Fire HDX is the same price as the Nexus 7, with a display that matches or exceeds it in quality (depending on which reviewer you ask). It has the same high resolution, which is useful for the same purpose — crisp fonts for reading and a great video watching experience.
However, the Kindle Fire HDX's main drawback is the same as previous versions of the Fire: It doesn't have access to all the Android apps in the Google Play store, only those available from the more limited Amazon's app store. Plus, the user interface isn't as customizable as other Android tablets. Because Amazon's parental controls are far more comprehensive than what you get on the Nexus out of the box, I would recommend the Fire HDX over the Nexus 7 if you intend to give the tablet to a child.
Nexus 7 details
The Nexus 7 is available in three configurations:
$229 - 16GB internal memory, Wi-Fi only
$270 - 32GB of internal memory, Wi-Fi only
$349 - 32GB of internal memory, Wi-Fi and 4G LTE that connects to AT&T, T-Mobile and Verizon Wireless LTE and HSPA+ networks
I suggest buying one of the 32GB versions. With no microSD card slot, you'll need the extra space for music, videos, and pictures.
Google Nexus 7


Runner up: ASUS Memo Pad HD 7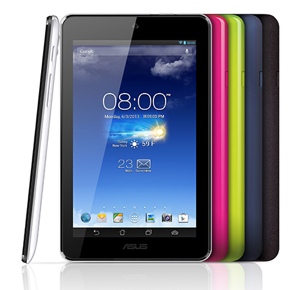 The ASUS Memo Pad HD 7 is just $150, and that's its major selling point. I wouldn't recommend it simply on the price — after all, many poor quality tablets cost about this much or a little more. What's special about the Memo Pad is that it's so good for so little money. ASUS manufactured the new and original Nexus 7s, so it's no surprise that the Memo Pad looks almost exactly like the first-gen Nexus and has the same great display.
You won't get unadulterated Android here; ASUS put a user interface skin on top that adds some useful functionality. This tablet's performance is a bit better than the first Nexus, and it has a microSD card slot to expand storage. The rear camera is more impressive than the current Nexus 7's and does a better job shooting video.
Overall, the Nexus 7 is a better tablet. But if your budget is very tight, the Memo Pad HD 7 is the best tablet you can buy in this price range.
ASUS Memo Pad HD 7


Discussion