The Best Radar Detector Under $200
Techlicious editors independently review products. To help support our mission, we may earn affiliate commissions from links contained on this page.
The Whistler CR90 wins the award for Best Radar Detector Under $200 for its lack of compromise, including the detection of a wide range of crucial radar and laser frequencies, excellent performance and solid feature set, including built-in GPS and red light camera database.
[Editor's note: This story is an update from our 2013 review based on significant additional testing of the Whistler CR line head-to-head with Escort's Passport Max series, Beltronics' latest GT-7 model and Cobra's 9200 BT. The testing continued to confirm the Whistler's high level of performance relative to other detectors. Our previous pick was the non-GPS enabled Whistler CR85. However, due to significant price drops, the GPS-enabled Whistler CR90 is now well below $200 and is our new top pick.]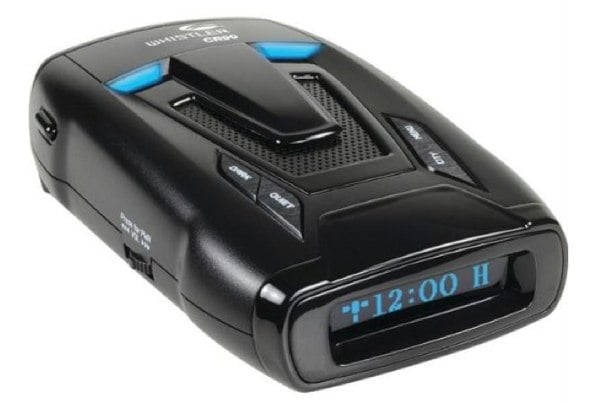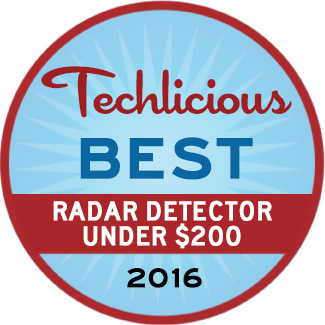 Radar/laser detector prices range from below $100 to more than $1,000, with the sweet spot for some of the best in the $400-$600 price range. We've reviewed Escort's Passport Max line, its sibling the Beltronics GT-7 and Cobra's latest 9200 BT, all of which offer excellent performance, at a cost.
These models start at $350 for the Cobra and range up to a quite pricey $650 for the top-of-the-line Escort Passport Max 360. That's probably much more than the average driver would be willing to spend, however. Could something priced for a more budget-conscious consumer match these high-end devices?
The answer is yes, for the most part. The Whistler CR90 offers radar detection capabilities that near those of far more expensive alternatives, for a fraction of the price. At around $150 on Amazon, you could buy almost four Whistler CR90s for the cost of one Passport Max 2.
Of course, with that much of a price difference, there are tradeoffs. The Whistler suffers from more false alerts, thanks to its sensitivity to vehicle collision avoidance systems, and doesn't have a multi-color, hi-res display with detailed alert information. However, if you can put up with those inconveniences, the Whistler CR90 offers superb bang for the buck in radar detection.
Radar detection performance
[Note: Our performance review is based on our extensive testing with the Whistler CR85 model. The CR85 and CR90 are identical as far as radar detection technology.]
I've driven hundreds of miles across multiple states using the Whistler CR85 on its own and head-to-head with other detectors. In almost every instance, the CR85 provided ample warning of police radar to slow down in time. The Passport Max units were usually a hair quicker to go off, though this wouldn't matter in most scenarios.
The extra sensitivity of the Passport paid off in the mountain highways of Pennsylvania. Coming down a long hill, the Passport started beeping with no cop in sight. As I started to round a turn at the bottom, the Whistler started squawking, too, and there, tucked inside the curve, was the LEO (law enforcement officer). The Passport warned me in time, I don't know if I would have been as lucky with the Whistler.
On K Band, commonly used for photo radar, detection distances were identical between the Max 2 and the CR85. Both provided adequate warning. I never encountered a LEO using X band radar, and it's unlikely you will either as this band has largely fallen out of use for vehicle speed detection.
I did not test laser detection. Because laser guns have such a narrow beam, the only time you're going to get a laser warning is when you're already nailed and I didn't encounter laser in use in my driving.
False alarm avoidance
Limiting false alarms is almost as important as detecting "real" signals. Too many false alarms may cause you to ignore the next valid alert or decide to stop using the radar detector altogether. And, if nothing else, they'll annoy the bejezus out of you.
In this area, the Whistler CR85/90 can't keep up with the newer DSP (digital signal processing) technology in the Escort, Beltronics and Cobra 9200 BT models. It's not terrible, but the Whistler does have a particular affinity for the collision avoidance system in Audis. In the city, the Whistler generated about the same number of X-band and K-band alerts from automatic door openers and the like as the Passport Max models. Turning off X-band on the CR85/90 helps, and I would go as far as to turn off K-Band, too, unless you know LEOs are using it in your driving area.
The CR90 has a built-in red light camera database, and that can lead to unnecessary warnings, as well. If you're driving on an urban highway, the CR90 will alert you to red light cameras on nearby side roads. These alerts are easy to ignore, since they're obviously irrelevant, but they can get irritating. If red light cameras aren't a concern for you, you're better off going with the non-GPS CR85.
Unlike Escort and Beltronics, the Whistler has no way to store known false alerts in its on-board database – a definite minus.
Design
The Whistler CR85/90 (the two have identical cases) looks like your typical radar detector, with a black, rectangular case (2.9 x 1.2 x 4.5 inches). It's not as big as the Passport Max line, but considerably larger than the Cobra 9200 BT (if you want flashy, the copper-accented Beltronics GT-7 is the one for you). The CR90 is also light at 12.6 ounces, so there is less jiggling on its dual suction cup mount than with the very heavy Passport Max lineup or GT-7.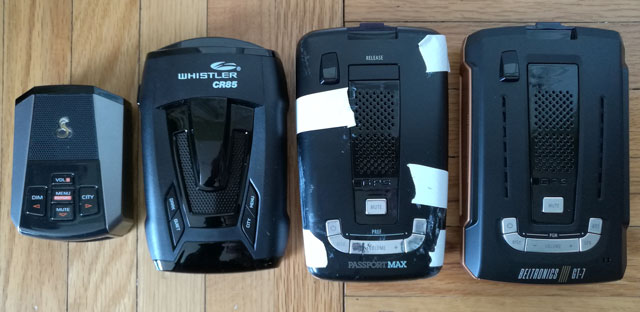 Left to right: Cobra DSP 9200 BT, Whistler CR85, Escort Passport Max (tape & super glue, not OEM), Beltronics GT-7
The display on the CR90 is pretty spartan – monochrome blue with basic information about radar frequencies, red light distance, etc. That said, it is very easy to read, even in bright sunlight. And Whistler includes two additional "periscope" lights on the top of the unit that flash during alerts, just in case you miss the squawking of the unit and the main display's alert. "Real Voice Alerts" provide an initial verbal warning of the detected radar band.
Both the CR85 and CR90 have four buttons on the top: Dark, Quiet, City and Menu. Unfortunately, they share the characteristic of most other radar detectors in being small and hard to distinguish from a driving position. On the side is the switch that controls power and volume; this one is pretty easy to use.
Red light & speed camera notifications
The CR90 contains internal GPS along with a pre-loaded speed and red light camera database, which can be updated via USB from your computer. There is no charge for updates, unlike Beltronics and Escort. As you near a camera, the CR90 provides an alert for the type of camera (red light or speed camera) and the display will count down the distance. You can manually add new cameras when in the same location.
App integration
Competitors to the CR90 offer smartphone apps that connect with other users of their detectors to report real-time speed trap alerts (Cobra's iRadar and Escort/Beltronics' Escort Live). Whistler doesn't have a comparable offering, but I don't see that as a major drawback. First of all, those services can be very expensive ($49.99 a year, in the case of Escort Live). Secondly, you can download free apps, like Waze, that offer similar functionality. And, if you really were hell-bent on using Escort Live, you can still download the app and subscribe even if you're not an Escort user, you just would have to rely on your phone for notifications, rather than getting them through a Bluetooth connection on your detector.
Other reviews
Radar detectors are one of those products that are extremely difficult to test because of idiosyncrasies in the test environment – the type of radar used, the elevation and curvature of the road, obstacles in the radar path, etc. I've driven hundreds of miles across multiple states the CR85, yet I still look at other people's experiences to get a holistic view of the performance.
Among professional reviewers, most were very impressed with the Whistler's performance, with one notable exception.
Radarbusters.com, one of the best known testing sites, found that "Both the Whistler CR85 and CR90's performance out ranks all of the other radar detectors we have tested in the under $200 price category."
Veil Guy, another long-time reviewer, found that "The CR90 and CR85 are without question the best values currently on the market. Either one should definitely be on your short list."
And Radartest.org agrees that the "Whistler CR90 stands out for its elegant, intelligently-engineered and sophisticated design, not to mention its effectiveness in countering radar, lidar and red light cameras."
The contrarian opinion is provided by Vortexradar.com, who found the performance of the CR85 to be the worst performing among a group of ten detectors in its test. However, their results are so out-of-line with the other testers and my own experiences that I suspect that the unit they were using may have had issues.
User reviews on Amazon support my hypothesis. Overall, the CR90 gets a very respectable 3.8 out of 5 stars on Amazon, with about 70% of reviewers giving it 4 or 5 stars. However, there is a 20% minority who has issues with the unit, including poor detection. I would recommend testing your unit after purchase with a known speed camera or speed trap location and returning for a replacement if you have issues with detection range. Note that defective detectors are not an issue unique to Whistler, as there are similar reports about units from other manufacturers, including market leader Escort (also see note on Uniden below).
Competing radar detectors under $200
Bel Pro 200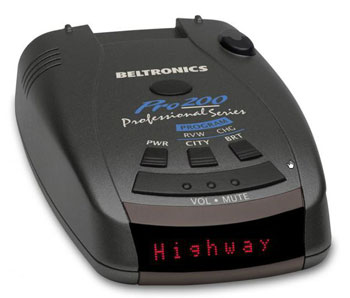 While there is no shortage of detectors under $200, most are old models that have performed poorly in reviews. One exception is the Bel Pro 200. While nearly a decade old and running Beltronics' older analog technology, it has performed very strongly in detection tests, beating the Whistler CR85/90's predecessor, the Pro 78 SE, across K and Ka-bands, according to radartest.com. The difference between the two wasn't huge, but the Bel Pro 200 was the victor. Similarly, Radar Roy also had great test experience with the Pro 200, declaring it the "best radar detector costing less than $250". Owner reviews have been strong as well, with 4.4 out of 5 stars on Amazon.
Feature-wise, the CR90 has the Pro 200 beat. There is no GPS or red light/speed camera database on the Pro 200. And the Pro 200 has a very old school low-resolution, though still functional, display.
Price for the Bel Pro 200 has come down considerably and is now in the $170 range on Amazon, a little higher than the CR90, and about $45 over the CR85. So if the lack of red light camera detection isn't an issue, this is a potential alternative. Be sure to only buy direct from Amazon—Beltronics will not honor the warranty if purchased from an unauthorized dealer.
Cobra SPX 7800BT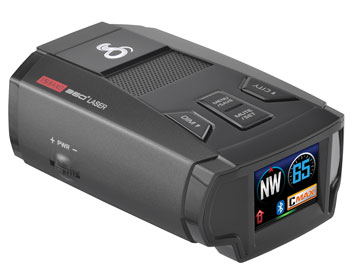 At only $109 on Amazon, you may be tempted to give the Cobra SPX 7800BT a shot. Don't. It gets terrible reviews for detection and will drive you nuts with false alerts. Vortex Radar found that it failed to detect Ka-band until within range of a police officer's radar gun. Radar Roy was equally unkind after testing the 7800BT's performance, summarizing the unit as "Garbage in, Garbage out, Garbage Throughout."
Uniden LRD950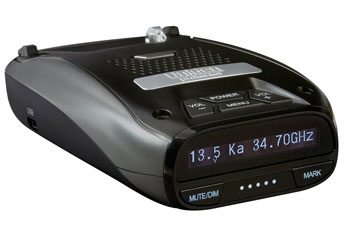 The LRD950 was highly rated by Vortex Radar, though Radar Roy initially flunked it for poor performance. Radar Roy later amended his review believing that his unit may have been defective since his results differed so much from other reviewers (see my note above about defective detectors in my own testing of the CR90 compared to Vortex Radar).
In any regard, this model was recently discontinued and is out of stock on Amazon and many other sources. Its replacement, the Uniden DFR7 will be priced considerably above $200 when it hits stores soon. Its sibling, the DFR6 will be under $200, but lack the GPS capabilities of the DFR7 or Whistler CR90. While the new models are being highly talked up, I have yet to see any actual hands-on testing and we have not yet received a response from Uniden on exact availability dates.
Review Summary
At around $150, the Whistler CR90 offers solid detection performance and a wide range of features. If you're in the market for a detector that includes red light/speed camera warnings, you won't find anything else close to this price point worth considering. The next best option would be the Beltronics GT-7, which currently retails for around $500. The GT-7 has slightly better detection, fewer false alerts and convenient features, such as the ability to lock out known false alarm locations. So if you have the money, go for the GT-7. Uniden's DFR7 will offer a less expensive alternative at around $300, when it comes to market later this year, but we don't have timing for that nor has there been any testing to confirm its performance. So if you're in the market for a budget GPS-enabled radar detector today, the CR90 is the one for you.
For those who don't want red light/speed camera warnings, the Whistler CR85 is a reliable performer. The Bel Pro 200, though, may be a slightly better choice, depending on the current price differential on Amazon. And since Beltronics will not honor warranties from unauthorized dealers, you need to be sure you order directly from Amazon, not a third party seller. Uniden's new DFR6 will also be in competition for under $200. However, similar to the DFR7, we don't have an exact release date nor test results.
Whistler CR90 Radar Detector
Discussion