The Best Slow Cooker
Techlicious editors independently review products. To help support our mission, we may earn affiliate commissions from links contained on this page.
The Crock-Pot 6.5 Quart Countdown Programmable Touchscreen Slow Cooker (SCVT650-PS) delivered the best slow cooking results and, at $79, is a good deal, making it our pick for the best slow cooker.
Crock-Pot 6.5 Quart Countdown Programmable Touchscreen Slow Cooker ($79)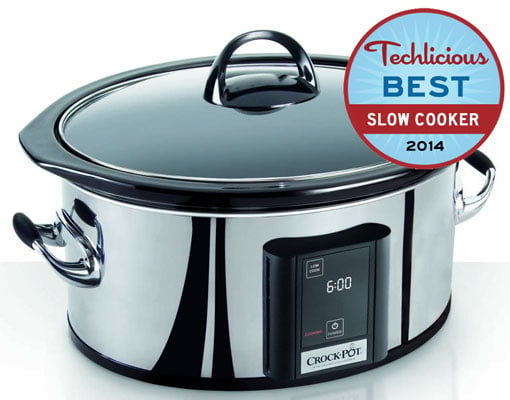 Slow cookers, also known as Crock-Pots (actually a trademark for slow cookers made by the Jarden corporation), are one of the most convenient kitchen appliances. You don't need to touch them while they cook; just add the recipe ingredients, turn on the slow cooker and continue your day while your dish cooks. Slow cookers are equally useful cooking family meals while everyone is at work and school as they are making a delicious beef bourguignon for your party guests.
Unlike most other kitchen appliances, a slow cooker takes on the entire task of cooking while you're away from the kitchen, leaving little opportunity to adjust when things aren't going right. With that in mind, it's imperative to select a slow cooker you can trust to nail the basics.
We spent hours and hours testing five top-rated models to find out which is worthy of becoming your go-to appliance for creating delicious stews and perfectly braised meats. In the running were the Calphalon 7-Quart Digital Slow Cooker ($146 on Amazon), the Crock-Pot 6.5-Quart Countdown Programmable Touchscreen Slow Cooker ($79 on Amazon), the Cuisinart 6-Quart 3-in-1 Cook Central Multi-Cooker ($159 on Amazon), the Hamilton Beach Set 'n Forget 6-Quart Oval Programmable Slow Cooker ($50 on Amazon), and the KitchenAid 6-Quart Slow Cooker with Standard Lid ($100 on Amazon).
The winner: the Crock-Pot Countdown Touchscreen Digital Slow Cooker (SCVT650-PS). In our testing (and for other reviewers), the Crock-Pot consistently delivered the best slow cooking results. But it was a close call — and the Crock-Pot, like all the models we tested, certainly has its flaws.
Must-have features
There are two features we believe are must-haves in a slow cooker. First, the slow cooker must be large enough to prepare a meal for up to eight hungry people (ideally, with leftovers to spare), so we only looked at 6- to 7-quart models. Second, a slow cooker should have a programmable timer that can be set to cook until your recipe is done, then automatically shift to warming mode.
The Crock-Pot Countdown Touchscreen Digital Slow Cooker meets both these criteria with a 6.5-quart stoneware bowl and a timer that lets you program up to 20 hours of cooking time. Like the other models we tested, the Crock-Pot automatically switches to warm mode once cooking is complete.
Beyond those two top features, look for other features you may find useful, depending on your culinary needs.
The Hamilton Beach Set 'n Forget has a lid that locks during transport, useful if you would like to take your slow cooker to a party. It also has a temperature probe when you want to cook a larger cut of meat to a final, specific temperature; however, since slow cooking is usually about bringing meat up to temperature and then cooking for long periods of time to render the fat and collagen, we consider the probe nice but not central to how most people use their slow cookers. In fact, we found almost no slow cooker recipes (including on Hamilton Beach's site) based on internal food temperature.
The Cuisinart Cook Central Multi-Cooker stands apart for its ability to sauté and brown ingredients. However, a big part of the appeal of slow cooking is the minimal prep work; slow cooker fans aren't usually eager for recipes that requiring you to brown ingredients. We don't consider a browning feature to be a significant advantage. And we also question the long-term reliability of the Cuisinart's nonstick coating (see below), so you might prefer to do this type of prep work in a pan on the stovetop.
Testy temperature ranges
By far the most important consideration for any slow cooker is how well it cooks—and there's some disagreement among reviewers whether any one model of slow cooker cooks better than another.
Consumer Reports has stopped rating slow cookers, finding that "Even small differences were overshadowed by what and how much was being cooked. What made one slow cooker better, or more convenient, than another was the features. Since we found little difference in overall cooking performance we no longer provide slow cooker ratings."
However, the most common complaint among slow cooker owners is that their cookers cook at either too high or too low a temperature or that the temperature didn't rise quickly enough. Cook's Illustrated found significant differences among the slow cooker models in its testing: "Nine hours later, we variously uncovered dry, tough meat; meat that disintegrated; and juicy meat in rich, beefy sauce." The reason for the differences, according to Cook's Illustrated, were variances in temperature—both the maximum temperature reached at each setting and how long it took the slow cooker to reach that temperature.
We undertook our own testing to find out which camp we fell into, combining a gigantic batch of ingredients for beef stew (the prototypical slow-cooker dish) and dividing it equally among our five test cookers. We set each on low and let them cook undisturbed for eight hours (as you might do when you head off to work in the morning, and around the average time of the slow cooker beef stew recipes we reviewed).
After eight hours, we tasted each of the stews, focusing on the flavor and texture of the meat. The results were telling: The Crock-Pot was the clear winner, producing the kind of moist, tender meat that slow cooking is all about. Cook's Illustrated arrived at the same result during its own testing, naming the Crock-Pot its top pick.
The Cuisinart was a step behind the Crock-Pot, producing beef chunks that were slightly dry but still pretty good. The Calphalon brought up third place with more dryness. The Hamilton Beach's beef chunks were dry and tough in comparison to the others, which may be due to the Hamilton Beach having the highest final cooking temperature of our test units at 209 degrees Fahrenheit.
Perhaps the biggest surprise was the KitchenAid, which hadn't managed to cook its meat anywhere close to done after eight hours. A temperature check showed it to be only 170 degrees Fahrenheit, well below the other cookers, which ranged from 195F to 209F. We upped the setting to medium for another two hours, but the temperature only rose to 174 degrees. We finally set it to high for two more hours, then left it in warm mode until the next morning. Only at that point did we finally achieve the luscious stew we were looking for.
A call to KitchenAid support informed us that the low setting should have cooked at between 194 degrees and 203 degrees Fahrenheit (90 to 95 degrees Centigrade). So we're not sure if we received a defective heating unit or the ill-fitting lid allowed too much heat to escape (the 1/4 inch gaps between the lid and ceramic bowl were significantly larger than the others cookers).
In fairness to KitchenAid, the other models we tested had all received consumer complaints about temperatures being too low, though we didn't find that in our testing. Though it's impossible for us to verify these individual cases, it appears that quality control may not be what it once was in the slow cooker industry.
For kicks, we also tested the probe feature of the Hamilton Beach in a whole-chicken cook-off against the Crock-Pot. We set the Hamilton Beach to stop cooking when the chicken reached 165 degrees Fahrenheit and set the Crock-Pot to cook for seven hours on low (based on multiple slow cooker chicken recipes we found). The Hamilton Beach brought the chicken to temperature in about three and half hours, much faster than expected, so we kept it on warm mode until the Crock-Pot finished. Surprisingly, the temperature of the Hamilton Beach chicken continued to rise significantly. After three hours on warm mode, the internal temperature of the chicken had reached 188 degrees Fahrenheit. So if you're using the probe, you'll also want to be around when your meat finishes cooking—this is NOT a set-and-forget cooking method.
Final results of the chicken cook-off were mixed. Most people preferred the breast meat from the slightly less-cooked Hamilton Beach bird, but the group was split on the dark meat.
Ergonomic and design challenges
For a product that's been around since the 1970s, you would think slow cooker manufacturers would have design and ergonomics nailed down by now. They're not. While the unit was cooking, the handles and outside of the Crock-Pot became burning hot, the tiny silicone coverings doing little to protect your hands. The Calphalon suffered the same handle flaw, although not to the same degree. The other units all got quite hot on the outside, with only the Cuisinart staying cool during cooking, although the Hamilton Beach's plastic handles stayed cool even when the rest of its outside was sizzling.
Controls on all five slow cookers were easy to set. Each cooker offers high and low settings and automatically goes into warm mode once cooking is done. The KitchenAid is the only model with a medium setting, but we don't see any added benefit. The Cuisinart also lets you set a temperature up to 400 degrees Fahrenheit for browning or sautéing.
The displays on all the models were easy to read with the exception of the Hamilton Beach, which was extremely dim and difficult to read in normal kitchen lighting.
Easy clean-up
The Crock-Pot Countdown Slow Cooker uses a removable ceramic cooking bowl that is easy to clean and dishwasher safe, as do the Calphalon, Hamilton Beach and KitchenAid models. Based on user reports for all brands of cracking bowls, we would recommend avoiding the risk of putting cooking bowls in the dishwasher.
The Cuisinart stands out as the only model with a nonstick aluminum (rather than ceramic) cooking pot. We were impressed by how easy the pot was to clean but question how well the nonstick coating will hold up over time. In our experience, all nonstick coatings eventually fail, and reviews on Amazon for the Cuisinart indicate this is an issue for some consumers.
Consistent owner ratings
For the most part, owners have been happy with each of the slow cookers in our test. Cuisinart leads the pack, garnering 4.5 out of 5 stars among Amazon reviewers. Hamilton Beach and Calphalon come in with similar results, 4.4 out of 5 stars, and the Crock-Pot and KitchenAid finish slightly behind with 4.1 out of 5 stars. The primary complaints for all models include cracked ceramic inserts (or a damaged nonstick surface for the Cuisinart) and the occasional unit found dead on arrival or dead after a few uses.
Unfortunately, the Crock-Pot is the only model we tested that doesn't offer a replacement insert or lid; they've been "out of stock" for months. If you break a lid or insert, you'll need to buy an entirely new Crock-Pot. Given the Crock-Pot's relatively low $79 price, that's not the end of the world, but it doesn't give us a warm and fuzzy feeling for Crock-Pot's customer service. Other manufacturers offer insert replacements from about $25 to $45.
Our Top Pick: Crock-Pot 6.5 Quart Countdown Programmable Touchscreen Slow Cooker
At the end of the day, we wanted a slow cooker that first and foremost could reliably slow cook. In our tests, the Crock-Pot 6.5 Quart Countdown Programmable Touchscreen Slow Cooker met that challenge (as it did for Cook's Illustrated's tests, as well). The Crock-Pot also is the second cheapest slow cooker in our test at $79, making it a pretty good deal, too.
There are things we're not crazy about with the Crock-Pot, such as its hot handles and lack of replacement parts, but external heating was a flaw among most of the slow cookers, and the Crock-Pot's low price somewhat counterbalances its disposable nature if you break the insert.
While it's not a perfect product, if you're in the market for a slow cooker, the Crock-Pot 6.5 Quart Countdown Programmable Touchscreen Slow Cooker is a solid choice.
The runner-ups
The Calphalon 7-Quart Digital Slow Cooker finished in the middle of the pack in our slow cooker test, without any unique features that might justify its $150 price.
The Cuisinart 6-Quart 3-in-1 Cook Central Multi-Cooker cooked almost as well as the Crock-Pot. It allows you to saute or brown right in the slow cooker—a useful feature but one that could be easily reproduced on the stovetop without risking damage to its nonstick coating. At $159, we just don't think the feature is worth the premium.
The Hamilton Beach Set 'n Forget 6-Quart Oval Programmable Slow Cooker didn't do well in our slow cooking test, but it does offer extra features such as a temperature probe and locking lid that some buyers may find useful. Its dim display was a real pain to read, however, bothering us every time we used it. At $49, this slow cooker runs $30 less than the Crock-Pot—nice for those on a tight budget.
The KitchenAid 6-Quart Slow Cooker failed to perform properly in our slow cooking test. It's possible we received a bad unit, but unfortunately we did not have time to get a new unit and set up a complete retest. And it's $20 more than the Crock-Pot, without any additional features to offer.
We also considered the All-Clad Polished Stainless Steel 6.5-Quart Slow Cooker (model 99009), which came in second place in Cook's Illustrated's testing. Terrible reliability reviews from owners (only 2.8 out of 5 stars on Amazon) and a high price ($151) excluded this one from the running.
Discussion