We may earn commissions when you buy from links on our site. Why you can trust us.

The Best Wire-Free Headphones
True wireless earbuds — that is, those that aren't connected to a device or to each other — are a marvel. But not all models share that same "marvelousness," as we learned after scouring endless reviews and doing a dozen or so hours of our own testing.
To be clear, wireless earbuds aren't necessarily a replacement for all types of headphones. If you want audiophile sound, for example, go with a fancy pair of over-ear, wired headphones with a pre-amp. If your goal is noise cancellation during a transoceanic haul, you'll want wireless over-ear headphones that have a long battery life. And so on.
Where wireless earbuds really shine is for athletes of any stripe, active people, commuters, or anyone who's just tired of getting tangled in cords or, worse, enduring a sudden earbud extraction as your cord gets caught on someone's arm or bag as they walk in the opposite direction.
There are now a number of high-profile wireless earbuds available, as well as scores of what we'll call knock-off models that aren't worth consideration because there's just no way to get service, support or a refund from the seeming fly-by-night operations that make them. In looking for the best brand-name models we consulted reviews from the pros, and the overwhelming verdict was: There are no perfect models. So we tested five of the best-rated models: Apple AirPods ($159.99 on Apple), Bragi Dash Pro ($329.99 on Amazon) , Bragi's The Headphone ($149.99 on Amazon, $118.99 on Amazon Marketplace), Jabra Elite Sport (on sale for $179.99 on Amazon, usually $249.99), and Sony's WF-1000X ($178.00 on Amazon). We had a good experience overall. Our opinion: If you don't get Apple AirPods — and there are reasons not to (see below) — then the best choice is Bragi's The Headphone (a curious, linguistically challenging name for a pair of earbuds, but so be it).
Bragi's The Headphone is the same price as Apple's AirPods, and while it doesn't quite match them in every aspect of style and performance, it sounds great, has a long battery life, feels comfortable when worn for a good stretch of time, has simple but useful controls, comes with a decent, if flawed, carrying/charge case, and, crucially, blocks out ambient sound while also having a pass-through mode, for safety and convenience. The Headphone is the best option for most people.
Here's how we came to that decision.
The category leader: Apple AirPods
While there have been pioneering models in this category of electronics for a couple years now, the most well-known and, we'd say, the inarguable gold standard has been Apple's AirPods. Until you have them in your hand or ears, it's hard to appreciate how many little bits of wow there are that make them such a terrific product — not least of which is their very reasonable $150 price tag. Here's the nutshell version:
The AirPods' carrying case, a smooth, perfectly pocketable container with rounded edges, is about the size of a box of floss. Pairing them with an iPhone is the sort of thing Apple is famous for: Pop open the spring-loaded hinge, hold the case near your iPhone and an animated dialog box on your phone asks if you want to pair them. That's it, and it works perfectly every time (Android devices, alas, must be paired the usual way, as with all other Bluetooth earbuds). The earbuds, which have weird-looking but useful stems, are magnetically drawn into their seats in the case, and when inserted automatically begin recharging (the case has a battery inside with enough stored juice to add nearly 20 hours to the 'Pods built-in 5 hours of listening; popping them in for a 15-minute pick-me-up gives 3 hours of power). They fit surprisingly well in our ears — way better than Apple's regular earbuds, which we're not fond of, and though they feel insubstantial and light and poised to slip out at any minute, we can testify that they don't. Controls are touch-based and, following a recent update, assignable, so you can choose to tap to play/pause, or summon Siri, or adjust volume (with non-Apple devices they simply control volume). Apple worked hard on the wireless technology and no other wireless earbuds around are as reliably solid both between the two earpieces — a huge problem for many models — and between the AirPods and your iPhone.
The one real problem with AirPods — and it's pretty big — is that they're earbud-style, and not canalphones: They're meant to sit loosely in the large opening of your ear without sealing. That means that they're greatly affected by ambient sound and in even slightly noisy environments the sound quality deteriorates quickly. They're great when you're sitting at home where it's quiet, but on a busy street, or a subway, bus, or plane, or near a lawn mower or just about anywhere else where there's noise, you'll need to turn them up to full volume quickly. Apple's apparent reasoning — that having earbuds that seal off all ambient sound creates a safety risk because you can become situationally unaware — is valid. But in our tests, and in reading reviews and consulting with AirPod owners, there's full agreement that the earbuds lose the battle against outside sound.
Thus our hunt for the best wire-free headphones.
Criteria for picking review models
We looked for earbuds that would be useful for someone who exercises, commutes, rides a bike, or does outdoor work or a lot of driving and wants hassle-free, hands-free access to tunes, plus the ability to make calls. We also had a short list of minimum specs:
Battery life: We looked for models that would last for a minimum of three hours at a time — more than enough to work out, commute a couple times a day and get in a little extra listening time.
Charge case: Besides the more obvious task of carrying the earbuds around safely, the case should be able to charge the batteries on-the-go. We wanted to be able to fully charge at least twice.
On-board controls: The ability to keep our smartphone in a pocket and still be able to receive calls, as well as to start and stop music (at a minimum) is a must, but we were interested in other capabilities too, like summoning a digital assistant or changing volume settings.
Noise isolation or cancellation: We wanted earbuds that could seal out ambient sound, and ideally have an audio pass-through mode that allows us to hear outside sound.
We put all of our test models through their paces in real-world use, variously walking or commuting around New York. We paid special attention to battery life — not only how long each lasted but how quickly they could fast-charge and how much battery life overall you could get when topped up via the carrying case. We deliberately avoided testing models that were known to be buggy or prone to signal issues. We spent a lot of time fiddling with the controls to deduce how useful and intuitive they were. And finally, while sound quality is, obviously, a major concern for audio devices, our focus was more on a baseline of acceptably good quality — if you want amazing sound, you'll probably be better served by a pair of big honking audiophile cans.
There's a fair number of subjective reasons for which earbuds may or may not suit someone — the most important of all being fit, we think — so we tried to find a model that was generally good in most ways.
The best wireless earbuds for most people
Of the five models we tested, Bragi's The Headphone, offering the best possible combination of performance and price, is an easy top pick, hands-down.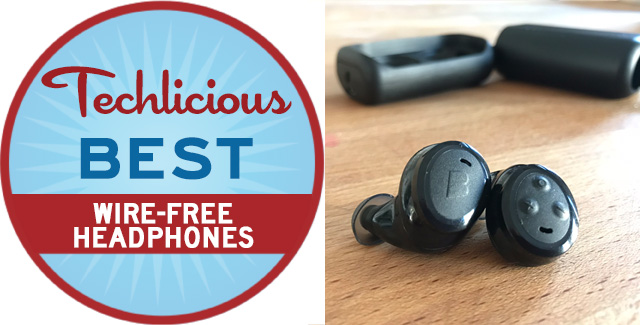 Audio quality
Sound was pretty even across the five sets of headphones, though to a certain extent sound quality is affected by fit. If you can get a good seal, you tend to get way more bass and can play audio lower, so it's not as hot and hissy. If they don't properly seal, you'll have more issues.
The Headphone does a good job of sealing out almost all ambient sound. It also sounds pretty great across a range of music styles — a lot of Radiohead and early Bowie; a bit of jazz via Jimmy Giuffre; and an endless Fela Kuti track — though very light on bass, which made some tracks feel thin to our ears. Still, we didn't feel the need to fiddle with equalizer settings. Even when wearing just one earbud the sound remained clear in environments when an AirPod would have been drowned out or challenged. Bragi's Dash Pro — when properly seated — produced far richer audio (but at twice the price).
We also tested the call quality of all models while walking around outside and then on a bike. With The Headphone we were impressed at the lack of interference from wind — a common issue among all the earbuds — but also that we could be heard so clearly on the other end, considering that these don't stick out from your ears at all.
Fit and controls
Except for the AirPods, all the models we tested were canalphones — meant to push snugly against your ear canal to seal out noise. To accomplish that and also be comfortable they all have some form of stabilizer, which is variously a loop or extension made of rubber that hooks into one of the folds of your ear, so the earphones don't pop out. Each model was a different experience: The Jabra Elite Sport had a slew of earcups and stabilizer attachments but was the least stable in-ear. The Sony had a tiny stabilizer, and yet the standard ear cup fit perfectly in our ear with no jostling (but stuck too far out of the ear). The Headphone's ear cups slide deep into the ear but not uncomfortably so, and are snug enough that they don't fall out — they come with three sets of cups so you can adjust the fit to your liking, a common perk among our test models. We used the squishiest ones to get a good seal.
When wearing both earbuds with no music playing the lack of noise stimulus can be disorienting. You have to pop them out to have a conversation, too. The Headphone, like all of the models in the test except the Apple AirPods, has an audio transparency or pass-through mode, which uses a microphone to transmit the sound around you, and is enabled using one of the switches on the earbud. It's not foolproof, and we found that you have to pause music to have a conversation with someone, but it's useful for hearing the giant truck that we might otherwise have been unaware of, rolling in our direction.
On the right earbud, there are three rubberized microswitches that can perform various functions — pause and play, accept or hang up a call, initiate pairing, enable audio transparency (aka pass-through) and so on — when you press them a certain number of times or press and hold. Compared with the touch controls of AirPods and the Bragi Pro, the push-button switches can be uncomfortable to use because pressing them tends to shove the earbud deeper into your ear, but using a fingernail instead of a fingertip can solve the problem.
Sony's had the most limited controls, and Jabra's controls had a similar range and feel — rubber buttons you push on that tend to push them deeper into your ear.
The case
The Headphone's carrying case was the only one that doesn't have a battery for recharging built-in, which is a real letdown and model's weakest point. All of the other cases also worked as chargers and were mechanically and physically better designs, in particular, the models from Apple and Jabra (Sony's was clunky and oversized, as was the Dash Pro's). The Headphone's case comes in two pieces: the charging unit, which has slots for each earbud and magnetically grips them to ensure they don't slip out; and a hard plastic sleeve that slides over the top. To access the earbuds, you slide the sleeve to one side. We don't love it. It's annoying to have to deal with two pieces — a jewelry-box flip-top would have been far preferable — but at least the whole thing fits in a pants pocket if needed, as it's about the size of two rolls of Life Savers candy.
Reliability
While we went on a walk, wore the earbuds around the house, and took a bike ride, The Headphone's wireless signal worked consistently well with only occasional audio drops — an experience we had with every model we tested. This is noteworthy as losing the signal between the two earbuds or between earbuds, and a smartphone is a common weak link for this category of devices. As a group, they all performed well.
Battery life
The Headphone's battery life is really good for earbuds — consistently five to six hours of listening, with a caveat: You have to remember to turn them off by pressing the power button when you aren't listening as, unlike other models, they don't shut themselves down automatically. The Headphone's batteries handily bested those of Sony's and Jabra's earbuds, which clocked in at around 3 and 4 hours of playtime each — though, notably, both of them have a charging case that bumps their on-the-go playback time to 9 and 13-plus hours, respectively. The AirPods and Dash Pro also have about 5 hours of playback but, thanks to their charging cases, can be topped up on-the-go for up to 24 or 25 hours of total playback.
As mentioned, The Headphone was the only model we tested that didn't have a case that acted as a portable charger, but we felt that its reliably long battery life — enough for a cross-country flight — makes up for that oversight.
Using for sports/fitness
Some wireless earbuds also include accelerometers and heart rate sensors, touch controls and companion apps for fitness tracking. The Headphone is a good option for athletes who simply want snug-fitting and featherweight 'buds to play their workout tunes and, at $149, is a good deal at up to half the price of higher-end models. Still, more avid fitness buffs and professionals will be better served by some of the other models we tested, like the Jabra Elite Sport or the Bragi Dash Pro, both of which have heart rate sensors and sophisticated fitness tracking apps. In fact, the Dash Pro is waterproof and can be used while swimming.
So overall, if you're looking for an audio-centric upgrade from AirPods, or are trying out wireless earbuds for the first time and want ones with great battery life and the ability to block out loud ambient sound, Bragi's The Headphone is the best option.
Breaking down the competition
There was a lot to love about the Jabra Elite Sport ($227.70 on Amazon), a fitness-focused model that athletes should strongly consider. Unlike our top pick, it has a heart rate monitor built in and accelerometers to detect motion; when used with its companion app rather than just as a Bluetooth headphone, there's a wealth of complex fitness management available — from detailed tracking of workout intensity and efficiency (based on max VO2) to optional voice-based coaching and live stats. We had some fit issues, never finding a consistent way to get it to seal and stay seated (it comes with tons of tips and ear molds to help) and we didn't love the physical buttons, which were stiff, or the higher price (now drastically reduced on sale), which kept it from taking the top spot. Still, for advanced athletes, it's worth a long look.
The Bragi Dash Pro ($329.99 on Amazon) is unbelievably futuristic and feature-rich, with smart touch and gesture controls — nod your head to accept a phone call, tap your cheek to summon Siri! It's decked out with software to track your workouts (even in the water, down to one meter), and generally feels like a luxury experience — which it is, at $329, or more than double the price of Bragi's The Headphone and Apple's AirPods. The Dash Pro is pretty great but overpriced for most consumers.
We liked a lot about Sony's WF-1000X ($178 on Amazon), especially the fit and sound isolation. But they have the worst form factor of any model we tried — they stick out of your ear like old-school Bluetooth phone headsets — and an overly large and, we think, destined-to-break charging case. They also had the least useful and most basic controls, which make them less practical overall but still more expensive.
Other competitors
Erato Audio's Apollo 7 ($249 on Amazon) are popular and well-reviewed. However, when we contacted the company for this piece, a representative said the business was "in transition" right now and not interested in being included. Look for news there.
We considered the new Bose SoundSport Free ($249 on Amazon), but reviews have been modest, and it seems that the open design causes the same ambient sound issues as AirPods.
The Samsung Gear IconX (2018) ($149 on Amazon) are popular, but they require a late model Samsung phone for all their features to work; that target audience is smaller, so we chose not to test them, but if you're a member, they are worth considering.
The just-released Jaybird RUN ($179.99 on Amazon) are appealing and seemed like a possible option, but reviews noting that they suffered from erratic wireless issues are concerning and ultimately kept us away.
What the experts are saying
Tom's Guide concurs with our assessment, awarding Bragi's The Headphone an 8 out of 10 and praising battery life and audio quality. Pocket-Lint also singled out The Headphone for its all-day battery life and audio quality, saying "[T]here's very little else out there that will match its performance or reliability." The Verge raved about it too, noting its stripped-down simplicity and calling The Headphone "probably the best wireless earbuds I've used."
On Amazon, consumers rated all of the models 3–3.7 stars, with The Headphone garnering a 3.5, behind only the more expensive Bragi Dash Pro and the Jabra Sport Elite, both of which earned a 3.7.
The bottom line
We think anyone who wants a pair of wire-free earbuds that sound good, are convenient and comfortable and able to block outside noise will be very satisfied with Bragi's The Headphone. It has a solid battery life, fits comfortably, does a great job of blocking out ambient sound while still allowing enough through to be safe for use on streets and is fully compatible with both Android and Apple devices.
Bragi The Headphone: The Best Wire-Free Headphones
[Image credit: Jon Chase/Techlicious]
---
Discussion