TV was the OG of CES – the original gangsta showstopper that made the world sit up and (literally) take notice. And even today, as the giant (51st annual) show unveils teched up everything, the latest generation of TVs is still a primary draw in the Las Vegas Convention Center's core Central Hall. That's because television remains an entertainment and information purveyor ever on a self-improvement course, finding new ways to keep us viewers turned on and tuned in and willing to trade in an "antiquated" five-year-old model. And CES 2018 is sticking with the game-plan.
8K TVs Are Coming in 2018
8K: The bigger the picture, the easier it is to appreciate the extra clarity in today's ultra high resolution 4K TV pictures. So no surprise Samsung and LG are going for extra bombastic, 85- and 88-inch screen sizes (respectively) to showcase the next evolution of the species – 8K resolution.
Sharp Electronics of Japan is also showcasing 8K displays "that are already available elsewhere in the world," said the company's Rey Roque. An 85-inch 8K display has multi-window capability, with audio that can be toggled between the four windows. Perfect for watching four HD sporting events at the same time! Also on display – a 130-inch 8K panel. Maybe we'll see them in the U.S. someday if Sharp Japan works out its differences with American brand licensee Hisense.
We're a couple years away from having any native 8K content to look at (Japanese national broadcaster NHK will showcase it at the 2020 Tokyo Summer Olympics.) But Samsung says its application of artificial intelligence in a multi layered "Convolutional Neural Network" will analyze and up-convert "any content – regardless of its original resolution to clear and pristine 8K." Gee, even ye old 240-line resolution Beta and VHS tapes? We'll see.
Samsung TVs use MicroLED Technology for Enhanced Picture Quality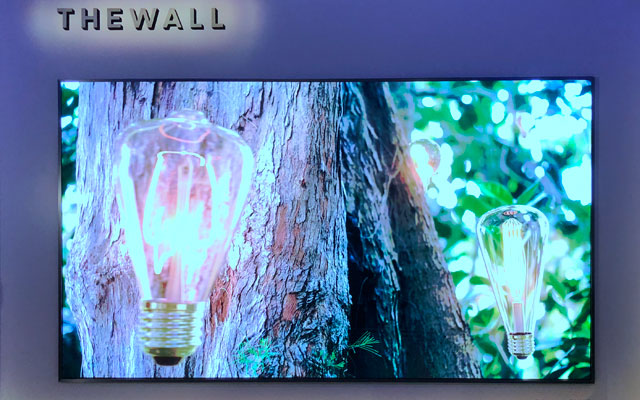 Samsung's 85-inch 8K Q9S, more affordable 4K, 75-inch brother S9 and a show-stopping 146-inch monster ("The Wall by Samsung") are Samsung's first to feature self-emitting MicroLED display technology, though applied in two different ways (and so confusing even to some staffers.) In their huge prototype statement set, microscopic arrays of red, green and blue LEDs are used to create (rather than illuminate) the picture, functioning as self-emitting pixels to create the image (OLED TVs are also a self-emitting technology). And the improvements that MicroLED offers are many. We're talking lower latency, higher contrast ratio, higher color saturation, better efficiency. Samsung quotes black picture areas with its self-emitting MicroLED tech measuring just 0.2 nits of light in a bright room condition while attaining a peak brightness of 2,000 nits. If it proves mass-producible, this breakthrough will throw down a serious competitive challenge to the "blackest black" specs of OLED TV that's made arch rival LG a major factor in the premium TV set category.
With the Samsung Q9S and S9 sets more likely to hit the market this year, masses of microscopic white (only) microLEDs enable a much finer tuned variant of today's conventional LCD sets that are illuminated with dozens or hundreds of backlit LEDs. MicroLED ups the ante to "thousands and thousands of zones" explained Dan Schinasi, Samsung director of product planning. (Not incidentally, Apple also is pursuing MicroLED with its purchase of LuxVue.)
LG's OLED and Super UHD TVs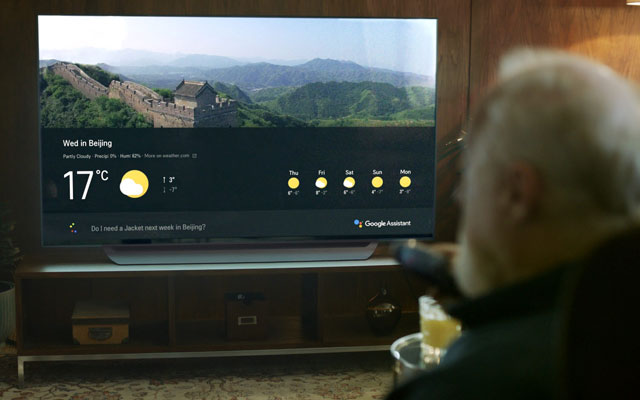 LG Electronics is featuring OLED TVs in a range of new 4K consumer models (up to 77 -inch) improved with a next-generation processor. This "a (Alpha) 9" chip doubles the steps previously taken for noise reduction "to get a much cleaner and smoother image," said LG's Tim Alessi, and to more accurately reflect the colors and contrast of the original source material. The Alpha 9 processor also supports 120 Hz HFR - high frame rate – a next gen thing that sports-shooters and filmmakers, like James Cameron, see as useful for de-blurring fast pan action. But sorry, the new 2018 LG sets aren't otherwise built to the recently finalized HDMI 2.1 specs essential for actually delivering HFR video. (Reason, perhaps, to hold off for 2019 models.)
Sony OLED TVs Turn Screen Into a Stereo Speaker
More OLEDs: Sony was actually the first to showcase MicroLED at CES 2012 in a prototype dubbed "Crystal LED." Ironically it's still not ready to go as a consumer model, though Sony is increasingly embracing the 4K OLED tech it introduced last year in the critically acclaimed and hyper pricey ($3,300 to $18,000) A1E TVs which fine-tune LG sourced OLED panels with special Sony circuitry. For 2018 the more conventionally designed (and likely less expensive) Sony A8F OLED series will offer 65- and 55-inch screen sizes, both boasting the A1E's unique Acoustic Surface technology which turns the entire screen into a stereo speaker. So cool - voices literally emanate from the mouths of on-screen figures.
Making Sense of New High Dynamic Range (HDR) Standards in 2018
High Dynamic Range: Almost every current (2017 and forward) 4K TV set can process (to a degree), the wider color gamut and contrast options that content makers are encoding with the open standard HDR10 high dynamic range format. Color and graduated darks-to-lights picture improvements that are far much more discernable from a distance than the resolution bump up from 2K to 4K.
But HDR 10 isn't the only way to goose the images. Dolby Vision – a more proactive, step-up competitor, packs dynamic metadata that finely adjusts picture parameters on the fly, scene by scene. The likes of LG, Vizio and Sony already offer Dolby Vision in some models and characterize Dolby's version as the "gold standard" in HDR, though DV's ability to over-dramatize a spotlighted face or white hot lightsaber in an otherwise dark scene can be distracting and takes some getting used to.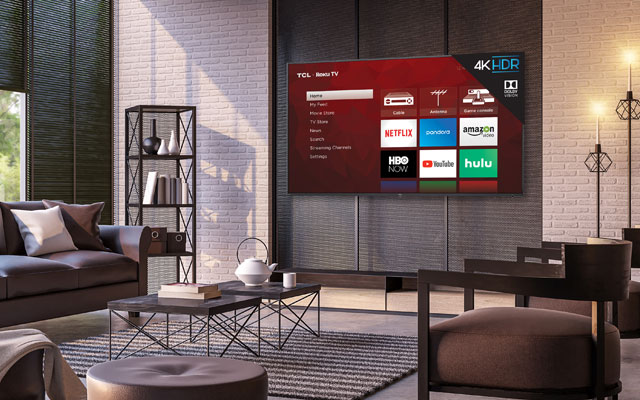 At this CES, we are seeing more price-sensitive brands, like Philips, Hisense and TCL, jump on the (royalty demanding) Dolby format, made technically possible as these TV makers ramp up the quality of LED backlit models. Hisense's flagship H10E Smart ULED Quantum Dot wide color gamut sets break down the picture illumination into 1,050 backlight zones and crank up the potential brightness of screen hotspots to a staggering 2200 nits. TCL is offering a far more modest (and less costly) 96 zones of backlighting on the 55-inch 6-Series TV, 120 zones for the 65 inch model, and brags of using the latest LED phosphors ("Wide Color Gamut with NBP Photon Technology" ) to fill the Hollywood-prized "DCI-P3 color space standard" which potentially offers a 50 percent bigger range of colors than the Rec.709 standard of HDTV. (Red tones are especially extended, blues next, greens just modestly so in DCI-P3 land). Philips offered one TV series with Dolby Vision HDR last year, and for 2018 dives deeper with two smart TV lines (69 and 59 Series) in screen sizes as small as 43-inches and as large as 75.
Samsung is showcasing its alternative, royalty-free enhancement of the HDR 10 format dubbed HDR 10+ which likewise adds dynamic metadata to the previously "static" metadata coding formula. Fox and Panasonic (which remasters lots of movies for home delivery formats) are partners in the project, Warner Bros. and Amazon Instant Video are now coding movies in the format.
Arch rival LG says it can turn original HDR 10 into a more worthy Dolby Vision competitor by using interpolating circuitry named "HDR10 Pro" that's said to perform a more dynamic job of (color) tone-mapping. And to cover all bets world-wide, LG sets are also supporting other alternative HDR formats – hybrid log-gamma (HLG), which DirecTV is now testing domestically on some sports programming and the Advanced HDR by Technicolor format (jointly developed with Philips) which will have content support later in the year.
Sony is tweaking HDR 10, too. Both A8F and X900F Series (LCD/LED) sets feature 4K HDR Processor X1 that aims to make magic with circuitry/software it's calling Object-Based HDR Remaster, Super Bit Mapping 4K HDR and Dual Database Processing. Sony's Dynamic Range PRO6 tech also tweaks the precision of the zoned LED backlighting used in X900F series sets.
The TV as Your Home's Central Hub
While some might argue that smartphones and voice-activated smart speakers have already won the battle, TV makers are still fighting to function as the central hub in today's increasingly automated smart home.
Sony's 2018 Android TV-platform sets have Google Assistant built in – activated by a microphone button on the remote to playback and search for content, stream photos, control smart home devices and find information. The sets also respond to commands dished to smart speakers that work with Google Home and Amazon Alexa platforms.
Samsung TV's onboard SmartThings app wakes up to "Hi Bixby" or a press of the TV remote's Bixby button to search for entertainment, get daily news and weather and control their smart devices – say to monitor the status of laundry loads in a Samsung washer and dryer. Add an intermediary SmartThings hub, and the Samsung TV can now communicate with and control "hundreds" of devices from third-party makers – from Philips Hue light bulbs and Ring video doorbells to Amazon Echo and Google Home speakers.
Don't have the room or big bucks for Samsung's latest smart kitchen TV – built into a huge refrigerator? You might for the 24-inch Philips Kitchen Android TV with integrated Google Assistant. It functions in a hands-free fashion, thankfully, when you're up to the elbows in food prepping or dish washing.
While Amazon's Alexa is seemingly losing the war in smart TV product placement to Google Assistant, the voice-triggering Amazon homegirl is ready to take your commands on select new Hisense Smart TVs, including its beautiful new 100-inch "short throw"front projection 4K Ultra HD Smart Laser TV.
A fresh arrival to the smart TV party, Roku Entertainment Assistant builds on the voice control in standalone Roku internet streaming boxes and will launch later this year on TCL branded TVs. A logical next step for the maker, TCL has been selling boatloads of tellys with an on-board free Roku program guide and platform for streaming services.
Under the umbrella name of ThinQ, LG is using its robust new a (Alpha) 9 Processor, its ever-evolving WebOS smart TV platform and a new alliance with Google Assistant to voice activate all things television. LG also has a bevy of listening-in smart home products, both LG ThinQ branded and otherwise. "Hey Google, tell LG Home-Bot vac to come clean up the popcorn I just spilled! And make this movie better, will 'ya?"
Well, maybe next year for the latter.
[Image credit: Samsung, TCL, LG, Jonathan Takiff/Techlicious]