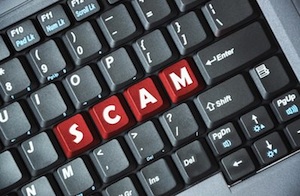 The holiday deals are already rolling out with early Black Friday specials on Amazon, holiday circulars leaking online and big name retailers offering incentives to buy directly from their sites to get a jump on your gift list. But along with the amazing Internet deals come the scammers with new and inventive ways to trick you into handing over your credit card number and personal information.
Here are three of the biggest scams to watch out for this holiday shopping season.
1. Incredible discounts from unknown sites
Not every site offering a great deal is up to no good, but the more amazing the offer, the more wary you should be. Entering your credit card info won't get you that great gift on a bogus site, but it will get the scammers your credit card info and address which will allow them to start racking up charges.
These sites can also lure you in by offering not products, but coupons for popular gifts. If you find yourself having to enter a lot of personal information to get the coupon, reconsider if it's worth it.
What to look for: Watch out for sites with strangely spelled names (i.e. Taarget.com). Be wary of ridiculously discounted deals on high price items like iPads or hard to get items like the hot toy of the season. And when using a lesser known site, use a unique password if you have to sign up for an account to purchase.
2. Malicious links in text, email or Facebook feeds
Your digital life will be targeted in a number of ways to get you to click on a link that will download spyware or a malicious program designed to capture passwords and other personal information. These will come in the form of offers for great deals in your inbox, on your mobile phone via text messages and on Facebook from shady accounts. Also beware the emails telling you a package you didn't order is being delivered.
What to look for: Carefully check the source of the link. Even if it's from someone you know, if you didn't know it was coming, contact them first to make sure they sent it. If it's from an unknown source and offers an amazing deal, you can bet that it's a scam.
3. Bogus gift card offers
This popular stocking stuffer is a vehicle for a common Internet scam. It involves an email or text saying you've qualified for a deep discount on a gift card ($10 for a $25 card!) But the site it takes you to asks for extensive personal information. Enough for scammers to get into your bank account, for example.
What to look for: This one is straightforward, don't click on any links for amazing deals. Also, be wary if you come across any sites that offer gift cards at unheard of prices.
What to do if you think you've been scammed
If you think you've clicked on a link that downloaded something malicious to your device, immediately run a virus scanning program. This is especially true if you are on your mobile phone or tablet. Those devices aren't immune to scamware, even iPhones and iPads.
If you given your credit card information to a site you think may be shady, call your credit card company immediately and alert them. They will put a watch on your card for suspicious activity.
In general, stick to the well-known sites, don't click on an links from unfamiliar sources and don't be duped into giving up extensive personal information to get a good deal.
[scam keyboard image via Shutterstock]