Facebook is a great tool for staying connected to friends and it's easy to digitally celebrate important events with people there. But now several tools are available that let you post more than "happy birthday" or "congratulations" on friends' Timelines. Instead, you can send them a physical gift.
Facebook Gifts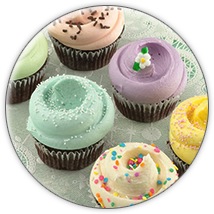 Facebook itself recently announced a new feature called Gifts that lets you pick out things like cookies, household goods, T-shirts and posters and send it to your friends. It looks like it will be pretty slick in a couple of ways.
First, you don't need to know a person's address to send a gift. Once Facebook lets the person know you've purchased one, he or she tells Facebook where to send it as well as if a different size, style or flavor is needed. You can also opt to delay paying for an item until your friend accepts it as well as choose whether you want to keep your gift private or let all your friends know you gave it.
Gifts isn't activated for everyone yet, but once the feature is live, you can give a gift right within the birthday reminder in your news feed or by clicking on the Gifts tab on a friend's Timeline.
Treater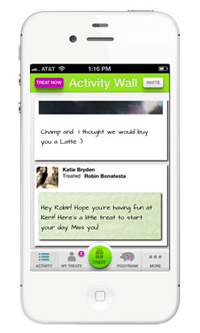 Treater lets you give Facebook friends spontaneous "Treats"—things like a latte at Starbucks, an after-work cocktail, movie tickets or a massage. Each Treat is a one-time use payment card that can be redeemed just like a credit card for gift items at stores, restaurants and online. For now, Treater is integrated with Facebook, but later this week, Treater is launching iPhone and Android apps that will use your phone's address book, so you can send a treat to someone using their email address or phone number or deliver it as a Facebook post.
When a gift recipient wants to redeem a Treat, the one-time-use credit card pops up on the person's mobile-device screen and the merchant manually enters it into the payment register. As soon as the Treat has been used, it vanishes from the recipient's profile and any remaining funds that were not used during the transaction are transferred to a Treater "Piggy Bank" for later use.
Wrapp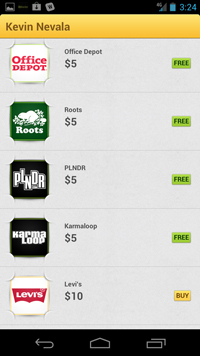 The Wrapp social gift-giving service is cool because it lets you give free and paid gift cards to Facebook friends using your PC or smartphone. The free gift cards are usually smaller amounts, such as $5 to spend at retailers such as Gap or Sephora. You can send them as is, or add funds to make it a larger gift. And, if you don't see a desirable free offer, you can buy gift cards to other merchants such as Levis, Zappos and Banana Republic.

The website and iOS and Android apps connect with your Facebook account and tell you which of your Facebook friends have birthdays today, this week and in the coming months. You just pick someone, grab a gift card and choose to send it to them via email or on the person's Facebook Timeline, along with a message. If you use Wrapp on your smartphone you can deliver the gift via text message, as well.