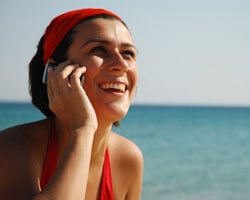 If your cell phone has trouble making it through a full day, try these nine battery-saving tips to help your cell phone last longer.
Turn off your GPS. Unless you are actively using your cell phone for navigation or other location-based services, constantly updating your position is just draining your battery.
Turn off Wi-Fi when not being used.
Turn off Bluetooth when not being used.
Anything that vibrates your cell phone—vibration email alerts, vibration ring tones, haptic feedback—will use up power. Turn off vibration unless you really need it.
Turn down the updating frequency for all of your applications: email, Facebook, Twitter etc. Do you really need to get Facebook updates every 10 minutes?
Web browsing, streaming video and other apps that pull data from the Internet use a lot of power. Cut back to save your battery.
Turn down your screen's brightness. Even the lowest setting is often plenty bright on many cell phones.
Set your screen to time out in one minute or less. The big, bright screens on the new smart phone suck power like it's going out of style.
If you're in an area with no signal, put your phone in "airplane mode" or turn it off. There's no point having your phone waste power looking for a signal when there isn't one.