The road can be a dangerous place. Last year more than 40,000 people died in car accidents and 4.57 million people required medical attention, according to the National Safety Council.
While you shouldn't actively use your phone while driving, there are apps that run in the background and/or you can use hands-free to keep you safe. There are apps that automatically reduce distracting notifications, keep tabs on young drivers, and even call for help automatically in case of emergency. Here are the three free apps you should load to keep you and your family safe on the road.
Remove distractions automatically when you start your car
Do Not Disturb modes for Android and iOS enable you to reduce and even eliminate notifications, calls and texts. And, you can set up rules to allow through calls and/or text from the VIPs in your life (or people who call back within 3 minutes) and notifications from essential apps. When your phone knows you're driving, Do Not Disturb can be activated automatically and it comes with extras, like requiring a hands-free device for routine calls.
iPhone: Starting with iOS 11, you've been able to choose to automatically turn on Do Not Disturb While Driving when your phone connects to Car Bluetooth or when the phone senses you might be driving (If you choose this option, you can always manually exit Do Not Disturb While Driving when you're a passenger.). This mode turns off notifications except emergency alerts, timers and alarms, only allows calls through if your phone is connected to a handsfree device and sends an auto-reply to text messages to inform people that you're driving, To activate Do Not Disturb While Driving go to Settings > Do Not Disturb.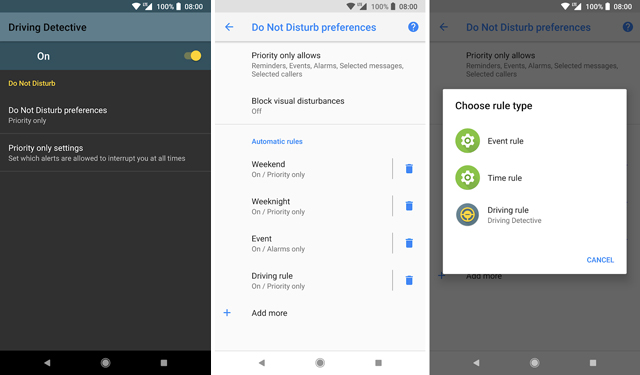 Android: For Android phones, there is a free app, Driving Detective. The app uses motion, your Bluetooth connection and background noise (like engine noise) determine that you are driving and turns on Do Not Disturb mode. You can also use the app to set up calendar or time-based rules. So you could set Do Not Disturb to remain in effect until a specific time or your alarm goes off in the morning.
Get help in case of an emergency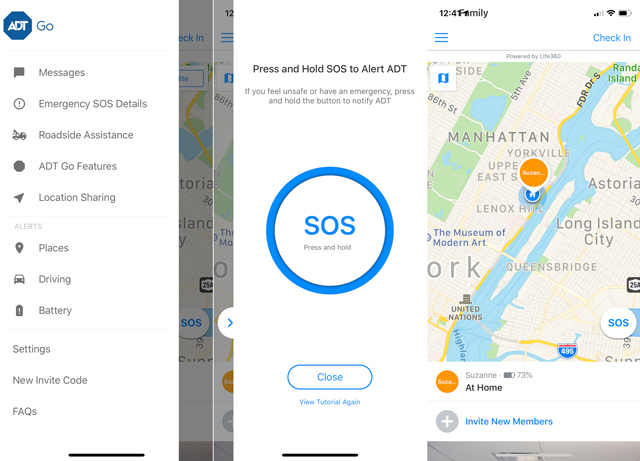 Whether you're in an accident or feeling unsafe, the ADT Go app (available for iOS and Android, $9.99 monthly service fee) will connect you with a live professional to dispatch the right emergency responders. The app also has crash detection. If you are unable to respond when ADT calls to check on your condition, the representative will send emergency services to your location (which is shared with ADT when they are alerted to the crash). With ADT Go, you can add family members to share your location. You can also get location-based alerts, for instance for when your child arrives home or at school. (Check out our story for Free Personal Safety Apps).
Car repair and roadside assistance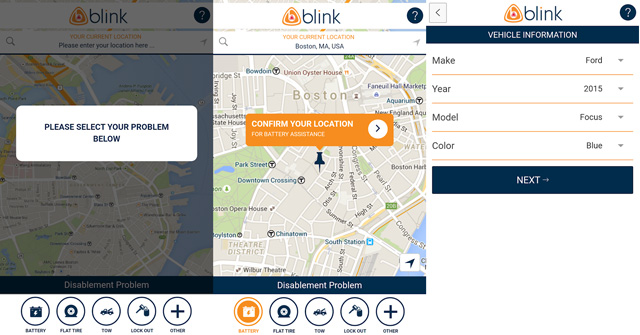 Get an up-front flat-rate price for roadside services, such as a tow, gas, tire change, battery charge or lockout assistance, with Blink Roadside (Free for iOS and Android). Better yet, you pay only when the service is completed.
If you install ADT Go, you can call ADT's Driver Care Support number from within the ADT Go app to connect with a service provider to help with a jump start, flat tire, being locked out of your car or running out of gas.
Navigate safely
No one likes getting stuck in traffic, but getting off the highway and wandering the back roads can be dangerous if you don't know where you're going. So use an app to get alerted when a slowdown occurs and a faster route becomes available. We like Google Maps, which comes preloaded on Android phones and is available free for iPhones in the App Store. Google Maps includes the crowdsourced data from Waze users in addition to its own sources. You can also look for necessities like gas stations and restaurants and see how far out of the way they'll take you, their star rating, whether they're closed and, for gas, the price per gallon.
You can also "Share trip progress" with your contacts so they can keep tabs on you while you're driving. When the trip is done, location sharing stops automatically. (Check out the 14 Surprising Things You Can Do with Google Maps).
[woman driving via BigStockPhoto, Vasil Vasilev, ADT, Blink Roadside, Google]