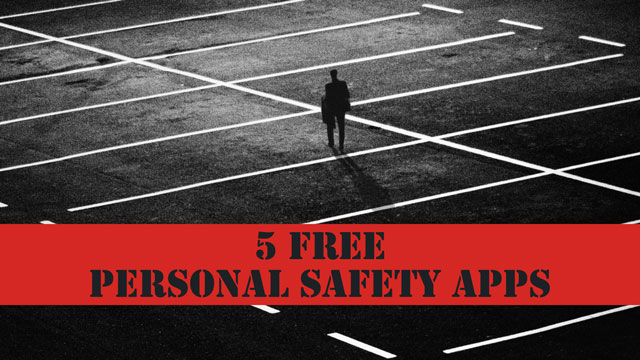 I've lived in "the big city" for all my life, and for the most part, I feel safe when I'm out for a night on the town. But traveling alone through certain areas, especially late at night, often makes me nervous. I'd feel a lot safer, generally, if there was someone there making the walk with me.
Thankfully, if you own a mobile device, you're never truly alone. If you have an ongoing concern for your personal safety, there are personal safety services that offer live monitoring, like the Lively Wearable ($49 on greatcall.com) with Greatcall's 5Star Urgent Response service that connects you to a 24/7 dispatch service starting at $15 per month. But if you just want a way to warn your contacts if you fail to check-in or otherwise need to send out an SOS, there's no need to pay. Here are 3 great free options for providing a little bit of extra piece of mind.
NOTE: If you believe yourself to be in a real emergency, your first line of defense should always be to contact emergency services at 911. No app is 100% foolproof, and cannot substitute for professional first responders.
bSafe
Personal safety app bSafe, a free download for both Apple iOS and Android devices, contains an incredibly wide set of personal safety features. It can be used to privately alert friends that you've arrived at your destination, send info about your changing GPS location and even setup fake phone calls to slyly escape uncomfortable dates and similar situations.
When you need real help, bSafe offers an audible alarm and immediately starts broadcasting video captured by your phone and your GPS location. Information is continually collected and recorded, and is sharable with police should it prove necessary to do so. You can activate the alarm manually or you can use the Follow Me Timer mode, which which will automatically send an emergency SOS message if you don't check in before the timer runs out. This is great for late nights or a little extra safety on your morning run when you only want to disturb people in an emergency.
The one drawback is that friends and family you designate as your guardians all have to load the app and create a bSafe profile. The app is available on iTunes and Google Play.
Kitestring
Kitestring is a bit different: It's a web-based service that checks in with you and sends an alert to pre-selected contacts should you fail to respond. Kitestring works through your inaction.
Kitestring check-ins are sent by SMS text, so the service works even with feature phones – you simply need to visit the free service's website at kitestring.io. Once you have your phone set up, you can visit the Kitestring site to customize your SOS message and activate an SMS message broadcast that will be sent out in 30 minutes, 2 hours, 5 hours or 12 hours. Or, you can simply text the Kitestring service with the number of minutes in which to active your SMS broadcast. Once the time is up, you get a check in message and if for some reason you're unable to respond to that text withing 5 minutes, Kitestring will let your contacts know. You can even set a check-in word and duress codes, so Kitestring will keep working even if someone else gains control of your phone.
You can learn more about Kitestring by visiting its website at kitestring.io.
Bugle
Created with input from Search and Rescue professionals, the Bugle app for iPhone is designed primarily for runners, hikers, cyclists and others that don't want to take their phone with them when they're out. Users set how long they're going to be gone and where they are going. If they don't check in within the time limit, their emergency contacts in their phone are alerted by email and text.
This is not just for people outside exercising. It's perfect if you are going on a blind date, meeting someone from a Craigslist ad, or any activity where you are meeting a stranger and know when you'll be back.
Best of all? It's free. Get it on iTunes.
If you don't have an iPhone, check out HikerAlert.com. For $4.99 per year, this web-based service lets you set timers to alert friends and family via email and text if you don't return by your scheduled return time. Before leaving you can create a trip report from your profile, including planned campsites, your favorite trails, the equipment you carry and more. And mobile phone tracking enables you to leave a digital breadcrumb trail whenever you have cell service.
SafeTrek
The SafeTrek app is an emergency app that lets you alert the police when you are in an unsafe situation, but with a failsafe in case you don't need help. When you launch the app you place your thumb on the Safe button. If you release your thumb off the button you are asked to enter a 4-digit code. If you don't enter the code, the police are notified. If you do, nothing happens.
This is a good way to be ready in case the situation is questionable, but you don't know for sure it's time to alert the police. But if the situation gets dangerous, you can send out the call for help without being obvious about it.
The SafeTrek app is free on iTunes and Google Play.
Samsung Galaxy's "Safety Assistance"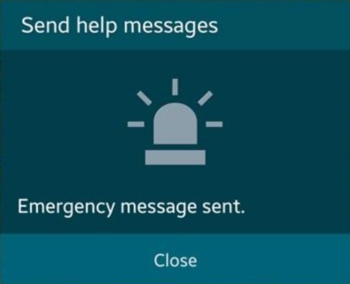 The Samsung Galaxy S5, S6 and S7 and Note line of phones have a lot of great features. One of these, called "Safety Assistance," is a built-in emergency tool that lets you quickly notify pre-determined contacts that you may be in immediate trouble.
You can enable and configure Safety Assistance by tapping Settings > Quick Settings > Safety Assistance > Send Help Messages. Once the feature is turned on, you can send an SOS alert by pressing your phone's lock button three times. Sent information can include a map of your location, photos from your phone's front and rear camera and a brief voice recording.
It's important to note that Samsung's Safety Assistance feature isn't a means of contacting 911 (text-based 911 isn't supported in all areas). You should also be aware that poor network conditions may delay or block these alerts.
Updated on 7/15/2016 with new app suggestions
[man walking in empty parking lot via Adobe Spark, SafeTrek, Bugle, Kitestring, bSafe, Samsung]