Didn't plan a holiday, but want a holiday asap? Fret not, the spontaneous getaway doesn't have to cost the earth, nor does having fun require months of preparation.
Waiting till the week before – or even days before – can sometimes uncover a (relative) bargain on your accommodation, flight or package deal, as hotel and travel operators may lower prices on what hasn't sold.
For these affordable last-minute bookings, the key is to be flexible with your travel times (such as grabbing a redeye or early morning departure) and even the destination, particularly if you're hoping to spontaneously escape over the weekend. A beach villa in Oahu might be available last-minute but it's likely to be priced higher.
Don't forget to check where your frequent flier miles or credit card points can take you (once again, be flexible about destination) – a less-popular location just might be reachable by reward flight that would otherwise cost a few hundred dollars booked at the last minute, while a pricey hotel stay could instead be a judicious points splurge.
If you have more time than money, choosing a flight with a stopover can result in a cheaper last-minute price. Living in a city with multiple airports can also be a boon, as you may be able to fly out of a smaller airport for a cheaper route.
However, it's also worth considering the price of taking that awkwardly timed flight: What are the additional costs of getting to the airport at an odd hour, and how will you get to your accommodation when you land? As well, how much might you spend at an airport during a stopover? When it comes to spontaneous getaways, maximizing the time on the holiday is crucial.
These apps will help you score that last-minute break, whether you're after a long break or hoping to get out of the town over a public holiday – and once you're there, we've got you covered too.
Getting there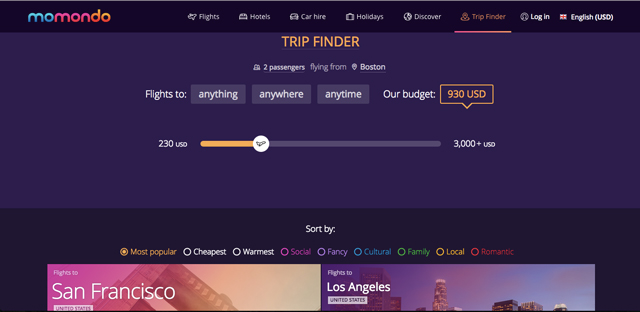 Momondo
Not only is Momondo (iOS/Android) one of our favorite – and most reliable – flight search services, you can get some inspiration on where to take your impromptu vacay by hitting its Trip Finder section. Here you can browse destinations from city breaks to beach holidays and family-friendly settings, with filters to view within your budget, as well as the rough time you want to go, from the current month to six months down the line. You can also set the type of break you're after – romantic, fancy, social or simply "the cheapest".
To feel extra spontaneous, select "Anywhere in my budget" to see flights, hotels and/or package deals for any holiday within a certain dollar amount.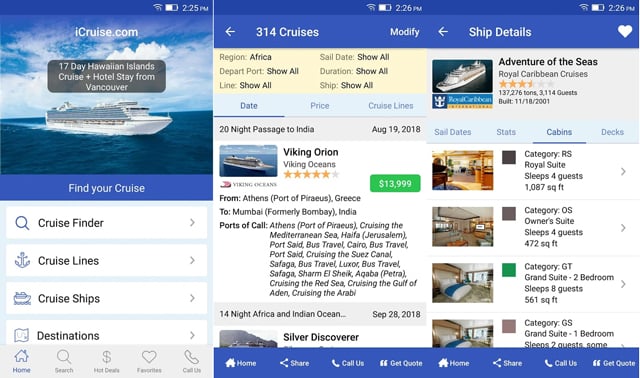 Cruise Finder
To holiday on the high seas minus much planning, head to Cruise Finder (iOS/Android), a one-stop resource for cruises departing as imminently as the following week. The site covers cruises that last two nights up to two weeks long, with departures from multiple ports around the world – think sailing into the Caribbean, Norwegian fjords and the Pacific Ocean, as well as shorter sojourns off to the Bahamas and Cuba.
Found the perfect ship but not sure you can commit? You can select a cruise and get price alerts.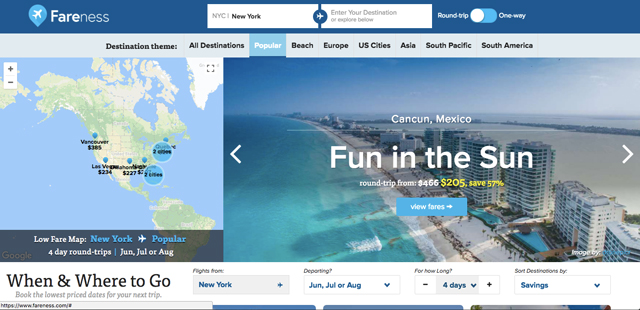 Fareness
A flight search service based on finding you the lowest-priced dates to fly, Fareness (iOS/Android) is a great option when you're flexible on destination. You can pick a specific place, but it's so much more exciting to choose a theme – like beach, South America or even 'popular' – then browse the locations that appear on the minimal, eminently scrollable tile interface. These results can be filtered by the length of your trip from two days to 35 days. There's also an option to view deals for the next two weekends or by the coming months, which is where Fareness really comes into its own – it'll display the dates when it would be cheapest to fly.
Picking your accommodations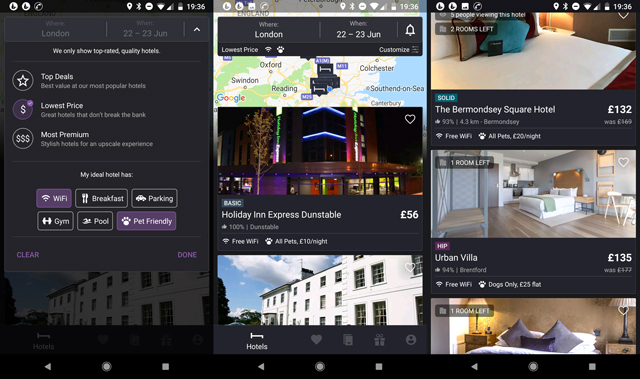 HotelTonight
Startup HotelTonight pioneered the idea that one could score a nice hotel room last minute, for a reasonable fee. The app-only (Android/iOS) platform has a well-curated selection of hotels in 600 cities, sorted into Basic, Solid, Hip and Luxe categories to facilitate quick decision-making, with rooms bookable in about ten seconds. Its discounts operate on the deals the startup makes with hotels to help them shift their last rooms on the same day or day before, so you're likely to get a genuinely good deal – though it's worth noting that the app now offers advance bookings up to 100 days where it claims it can offer even better discounts. A Geo-Rate feature highlights those hotels that offer discounts to users in particular locations – you might, for example, get an especially good bargain if you're looking for a hotel in your home city.
Airbnb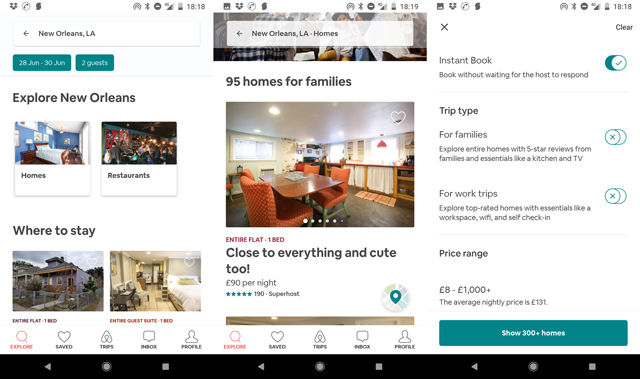 Whether you're on a tight budget or prefer the space of a well-appointed home on holiday, Airbnb (Android/iOS) is a great port of call for last-minute accommodation that usually doesn't cost any more than it would if you'd planned ahead. Set the Instant Book filter to view places that will automatically confirm your reservation – handy when you're about a few hours away, with nowhere to rest your weary head.
The only caveat is that if you don't already have an account, you'll have to set up a profile, and some places automatically bar guests without any reviews from previous stays.
When you land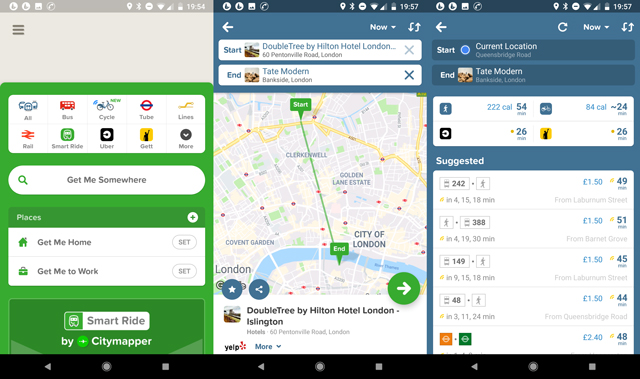 Citymapper
Citymapper (Android/iOS) contains transit maps for nearly 40 major cities in Europe, Asia and North America with the options to save them offline, making it ideal for the frequent holidaymaker, spontaneous or not.
It displays all your transport options, from buses, trains and subways to local ride-sharing options such as Uber or Lyft, as well as cycle-sharing schemes. Once you input a landmark or street address to navigate to, it displays how each of these options can get you there, including time is take, fare and even calorie burn for walking or cycling. In some cities, you can also book a 'Smart Ride', an on-demand, fixed-fare minibus service operated by Citymapper itself, though whether it's more convenient (or cheaper) depends on where you're going.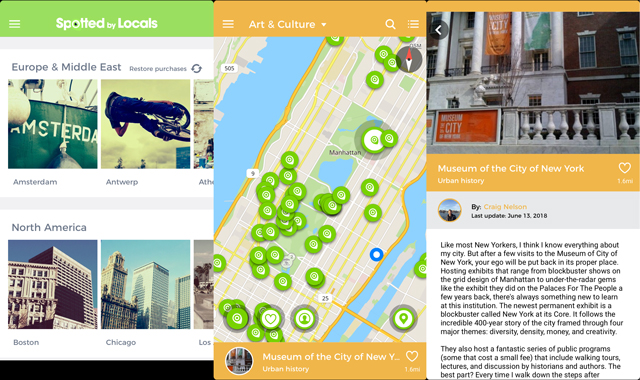 Spotted by Locals
Covering 76 cities in Europe, North America and the Middle East, Spotted by Locals (Android/iOS) offers Lonely Planet-esque city guides based entirely on tips by locals, rather than tourist attractions. According to the site, "spotters" apply to write for the guides and cover only their frequently visited spots, which helps recommendations maintain their edge. Each guide costs $3.99 to download to your phone, after which you'll have offline access, with new and seasonal tips updated for free. Within the app, you can navigate to suggested spots (no need for internet) as well as add your own places – such as your hotel – to your map. If you're not sure you need the whole guide, head to the website, where tips are freely available.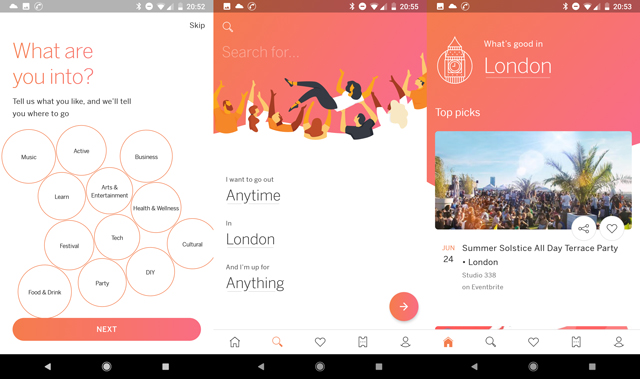 Eventbrite
Heading on a city break without an itinerary? The grandmaster of event-ticketing, Eventbrite (Android/iOS) can show you dozens of events near your location, filtered by categories such as health and wellness, "learn", tech, music and more. You can buy tickets directly on the app – including booking for free events - with tickets and event info saved in a handy tab, accessible offline. To see what mischief you can get up to, the search tab is a fun, easy way to set what you want to do ('Anything', as well as specific categories), when you want to do it, and what city you want to do it in.
Bonus: This will also be handy if you decide to staycation instead.
Updated on 7/17/2019
[Image credit: packed bags for vacation via BigStockPhoto]