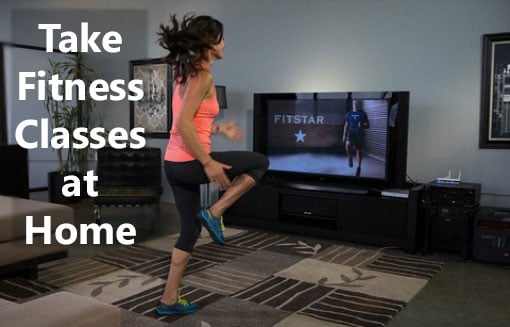 No time to get to the gym is no longer an excuse for not getting your workout in. Even without a home gym, streaming fitness programs and apps give you plenty of options for working out in your living room.
These aren't just the same tired workout videos over and over. No matter what kind of workout you enjoy, there's a program that can deliver the workouts you want with the variety you need to keep you interested and motivated. All you need is an internet connection to stream workouts to your computer, mobile device or TV.
While some of these programs come with a price tag, several are completely free and most cost less than a month's gym membership. So why wait? Let's check out the 10 best options for online fitness classes.
---
Barre3 Online
This isn't your standard gym workout. Barre3 combines moves from ballet, yoga and Pilates to create a unique, low-impact routine that gets your heart rate up and works your whole body. If a Barre3 studio isn't convenient, you can work out online with over 200 routines designed specifically for you to do at home with little equipment required. In addition to straight-up videos, look for workout programs like "7-Day Body Blast" and "28 to Great."
Standout feature: Unique, low-impact workouts combining ballet, yoga and Pilates
Available on: iOS, PC, Chromecast
Price: $15/month, $70/six months, or $120/year
---
BeFiT
YouTube isn't just for funny videos and clips from last night's talk shows. Channels like BeFiT are serious about helping you get in shape. BeFiT shows hundreds of workout and health videos, with new routines posted daily. Trainers include big names like Jillian Michaels, and workouts cover the gamut from relaxing yoga routines to serious cardio and strength training, with workouts suitable for beginners and experts. If you're looking for more than one workout, check out BeFiT's playlists, which organize videos into multi-workout programs.
Standout feature: Playlists with multi-workout programs
Available on: iOS, Android, PC, Apple TV, Roku, Chromecast, most SmartTVs
Price: Free
---
Crunch Live
If it's a Crunch Gym style workout you're after, why not go straight to the source at Crunch Live? Even if you don't have a Crunch Gym nearby, you can stream their popular high-energy routines anywhere you have an internet connection. There are more than 75 classes — fewer than other services on this list, but enough to offer a lot of variety — led by Crunch instructors and featuring real members.
Standout feature: The popular Crunch Gym approach at home
Available on: iOS, Android, PC, Chromecast
Price: $9.99/month or $90/year with a 10-day free trial
---
Daily Burn
Daily Burn offers hundreds of workout videos with plenty of variety and organized programs — nothing remarkable there. But Daily Burn stands out because it goes beyond workouts to offer nutrition planning and other health information and, through its app, track calories burned to help you get into shape. If you like the idea of online workouts but want more than exercise videos, Daily Burn is a good choice.
Standout feature: Nutrition planning and calorie tracking
Available on: iOS, Android, PC, Roku, Apple TV, Chromecast
Price: $12.95/month with a one-month free trial
---
FitStar
While many of the programs on this list follow a static format — you watch a video and follow along — FitStar provides a fitness routine designed just for you. When you fire up FitStar for the first time, it walks you through a quick fitness test. After each exercise, you record how many reps you did and how difficult it was. FitStar decides what to put in your first routine, and it keeps checking in on how difficult everything is so it knows when to up the intensity. Each routine offers a mix of exercises, with video walkthroughs organized based on your skill level and goals. The basic "get moving" program — two workouts a week designed to do just that — is free, but you'll need to subscribe if you have different goals or want to work out more often.
Standout feature: Customized workouts that get tougher as you get more fit
Available on: iOS, Android, PC, Apple TV, Chromecast
Price: Free for two workouts a week, $7.99/month or $39.99/year
---
Jessica Smith TV
While BeFiT offers a huge variety of trainers, Jessica Smith TV is all Jessica (with occasional cameos from her dog Peanut). Jessica's attitude is easygoing as she walks you through home workouts that require little to no equipment. From flexibility to chair workouts to cardio kickboxing to walking, there's something for people of every skill level. You'll find new videos about once a week, but there's a back catalog of hundreds of videos to work through.
Standout feature: Easygoing, personable trainer
Available on: iOS, Android, PC, Apple TV, Roku, Chromecast, most SmartTVs
Price: Free, though you can pay to buy her workout DVDs
---
Physique 57
This isn't just another celebrity fad workout. Physique 57 promises results after just eight 57-minute workouts. The program uses a technique dubbed interval overload in which you focus on different parts of the body in sequence, with stretches in between. While there are specific workout programs (from two weeks to 12 weeks), you can also create your own routines, even combining short workouts into longer ones to make your perfect class. Though it's one of the more expensive options on the list, results after just eight classes is what all of us want to see in a workout, isn't it?
Standout feature: Claims results in just eight workouts
Available on: iOS, Android, PC, Chromecast
Price: $57/month with a 1-week free trial
---
Pilatesology
While many gym workouts incorporate Pilates moves, they're not purely Pilates. And if you're interested in classic Pilates but don't have time to go to a studio regularly, Pilatesology is a great option. Find tons of variety across over 800 workout videos including workouts for beginners, seniors, anyone in a time crunch, and more. Hundreds of the site's videos require no equipment, making them easy to do at home or on the go.
Standout feature: Classic Pilates at its best
Available on: iOS, Android, PC, Roku
Price: $19/month or $149/year with a 10-day/12-class free trial
---
Wello
No matter how you slice it, the problem with fitness videos is that they're static. They can't tell you whether you're doing an exercise properly, and they don't always give you the advice you need to make the most out of you workouts. But don't rush your personal trainer just yet. Wello offers live classes with a trainer, using your webcam to get immediate feedback. Instead of picking a specific class to watch, you pick a trainer who works for you — and with trainers covering yoga, Pilates, boot camp, kettlebell, Zumba, martial arts and more, there's something for everyone. Classes can be one-on-one or include up to five people, so you'll never be lacking for personal attention. And because you're working out at home, there's no equipment needed; just be sure to have enough empty space to work out in. Wello could be the most expensive option on this list, if you take a lot of classes, but it's still less than seeing a personal trainer at the gym.
Standout feature: Personal video attention in private or small classes
Available on: PC
Price: Group classes cost $14/class (or buy in a bundle for between $7 and $12 per class); one-on-one sessions cost $29/class (or buy in a bundle for between $14 and $24 per session)
---
YogaGlo
If you can't make it to the yoga studio as often as you'd like, YogaGlo is the next best thing. It offers yoga for every level, including beginners, making it a good way for anyone to give it a try. There are over 3,000 classes taught by professional yoga teachers, with new classes added daily. YogaGlo also offers a nice feature that most of these programs don't: If you watch videos with the iOS or Android apps, you can save them to view offline so you can do yoga from your hotel room, in the park, or anywhere else you don't have broadband connectivity.
Standout feature: Specializes in yoga, save workouts for offline access
Available on: iOS, Android, PC, Roku, Chromecast, Samsung SmartTVs
Price: $18/month with a 15-day free trial
[Image credits: Barre3, BeFit, Crunch, Daily Burn, FitStar, Jessica Smith TV, Physique 57, Pilatesology, Wello, Yogaglo]