While the internet has a practically limitless amount of information, sometimes your favorite websites can vanish entirely. But if you find yourself in need of a webpage that doesn't exist anymore, you have options: the Internet Archive has saved over 387 billion webpages so that you can find just about anything, past or present.
The Internet Archive's Wayback Machine works kind of like a camera, taking snapshots of webpages over time and then saving them to its archive. The only difference between the Wayback Machine and the average search engine, however, is that it gives you the option of when you want to see whatever you're looking for.
How to search for archived webpages with the Wayback Machine
If you know how to use a search engine, you know how to find archived webpages. Simply go to the Wayback Machine and type your search term and it will bring up a list of relevant websites. You can also type in a website or specific URL to see dates when the website or webpage was captured. There's also a very detailed advanced search option, which lets you narrow by search term, date, where the term appears and more.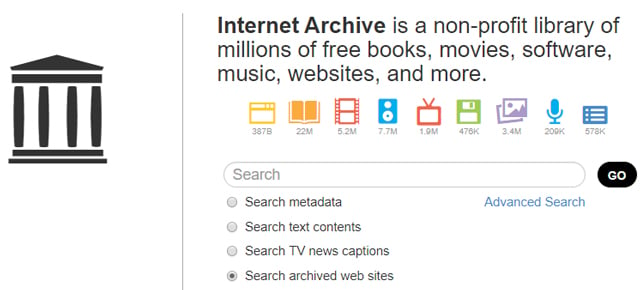 Click on a site in the search results to load the latest version of the site it has archived, with a slider at the top of the page that lets you select when you want to see. Select the time you'd like to see, and it will load up the snapshot of the site from that date and time. The formatting of archived sites can be a little odd, but you should be able to browse the site just as it was when the Internet Archive took its snapshot.
Searching for specific website names or addresses work best, as the Wayback Machine will send you directly to its archive for that site. If you aren't looking for a specific website (or don't remember what it was called), you can type in any search term, but you'll get better results by being as specific as possible. Because the Internet Archive sorts content by website, you'll have to find the correct website and then find the content you want on it. The information is all there, but it will be easier to find if your search term is extremely specific.
Search for archived webpages with a browser extension or app
The Wayback machine is also available as a browser extension for Chrome, Firefox and Safari, all of which let you click a button in your browser to see older versions of the site you're browsing. And if you'd rather go mobile, there's also an app for Android and iOS so you can find whatever you want whenever you want.
[Image credit: screenshots by Techlicious]