If you're using Safari's incognito mode, aka private browsing, you probably want to keep your browsing history private. However, before iOS 17, anyone with access to your unlocked iPhone could peek into your browsing activities, even if you were using incognito mode. iOS 17 changes that with a new feature called Private Browsing Lock.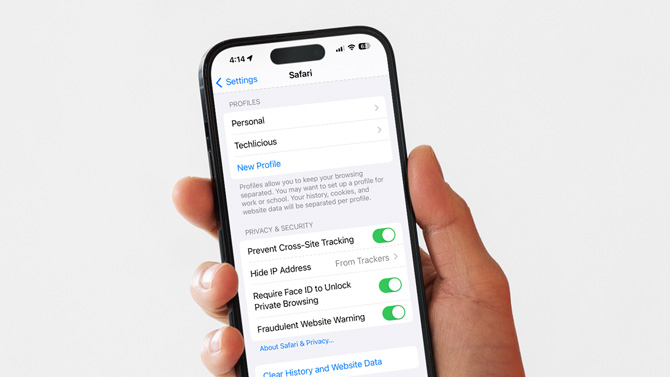 Private Browsing Lock secures your incognito sessions with your Face ID (or Touch ID), requiring authentication each time you access any of your Private tabs. In testing this feature, I found Face ID verification to be so fast you'd hardly even notice it. So if you use incognito mode, you should turn on Private Browsing Lock.
Here's how to make sure Private Browsing Lock is active.
Go to the Settings app.
Select Safari.
Scroll down to the Privacy & Security section and toggle on Require Face ID (or Touch ID) to Unlock Private Browsing.
Private Browsing Lock is a simple yet effective safeguard. With just a few easy steps, you can gain an additional layer of security, ensuring your personal browsing habits remain well-protected from prying eyes.
[Image credit: Screenshots via Techlicious, mockup of hand holding phone via Canva]
For the past 20+ years, Techlicious founder Suzanne Kantra has been exploring and writing about the world's most exciting and important science and technology issues. Prior to Techlicious, Suzanne was the Technology Editor for Martha Stewart Living Omnimedia and the Senior Technology Editor for Popular Science. Suzanne has been featured on CNN, CBS, and NBC.