It never fails. I'm rushing out the door late to work and I can't find my keys or my wallet—and sometimes my smartphone. It's as if gremlins hid everything during the dead of night, though it's more likely the work of my kids in the case of my smartphone.
That's where tracking devices come in. All you have to do is adhere a small tracking device tag on an item you habitually lose: your phone, the remote, the dog. Then, when it goes MIA, you can use either your smartphone or a locator unit to signal the tag to beep or flash a small LED light to signal its location.
There are two basic types of finders: Radio Frequency (RF) and Bluetooth. RF finders use a dedicated fob for tracking your devices, while Bluetooth finders work through an app on your smartphone. The range is about the same (30-100 feet, depending on the device and conditions), though you get more features with the Bluetooth tags.
Here are our favorite devices for finding all the lost things in our daily lives.
RF tracking devices
Click 'N Dig! Key Finder

The popular Click 'N Dig tracking device runs on radio frequencies (RF), like a cordless phone, and comes with one finder fob and four tracking devices. Attach the tracking devices to your easily lost items by adhesive backing or key ring. Each tracking device measures 59.9mm x 40.2mm x 10.7mm and is color-coded and corresponds to a colored button on the finder.
When an item goes missing, you press the colored button on the finder and the tracking device will flash and beep with a volume of 90-105dB. The signal will go through walls and cushions, but you'll need to be within at least 60 feet of your lost item.
The Click 'N Dig comes with extra batteries for the tracking devices. Choose from packages of two, four or six tracking devices.
Price: $ 19.95 on ClicknDig for 1 tracker and 2 key fob tracking devices (check price on Amazon), $25.95 on ClicknDig for 1 tracker, 2 key fobs and 2 tags (check price on Amazon), $39.95 on ClicknDig for 1 tracker, 3 key fobs and 3 tags (check price on Amazon).
Esky Wireless RF Item Locator Key Finder

If you're not keen on shelling out for new batteries every few months, the Esky Wireless RF Item Locator Key Finder has you covered. Just 10 minutes of charging will deliver up to 3 months of use and when it's time to recharge, the tracking device's LED light will flash to let you know. The Esky comes with five device trackers that can be stuck to your TV remote, laptop or whatever you want to track with the included velcro strips.
The range on these is 50-100 feet, if you have a clear line of sight, according to the company. The tracking devices measure 53.3mm x 30.5mm x 4.6mm and have a built-in 85-90dB alarm.
Price: $26.99 on EskyNow, check price on Amazon
Bluetooth tracking devices
Tile Mate, Tile Pro and Tile Slim

Tile Slim, Tile Mate and Tile Pro are great tracking devices that work with the Bluetooth functionality of your phone. Smaller and thinner than most other tracking devices, these Tile device trackers don't utilize a transmitter unit but are located via the app. When you get within 100 feet of the Tile Slim, 150 feet of the Tile Mate or 300 feet of the Tile Pro, you can ring the Tile-tagged device. There is no flashing light on the Tile but it will play an audible sound. The Tile Slim has an 88dB alarm, the Tile Mate is 1.5 times as loud as the Tile Slim, and the Tile Pro is 2 times as loud as the Tile Mate. And, if you double press the "e" on the Tile, your phone will ring with the Tile tune—even if you've turned your phone's ringer off.
But what if you are out of range? That's where Tile products really shine. They will use every phone with the Tile app installed to search for your Tile tag. If someone else's phone finds it, you will be notified of its location and your private information is never revealed to the phone owner (it works in the background). It will also remember the last location it received from the Tile tracking device.
The Tile Slim measures just 54mm x 54mm x 2.4 mm, which is thin enough to easily stash in your wallet. Because it's so thin, it has a built-in battery and needs to be replaced every year. The Tile Mate measures 34.7mm x 34.7mm x 6.2 mm and Tile Pro measures 41.6mm x 41.6mm x 6.5mm. Both have user-replaceable batteries.
You can subscribe to Tile Premium service for $3 per month or $30 for the year, which covers all of your new Tile Mate and Tile Pro devices. Included in the subscription are automatic battery replacement, a 3-year warranty, shared tracking between household members for devices like remote controls and smart alerts. Smart alerts will tell you if you have left home without one of your tagged items.
Price: Tile Pro is $35 on TileApp (check price on Amazon), Tile Mate is $25 on TileApp (check price on Amazon), Tile Slim is $30 on TileApp (check price on Amazon)
Adero Intelligent Organization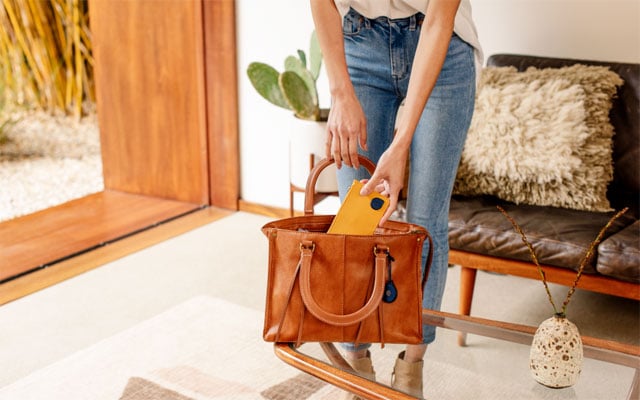 Looking to track your keys, wallet and other devices at once? Adero has you covered with intelligent device trackers that not only are in communication with your smartphone but also can "talk" to a subset of three smaller tags, called Taglets. So, you could put one tag in your bag and it could keep track of up to three other items. Want to make sure your water bottle, sneakers and headphones are in your gym bag? Adero has you covered. Just press the Smart Tag and it will light up green if all of your items are accounted for and red if something is missing. You can even set reminders to check that you have everything together in your bag before you head out. For instance, you might get a notification saying that your water bottle and gym bag aren't together 15 minutes before you'd planned on heading to the gym.
Smart Tags are rechargeable, with the Smart Tags lasting 2 months per charge and Taglets last up to 2 years before they need to be replaced. Smart Tags measure 35mm by 4.2mm and are splashproof and Taglets measure 25.5mm x 3.4mm and are waterproof.
Price: $119.99 for a starter kit with 3 Smart Tags, 3 Taglets and charger on Adero (check price on Amazon),
Find your phone ring when the ringer is off
If you just need to find your phone and the ringer is off, you can log into your Apple or Google account from any web browser (mobile or desktop) to make your phone ring.
For iPhones, go to icloud.com and enter your Apple ID and password. Once you're logged in, select Find iPhone, choose your phone from the devices associated with your Apple ID and click on Play Sound.
For Android phones, go to www.google.com/android/devicemanager and log into the Google account associated with your phone. Once you're logged in, select your phone from the devices associated with your Google account and click on Ring.
Updated on 3/1/2019 with new tracker options and updated pricing.
[Lost keys via BigStockPhoto, all others via Click n Dig, Esky, Tile, Adero]