Updated on 12/7/2022 with information on using WiFi calling with a VPN, current instructions on setting up WiFi calling, and new screenshots.
Most of us spend time in at least a few places where our phones just don't work, whether it's a room or two at home or at work, a favorite coffee shop, or some other signal-lacking location. That's where WiFi calling can save the day. Instead of relying on the cellular phone network, WiFi calling and texting use an available WiFi network to place and receive your calls over the Internet.
What is WiFi calling
WiFi calling is regular calling on your cellphone, except your carrier routes the call over an available WiFi network instead of its cellular network. When you call, your phone automatically selects the best network – cellular or WiFi – you don't need to do anything.
How much does WiFi calling cost?
WiFi calling doesn't cost anything extra. Carriers treat your WiFi calls as though you were making a regular cellular call from the U.S. So whatever rates and fees apply to your regular cellular calls will also apply to your WiFi calls, including deducting call minutes from your monthly allotment if you don't have an unlimited plan.
WiFi calling is perfect for overseas travelers because there's typically no roaming or international charge for making calls or sending texts back home. For making local international calls, you will be charged an international rate based on your international calling plan. And, WiFi calling isn't supported in some countries, including China, Cuba, North Korea, India, Iran, Israel, Pakistan, Saudi Arabia, Sudan, Syria, and Turkey, United Arab Emirates, and Vietnam.
If you use a VPN (virtual private network) on your phone, your carrier may charge you for calls based on the location of your VPN server if it's located outside of the U.S. Your carrier should inform you that you will be using international roaming when you first connect. However, it's wise to check your VPN server location before using WiFi calling or turn your VPN off before making calls.
While WiFi calling is available on most iPhones and Android phones, it isn't automatically enabled.
How to make WiFi calls on an iPhone
To activate WiFi calling on iPhones, go to Settings > Cellular > Wi-Fi Calling and then toggle on "Wi-Fi Calling on This Phone."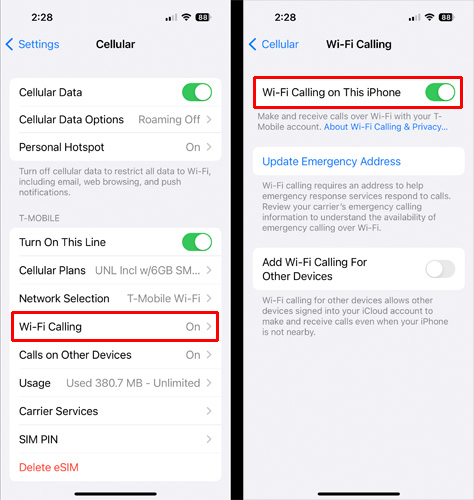 How to make WiFi calls on Android
To activate WiFi calling on Android phones, you'll generally find WiFi settings under Settings > Network & Internet (or Connections) > Calls & SMS, where you can then toggle on WiFi calling.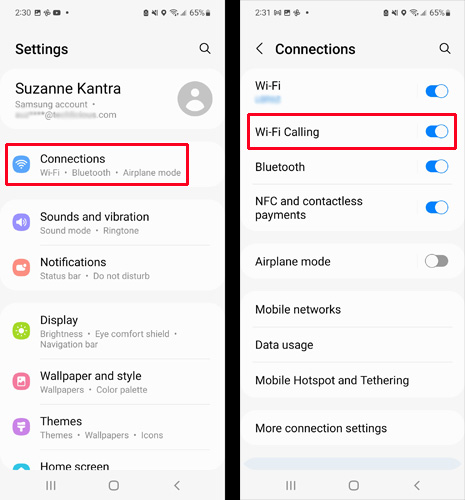 If you don't see these settings on your iPhone or Android phone, you can check with your carrier to make sure your phone supports WiFi calling. For T-Mobile, go to T-Mobile's Device Support page and look up your phone model. For A&T, check their list of phones that support WiFi Calling (this is a PDF file). For Verizon Wireless, go the Verizon's Smartphone Simulator page.
Once you activate WiFi calling, you dial or text as usual. The routing of your call or text is handled automatically in the background.
Note that some VPNs may interfere with your ability to use WiFi calling. In that case, you may need to either turn off your VPN to make WiFi calls or use split tunneling in the VPN settings to exclude your Phone app from using the VPN. Though I found that even split tunneling may not work with all VPNs or carriers. No matter what I tried, I could not get WiFi calling to work on a T-Mobile Android device while running Proton VPN.
How WiFi calling compares to cellular
The quality of your WiFi call depends on the speed of the WiFi network. If you're working from home or your office, you'll likely have the bandwidth needed (2-5Mbps) to carry on a high-quality call. However, if you're using a public WiFi hotspot, there is no guarantee there will be enough bandwidth for a high-quality call. Signal strength can diminish as more people attempt to use the same network, such as at hotels, airports, or athletic stadiums. As a result, you may experience dropped calls, poor voice quality, or a 1- or 2-second delay in the conversation.
Does WiFi calling drain or save your battery?
If you have poor cellular coverage and a decent WiFi signal, using WiFi calling will help save battery life – but only if you put your phone in Airplane mode to turn off your cellular radio. Regardless of whether you are using a WiFi or cellular network for calling, your phone will boost the cellular signal to establish a better connection when it has poor reception as long as you have cellular service turned on.
[Image credit: woman talking on cellphone in coffee shop via BigStockPhoto]
For the past 20+ years, Techlicious founder Suzanne Kantra has been exploring and writing about the world's most exciting and important science and technology issues. Prior to Techlicious, Suzanne was the Technology Editor for Martha Stewart Living Omnimedia and the Senior Technology Editor for Popular Science. Suzanne has been featured on CNN, CBS, and NBC.