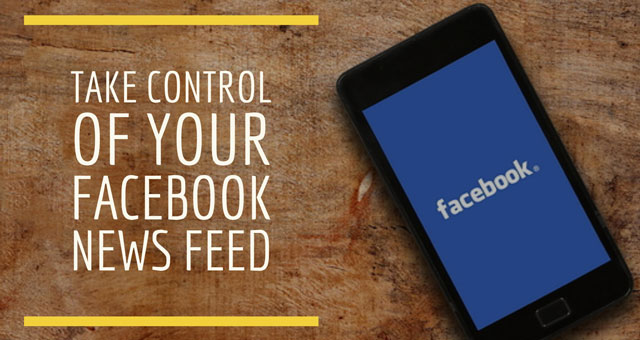 The news feed feature on Facebook is now 10 years old. Since its inauspicious beginning as a hub for friends' Facebook activity, the page has gone through many major evolutions. Users have responded with widespread criticism, including a Facebook group to protest the very existence of the news feed and recent media fallout over Facebook's censorship of art and promotion of fake news stories via automated software that decides what's appropriate and interesting for individual users.
Facebook may not be a bona fide media organization as Mark Zuckerberg insisted after the company deleted a post of a famous war photograph because the news feed algorithm flagged it as child pornography. But as a font of referral traffic to publishers like The Economist and Rolling Stone, Facebook has become the main news platform for 44 percent of American adults. For more than 60 percent of millennials, it's also the primary source for political news. As a result, many critics insist that the company needs to take more responsibility over editorial decisions to ban or promote particular types of content, even those that are algorithmically determined.
Facebook's increasing use as a news platform doesn't sit particularly well with Facebook. When it transpired that people are sharing less personal content, opting instead to post news and links from other sites, the social giant began tweaking the news feed algorithm to favor statuses, thoughts, notes and photos. It also introduced features to encourage users to post more personal content. The Facebook Android app has rolled out a feature that lists "what friends are talking about", and anti-clickbait tweaks have been made to down rank headlines in the vein of "This man took an Advil with a Coca-Cola . . . What happened next is shocking!" that intentionally leave out crucial details in order to tempt readers to click to find out the answer.
How to declutter your News Feed
What you see on your Facebook news feed, then, is the result of years of data-based tweaking designed to create a fine-tuned profile of who you are based on what you've liked and posted on Facebook. Here's how you can take control of your feed to make it show the things you care about seeing.
The problem: "Sticky" posts that never seem to go away
Does your college classmate's wedding album or the ongoing discussion about Hillary's health keep lurking at the top of your news feed? Posts that get a lot of engagement — likes, comments and time spent viewing — are deemed more important by the news feed algorithm and tend to float to the top.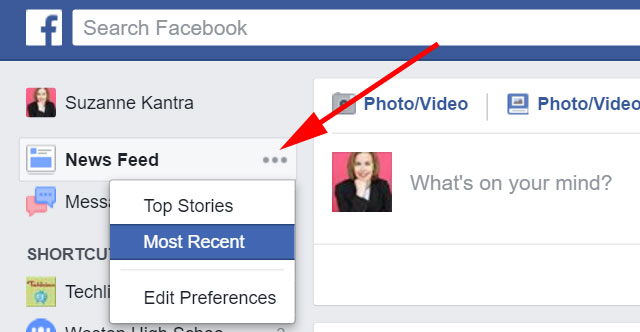 The fix: Choose a chronological view of posts from the people and pages you follow. Click on News Feed to the left, and toggle the option to show Most Recent instead of Top Stories.
The problem: Too many posts from certain friends
Facebook algorithms also assume that the more mutual friends you share with someone and the more you interact with them, the more you will want to know about their breakfast, their activity last night and their thoughts about lunch — in other words, that personal content which Facebook wants its users to share more of.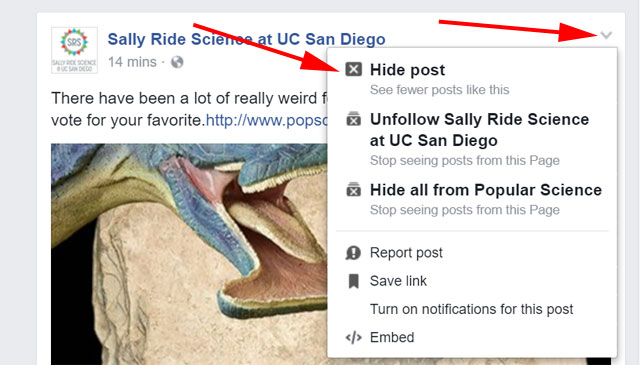 The fix: You probably don't want to hide everything posted by these keen observers of life's little mundanities. Instead, teach the algorithm what's not interesting to you by clicking on the arrow at the bottom right of the irritating post and selecting "Hide this post." Choose to see less from the poster or, if they've posted a link that's groan-worthy or offensive in the extreme, less from the source of the link.
The problem: Missing friends
On the other hand, maybe you have besties whose posts aren't getting many likes or comments. That can mean their updates don't pop up as often you'd like.
The fix:To ensure particular friends' posts pop up on your feed, add them to your Close Friends list. On your news feed, scroll down the left menu, select Close Friends, and then hit Edit list at the top. To see less or more of other friends, organize your Acquaintances list. If it's the first time you've edited this list, Facebook will suggest you add contacts you haven't interacted with recently; otherwise, modify who's an acquaintance and who's a friend at your lists page (scroll down the left side until you see Friends).
To see more from business or fan pages, visit the page, tap the Following button and select See First. This works for friends as well.
Finally, you can do all of this in one place by tapping the far-right arrow in the toolbar and selecting News Feed Preferences, where you have options to prioritize which friends' posts to see and which friends to unfollow entirely.
The problem: Too many videos
Don't be surprised if Facebook becomes even more focused on video within the next five years. As daily video views on Facebook have jumped from 1 billion to 8 billion over a year, the site has begun prioritizing video content. With the speedy rise of live video, you're probably also neck-deep in live-streamed videos of other people's kids and holidays.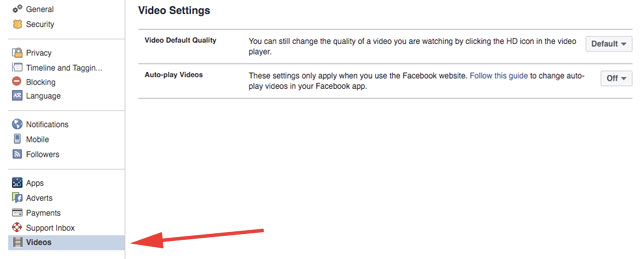 The fix: If you just hate moving pictures, stop videos from auto-playing when you scroll by them by heading to Settings > Video and disabling auto-play. If you want to kill all video, teach the algorithm by hitting the bottom-right arrow beneath video posts and hiding them. Go through your feed and do it all at once like this guy; hopefully your feed will be video-free in a couple of weeks, too.
The problem: An overly political news feed
Election season can bring out everyone's proselytizing sides, and Facebook is the main port of call for posting long opinions, tagging friends in rants and asking for shares to drum up support for one political party or another.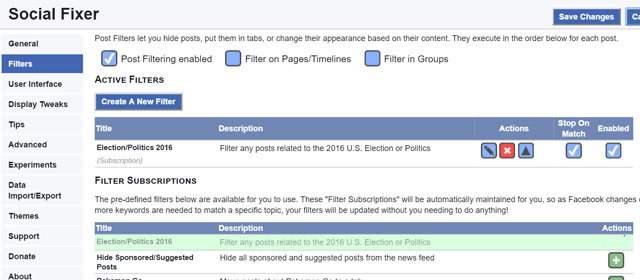 The fix: If you want to be rid of all the political noise, download the free Socialfixer extension for Chrome, Firefox or Safari. Use its pre-programmed filters to block all posts concerned with the U.S. 2016 elections. There is also a filter to hide ads or to program your own, if you're so inclined.
The problem: Trending topics not your cup of tea
Even if your friends aren't sharing headlines from BuzzFeed or The New York Times, the trending topic box to the right of the News Feed still provides a glimpse of the biggest headlines. What appears here is determined by how many posts have been made about particular topics, their timeliness and personalized factors such as the pages you've liked and your location.
According to its published internal guidelines, the algorithm finds topics with a high volume of mentions that have sharply increased over a short period of time. The topics are then confirmed to be real-world events by a team of engineers and checked against a list of 10 trusted media sources including the BBC, CNN and BuzzFeed to determine their importance. However, the viral quality of a topic is no guarantee of its actual importance; for example, 14,000 people near me are apparently abuzz about a nearby subway station because the ads there have been replaced by pictures of cats.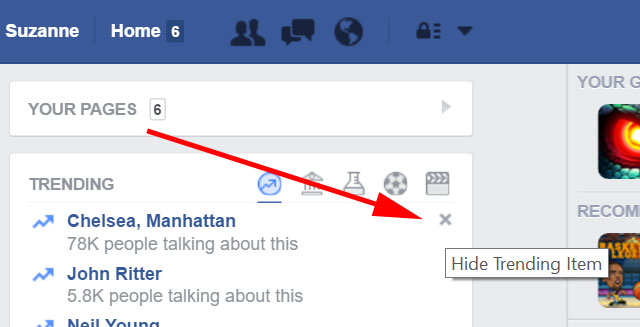 The fix: Change what's trending for you by hovering over a displeasing topic and clicking the x to the right of the topic. Select the reason you're hiding that topic.
The problem: Living in a bubble of one's own making
The news feed is based on Facebook's prediction and prioritization of what individual users will find informative, based on the type of posts they interact with — liking, commenting, sharing — as well as the sites they spend the most time on. If you tend to react to a specific type of content — hilarious videos, for example, or conspiracy theories — your feed may become skewed toward the one or two things Facebook now thinks you're obsessed with.
Since the addition of the Reactions feature that offers additional emotion flags alongside basic liking, giving a post a "wow" or "sad" reaction could affect the weighting given to its type of content.
Even if you're fairly egalitarian in the types of contents you like, Facebook assumes you want to see more of these things at the expense of content espousing opposing viewpoints. This filter bubble is likely to become particularly snug in the months before elections. One study found that Facebook hides one in 20 liberal-slanting links for self-identified conservatives and one in 13 conservative-slanting links for those who identify as liberals.
The fix: Change your habits and try clicking on abrasive posts from friends whose political leanings are the extreme opposite of yours. Mixing up what you read on Facebook might feel contrived, but it helps your news feed retain a worldview that extends beyond your own.
Finally, let Facebook know what you think of the news feed by hitting the Give Feedback button beneath the Trending Topics. The world's biggest distributor of news may not be producing the news, but it's setting the agenda for tens of millions of people.
[Image credit: Facebook app on phone via BigStockPhoto.com, Facebook, annotations by Suzanne Kantra/Techlicious]