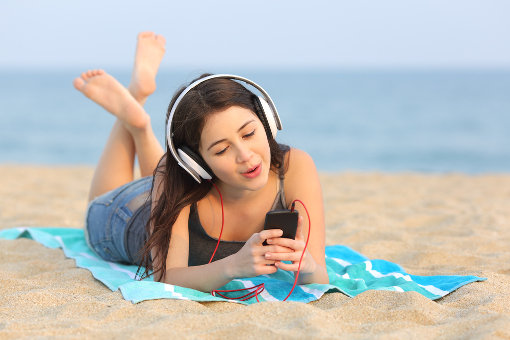 So you've been living exclusively in an Apple world, and the iTunes neighborhood has been your only hangout — until you realized that Android and other neighborhoods exist and you want to grab a slice of that world, too. What to do?
As far as music is concerned, Apple has already made it easier — and official — to play your iTunes music on your Android phone, thanks to the Apple Music app for Android released last month. The app lets you stream and download tracks in your Apple music library, whether you purchased them or added them to your collection through your Apple Music subscription. Just sign in with the same Apple ID as you use for iTunes. You can also access music from your family subscription plan simply by signing in with your Apple ID.
Needless to say, the Apple Music app is the easiest way to play your Apple music on your Android. But there are other simple ways to play your iTunes music on your Android: by manually copying files, by syncing music to Google Play Music and by using third-party apps.
Manual file copy
To manually copy your iTunes music files, you will need your Android device's USB cable and the PC/Mac where your local iTunes library is stored.
First, connect your Android device to your computer via USB cable. The computer should detect your Android device. If your computer doesn't recognize your device in media transfer (MTP) mode, try switching to picture transfer (PTP) mode from your phone or tablet's notification shade (the thing you pull down when you swipe down on the notification bar at the top of your display). If you're on a Mac running Mac OS X, you'll need to use the Android File Transfer utility.
Then, using your PC's file manager, open the music folder or directory on your Android device. On a Windows machine, this is usually at PC > (your device's name) > Internal Storage > Music. Keep this window open, because you'll be dropping your music files onto this window in a little bit.
Next, using your PC's file manager in a new window, open the directory or folder containing your iTunes music library. On Windows, this is usually in PC > Music > iTunes > iTunes Media > Music. From here, select and drag iTunes files (AAC format) or folders that you wish to copy, then drop them onto the open window for your Android device's Music folder. These files ought to be playable in any music player as long as they don't have Digital Rights Management (DRM) restrictions. If you bought these tracks after April 7, 2009, they should be DRM-free. If you bought them before then, they may still be DRM-strangled, but you can upgrade to DRM-free versions.
The main benefit of the manual copy approach is that you can use any music player on your Android device to play your files, provided that the player supports the AAC format.
Google Play Music method
Another way to import your iTunes music library to your Android phone is by way of Google Play Music. If you use this method, you can access your music tracks on any computer, iOS device or Android device (up to 10 authorized devices), so you won't need to manually copy files when you switch devices. Just store your music for free — up to 50,000 files — in your Google Play Music account.
To use this method, install the Google Play Music Manager on the computer where your iTune music library files are saved. In Music Manager, sign in with the same Google Account as you're using on your Android device. When asked about where your music files are, tell Music Manager that they're in iTunes, and the program will take care of the rest.
Music Manager analyzes your existing music files and checks whether copies of the same tracks already exist in the cloud. If so, Google Play Music will use the online copy, so you can save on uploading time and bandwidth.
You can set the Music Manager to automatically upload newly added tracks in your local iTunes library. That way, your iTunes music and Google Play Music tracks stay synced.
Third-party syncing apps
Sync apps such as doubleTwist Sync still remain a legitimate, reliable way to get your iTunes music onto your Android devices.
To use this method, install the doubleTwist Music Player app on your Android device, and install the doubleTwist Sync desktop application on the Windows PC where your iTunes library is stored.
Run the doubleTwist Sync desktop program, then connect your Android device and PC through a USB cable. Your PC ought to recognize your device, and doubleTwist Sync will show the Device window. During its first run, doubleTwist will course through your media libraries (including the iTunes library) and detect media files and playlists.
Then switch to the Music window to see available playlists, albums, artists and genres. Tick those items that you want to sync with your Android device, then click the "Sync now" button to begin the upload. It's that easy.
You can perform wireless syncing over a Wi-Fi connection with AirSync. To use this method, install the doubleTwist Music Player app on your Android device and buy the in-app upgrade to unlock AirSync and AirPlay, for the price of about a dollar. The app can sync not just music files but also DRM-free video files.
To be able to sync, your Android device and your PC must be on the same local Wi-Fi network and must be paired. To do that, launch the doubleTwist Music Player app on your Android device. Tap on "Setup" to see a random five-digit passcode and your device's name. On your computer, click on the doubleTwist icon in the taskbar's notification area to view the available devices for pairing. Click on the "Configure" button for your Android device and input the passcode.
Both your computer and your device will now be paired and doubleTwist will display the Device window. From here, the procedure for wirelessly syncing your iTunes library is the same as the steps for wired syncing, right after the computer displays the Device window.
Once your music files have been transferred to your Android device, you can now use the doubleTwist Music Player or any other Android music player to play them.
For detailed guides on how to use doubleTwist, visit the doubleTwist help page online.
Can't get enough music? Find out what Techlicious has to say about today's best music streaming services. You might also be curious whether Google Play Music has better subscription plan offers for your family than Apple Music does.
[Image credit: Teen girl listening to the music on a smartphone via Shutterstock ]