The Best Countertop Microwave Oven
The Panasonic NN-SE982S microwave stands out with its multiple cooking options, unique inverter technology and sophisticated design.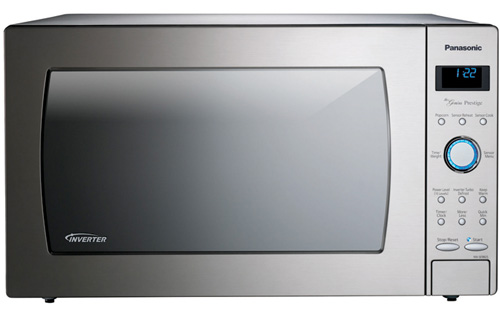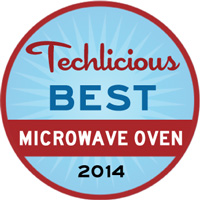 In most homes, the microwave only serves a few basic tasks: boiling water, popping popcorn and heating the occasional frozen dinner. And there's a good reason for this; microwaves offer little control over how heat is delivered. Try to get too fancy with the cooking and you'll likely end up with over-cooked edges and curdled sauces. But my pick for the best microwave, the Panasonic NN-SE982S, offers a unique "inverter" technology that offers precise control over power delivery and greatly increases the microwave's utility.
Why I picked the Panasonic NN-SE982S
When looking for the best countertop microwave, there were two basic considerations: I wanted plenty of room for large dishes and plenty of power. That meant narrowing the choices to those with a capacity over 2.0 cubic feet (usable capacity will be less) and at least 1200 Watts of power. That left more than a dozen models from GE, Kenmore, LG, Panasonic, Sharp and others. All of which had similar convenience features, such as sensor cooking/reheating and buttons for the most commonly cooked items, like popcorn.
However, there was one other feature that needed to be on my must-have list— inverter technology.
"What is inverter technology and why do you need it?", you ask. Good question.
The inverter feature transforms your microwave from an oversized reheating device into a functional cooking tool. Typical microwaves use a magnetron—the element that cooks the food in most microwaves—that can only operate at full power. When you set it to cook at "50% power", what the microwave oven is really doing is cycling the power on and off, delivering 100% power followed by periods of no power.
Microwaves that use an inverter board are able to control the amount of power being delivered to the magnatron. So when you set it to 50%, it actually delivers a steady stream of 50% power. The result is more evenly cooked food and the ability to keep foods warm until mealtime. Plus, because you can set it to run at a very controlled, low power, you can use inverter microwaves to melt chocolate and butter, cook hollandaise sauce and perform other "real" cooking tasks that would normally be done on your stovetop.
Panasonic, which owns the patent for the inverter technology, used to license it to other manufacturers, such as Amana, GE, and Whirlpool. It appears the licensing has stopped. With the exception of the GE JES2251SJ, only Panasonic currently has countertop inverter microwaves on the market.
Panasonic has seven 2.2 cubic foot inverter models, all nearly identical except for slightly different control pads and exterior design. I confirmed with Panasonic that the cooking technology behind their 2.2 cubic foot models is the same, so choosing which one to go with is more a matter of personal taste than performance. In the end, I selected the latest model in Panasonic's "Genius Prestige" line, the NN-SE982S. I has a sleek, modern stainless steel body and minimalist keypad with a flush electrostatic dial that would look great in any kitchen.
My test results
I tested the inverter feature on a similar Panasonic model extensively back in 2009 and came away impressed. And, I found more benfits from the inverter this time around. For instance, rice—one of my microwave recipe staples—overflows every time in my standard microwave because, even when set to "low", the short bursts of full power cause the water to boil too rapidly. The Panasonic NN-SE982S inverter is able to deliver true "low/med" power and rice cooks perfectly without a spill.
The NN-SE982S, like most large microwaves, also has a cooking sensor that measures the amount of steam being released to determine doneness of whatever you're cooking or reheating. No more guessing at cooking times or power levels. Just throw your food on the tray, hit sensor cook, tell the microwave what you're making (you can skip this step when reheating) and you're good to go. The microwave will modulate the power and time based on the sensor readings.
In my testing, the sensor did an excellent job reheating leftovers, cooking frozen entrees and pretty much whatever else I threw at it. My aforementioned rice came out perfectly, whether I was cooking one cup or two. The only time I found the sensor struggling was when I was reheating small quantities of food. I presume there wasn't enough steam generating to trigger the sensor to stop.
The NN-SD982S's "Turbo Defrost" worked well...for a microwave. Meat still came out slightly dried on the outside. Personally, I find it much easier to defrost meat quickly using the warm water method—place meet in ziplock bag, press out air and submerge in warm water. The water method works quickly without drying or cooking the outside.
The warming mode (up to 30 minutes) came in handy for a side dish of polenta when my main course was delayed and I was running out of stovetop space.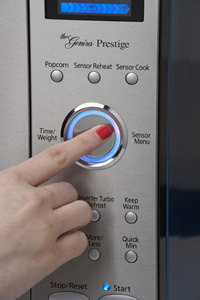 The main complaint against the NN-SE982S among owners is the difficulty using the electrostatic dial to set food times. I didn't find that to be a problem. The sensor functions worked so well that I rarely needed to set a specific cook/reheat time. And using the dial was hardly a big chore when required. Plus, the dial offers more food cooking options—18 in all including, Potatoes, Frozen Entrées, Oatmeal, White Rice, etc.—than a keypad would. I suspect that those who find the dial a burden are primarily using the microwave the traditional way, manually entering power level and cook time, rather than relying on the sensor.
What other reviewers think
Microwave oven reviews, as with other kitchen appliances, are few and far between. Consumer Reports has a roundup with many models, while CNET recently looked at five models from Amana, GE, Panasonic, Sharp and Whirlpool. Both had a Panasonic inverter model out on top—CNET gave 4 out of 5 stars to the Panasonic NN-SD997S and Consumer Reports ranked the NN-H965BF highest (a dated 2006 model), alongside the discontinued GE Profile PEB2060DM and the Kenmore Elite 74229.
Oddly, Consumer Reports ranked the NN-SE982 a notch below the NN-H965F in defrosting eveness and ease-of-use, but still "very good" in both categories. I say "oddly" because, as I mentioned above, the Panasonic models all share identical cooking technology. I suspect that these discrepenies are either due to variations in CR's testing methodology or variations in Panasonic's component manufacturing or suppliers over time, as can happen with many manufacturers and products. In any regard, all Panasonic models did very well.
Consumer Reports' testing primarily reflected the capabilities common among all microwaves—reheating, defrosting and boiling water—but not getting at the variety of cooking capabilities the inverter creates. So my own testing played a key role in my decision to make inverters a main decision factor.
What consumers think
We always look at consumer experiences, where possible, when we review products. Actually living with a device for six months or more gives you a very different perspective than any lab testing. And for microwaves, this is especially important given the reliability issues with so many of the models.
For instance, the one remaining GE inverter microwave on the market, the GE JES2251SJ, received very good reviews from Consumer Reports (just a hair below the top picks) but horrible reviews from users based on its reliability. On Amazon, owners rank it at only 1.5 stars. And the 96 user reviews on Consumer Reports give it a paltry two stars, on average, out of 96 reviews. So that one was out.
The Panasonic NN-SD962S had very good reviews, in general, on Amazon, garnering 3.6 out of 5 stars. However, there were a number of complaints about the dim display and Amzon currently has an "Item Under Review" status for it—often a warning sign they may be having customer issues with a product. The similar NN-SD997S and NN-SE982S (my tested model) were reviewd a little better (3.7 and 3.9 stars on Amazon, respectively). Consumer Reports' top-rated NN-H965BF gets very good user reviews on Amazon (4 out of 5 stars), but only 2.5 out of 5 stars from users on Consumer Reports. In all cases, consumers were largely very happy with the way the Panasonic ovens cooked, with negative reviews largely centered on reliability of the magnatron/inverter and door latch mechanisms.
As noted above, not all users are happy with the electrostatic dial on the NN-SE982S. Amazon user Roy Dubs said, "Maybe I'm "old fashioned" but I'm not crazy about the electronic dial for setting time. I like the buttons the old microwave has. Small things like you can't put something on for 12 seconds.....it jumps from 10 to 15. After 10 seconds the increments are at least 5 seconds. The more I use it the more I am sorry I ever bought it. I don't want have to be so careful to set the time.....oh I went too far....then I went too far back. WHAT A PAIN!"
Whereas Amazon user Doc Beech sees it the way I do, "We actually use this microwave and barely ever touch the timer. If its not found in the presets we just push sensor reheat and go, never again worrying about if the time is set right. Its so easy to use and so much of a help, never has it burned popcorn, and only once in over 3 months did it burn food."
Final call
If all you want to do is make popcorn, boil water and reheat soup, almost any microwave will suit your needs. But the inverter technology found in the Panasonic line adds significant functionality to a device that is likely taking up a fair amount of space in your kitchen. I've used the Panasonic to braise meats, make sauces, melt butter and keep food warm using gentle heat—not tasks you would typically entrust to a microwave.
Picking which inverter model is somewhat a matter of taste, but I prefer the design of the Panasonic NN-SE982S over the others and it's the newest model in the Genius Prestige lineup. If I were in the market for a new microwave, this would be the one.
Panasonic NN-SE982S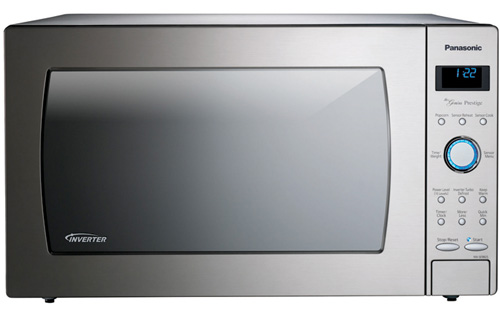 Other options

Stainless steel not your thing? Really want a traditional keypad? Want to spend less money? The Panasonic NN-H965 comes in white or black and has pretty much the same features as the NN-SE928S, though with 9 sensor cook modes instead of 18. Available at Best Buy for $152.99 or Amazon for $152.99.
Need something smaller? Both my recommended microwaves have a 1.6 cubic foot little sibling with all the same features and cooking technology. The NN-SE782S is $242.99 on Amazon and the NN-H765 is $159.00 on Amazon.
Panasonic also has a small selection of microwave ovens with something they call "Cyclonic Wave" technology. Cyclonic Wave ovens enhance the existing Inverter technology by more evenly circulating the microwaves around the oven interior for more even cooking. Panasonic claims "20% improvement in temperature consistency" with Cyclonic Wave. I haven't tested Cyclonic Wave head-to-head with our top pick, but I would expect improvements to be modest in real world use. The Panasonic NN-SD975S is essentially identical to our recommended model, but includes the Cyclonic Wave feature. It's usually more expensive but is a fine alternative to our top pick when priced similarly on Amazon.
Why you should consider an extended warranty for your microwave
We don't usually recommend extended warranties for electronics. For the most part, they're not worth the money (your credit card may already double the manufacturer's warranty, giving you two years of coverage for most electronics). However, microwave ovens are an exception. Here's why:
We've seen an unsettling number of complaints from consumers about microwave failures during the first couple years of use. These complaints go across brands. Apparently, they're not making them like they used to.
Even if your microwave fails during the warranty period, you will be responsible for shipping it to the manufacturer for repairs (at your expense) or bringing it to an authorized service center (which are always further away than you would like). You still have the original recipt and box for shipping, right?
Manufacturers usually warrant the magnatron for 5-10 years, but this only covers the cost for parts—you're still responsible for labor.
The cost of shipping and repairing a microwave out of warranty can easily be more than the price of just buying a new microwave.
Our recommended microwave extended warranty provider is Squaretrade. You can purchase a Squaretrade 3-year $200-$250 protection plan on Amazon for about $26 (plan starts at date of purchase). During that period, Squaretrade will:
Provide a free shipping label for warranty repairs either to the manufacturer or Squaretrade's service facility
If your product cannot be repaired, they will provide a cash settlement or gift card reflecting the replacement cost of a new item of equal features and functionality up to the Coverage Amount or provide a new or refurbished product of equal features and functionality.
Alternatively, you can purchase a Geek Squad protection plan for microwaves purchased through Best Buy. A 2-year $200-$250 protection plan will cost about $30 (plan starts at date of purchase). During that period, Best Buy will:
Let you bring your microwave into any Best Buy location to handle and manufacturer warranty or post-warranty repair.
If your product cannot be repaired, they will either replace it with a product of like kind and quality and of comparable performance or reimburse you for replacement with a voucher or gift card equal to the product's current market value.
Whether you would find it more convenient to bring your microwave into a Best Buy or ship it from your home is a matter of personal choice. Howvever, the Best Buy warranty is more expensive and you would only be reimbursed in cash for the product's current market value, not a new replacement item.
Discussion