At today's Apple event, Apple told us exactly who ought to upgrade to one of the new iPhone 15 models: creative professionals. Throughout its presentation of its new models – especially the now appropriately labeled 15 Pro models – Apple execs kept stressing, in highly technical language, how photography and film professionals would welcome the resolution, computational, zoom, and low light improvements these new models provide for still and/or video capture. Apple CEO Tim Cook himself proclaimed the 15 Pro models "the most pro iPhone we've ever created."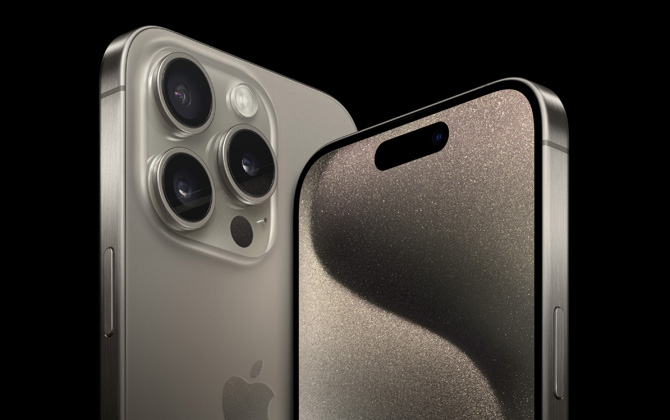 For the rest of us regular folk who simply and mindlessly snap candid shots or capture video without futzing with all the varying settings, it's hard to justify a reason for anyone with an iPhone 12 or later to run out and buy a new iPhone 15 model, unless your phone's battery requires several recharges a day, your screen is cracked beyond all recognition, or you have a sudden urge to become the next Ansel Adams or Martin Scorsese.
While Apple didn't present any particularly compelling technical reasons to upgrade to an iPhone 15, the company and its U.S. cell carrier partners are making some compelling economic arguments. You can get up to an $830 trade-in credit for an entry iPhone 15 or iPhone 15 Plus, and $1,000 toward an iPhone 15 Pro or Pro Max. Even better, AT&T and T-Mobile have said you can get a new iPhone 15 for FREE with an "eligible" trade-in, without, of course, defining what qualifies as an "eligible" trade-in. We asked, are awaiting a response, and will bring you more practical trade-in information info and advice once we gather more details. Verizon is offering incentives for those switching to Verizon or adding a new line. Trade in any iPhone and get up to $1000 on the Unlimited Ultimate plan; get $830 off on the Unlimited Plus plan; get $415 off on the Unlimited Welcome plan.
Apple also didn't raise iPhone prices as expected. Starting prices for the 6.1-inch iPhone 15 and 6.7-inch 15 Plus remain at $799 and $899 with 128GB of memory, while the 6.1-inch iPhone 15 Pro starting price sticks at $999, also with 128GB. Only the starting price for the flagship 6.7-inch iPhone Pro Max changed slightly. Instead of the previous $1,099 128GB option, which has been eliminated, the cheapest Pro Max will be $1,119 with 256GB of storage space, the same price as last year's iPhone 14 Pro Max 256GB edition.
Pre-orders on all iPhone 15 models start this Friday, and they will become physically available on September 22. In any event, if you're interested in simply swapping your old phone for an iPhone 15 via one of the carriers' tempting trade-in offers, check first to see what phones are considered "eligible" and for any craftily hidden added costs.
One hidden cost of the iPhone 15 may be the new charging cables. Apple has ditched its proprietary Lightning cable for the universal USB-C connector used by virtually every other recent portable device. While Apple has in the past included a Lightning cable with new iPhones, they didn't say if you'd now get the far more common USB-C cable with a new iPhone 15. You probably will, but even so, if you don't already have wireless Qi charging pads for your previous iPhones, you might have to spring for additional USB-C cables so you can charge your new iPhone 15 wherever you go at home or on the road. The good news is that they are widely available and really cheap.
The iPhone 15 Upgrade Argument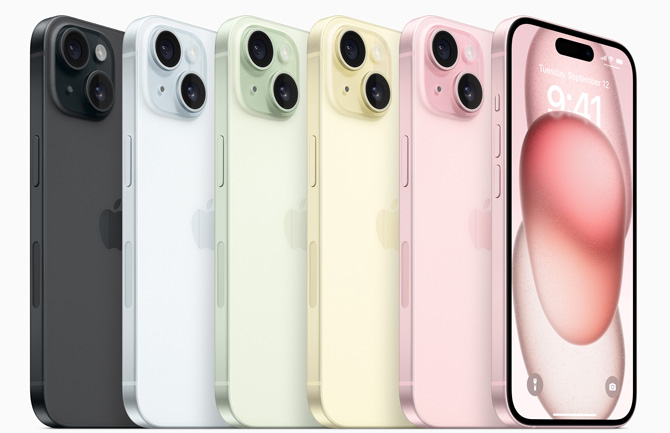 Yes, the iPhone 15 is the best iPhone ever, which is an annual given. As usual, when Apple intros its new iPhones, all 15 models include faster processors than their predecessors, cameras with higher resolution, longer optical zoom, better optical image stabilization, along with a handful of other style, logistic, power, and function improvements.
With the lower-end 6.1-inch iPhone 15 and the 6.7-inch iPhone 15 Plus, the most compelling upgrade enhancement is phone call quality that automatically prioritizes voices. It is a separate setting that essentially cancels ambient noise when you're calling in crowded conditions.
Also new is satellite Roadside Assistance which you can use to receive help if your car gets disabled, even if you don't have a cellular connection. The satellite service is scheduled to launch later in the fall and will be free for two years – Apple didn't say what a satellite subscription might cost after that – and actual roadside service will be free to AAA members.
Another tempting improvement is the 15's brighter screen; at its peak 2000 nits, the new display is twice as bright as last year's regular iPhone 14 models. It's the same as the iPhone 14 Pro models – which means on-screen details will be far more visible in direct sunlight.
Finally, the cameras on iPhone 15 and 15 Plus are vastly improved with 48-megapixel images instead of the 14's 12MP, which means sharper detail, brighter color, higher quality in low light, and better zoom.
However, if you're not eligible for one of the generous trade-ins, the iPhone 14 Pro and Pro Max offer the same, if not better, image capture and operational specs as the entry iPhone 15 versions. Not only will the price on a new iPhone 14 Pro drop once the new 15 models hit physical and virtual shelves, but with the aforementioned generous trade-in offers, there will likely be a lot of used models, so even cheaper iPhone 14 Pros will be available.
The iPhone 15 Pro Upgrade Argument
The main argument for the iPhone 15 Pro is its improved camera. Here's how it breaks down
Four times the resolution of the iPhone 14 Pro thanks to a 25-percent larger image sensor
A 5x versus a 3x optical zoom
Improved optical image stabilization (OIS),
A wider f/2.8 aperture that enables two times better low light performance
Automatic Portrait capture to save you from manually switching when shooting pics of faces and even pets
13mm to 120mm focal lengths
4K video recording at 60 frames per second for more professional high-res slow motion
A true optical 12MP macro mode rather than the grainy low-resolution digital macro on previous iPhones
Apple also says that the iPhone 15 Pro will be the first smartphone to support the Academy Color Encoding System (ACES), a "global standard for color workflows making it easier for filmmakers to use iPhone in their production."
For non-photography and film pros, the iPhone 15 Pro does offer some other build, aesthetic, and operational changes that, combined with a low-cost trade-in offer, might tempt you to trade up when combined with its better camera.
The iPhone 15 Pro and Pro Max now will boast a titanium alloy frame that Apple claims is lighter and stronger than in the past. This enables a thinner bezel, so the iPhone 15 Pro models are actually slightly smaller than the iPhone 14 Pro with the same screen sizes. The new design also dissipates heat better, which means your phone won't get as hot to the touch as older models with heavy usage or while charging. A ceramic shield provides tougher screen protection.
While Apple's claim for the size and weight improvements titanium affords for the 6.1-inch 15 Pro (5.77 x 2.78 x .32 inches, 6.6 ounces) over the iPhone 14 (5.78 x 2.82 x .31 inches, 6.07 ounces) are barely worth considering, the 6.7-inch iPhone 15 Pro Max's measurements – 6.29 x 3.02 x .32 inches, 7.81 ounces – do make it slightly smaller and lighter compared to the iPhone 14 Pro Max (6.33 x 3.05 x .31 inches, 8.47 ounces).
What you lose with titanium are the iPhone's past pastel colors. Instead, your 15 Pro hue choices are limited to drab black, off-white, blue, and natural metallic silver-gray tones.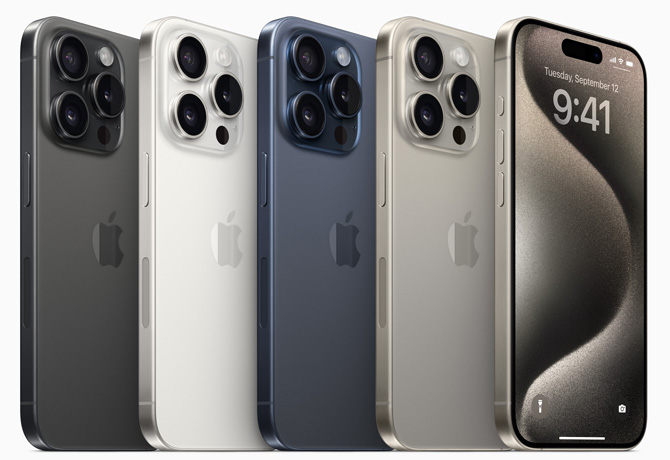 Operationally, the iPhone 15 Pros run on Apple's most advanced and powerful chip, the A17 Pro, which features 19 billion transistors powering a neural engine capable of performing 35 trillion operations per second. Apple also boasts that its upgraded "pro" graphics processor makes the 15 Pro "the best mobile gaming platform in the world."
With the Pro models, Apple has replaced the single-action ringer silent toggle switch with a programmable Action button that, by default, can mute or unmute your phone or be customized to boot the camera or another favorite app, start a voice memo, or perform any shortcut you'd care to create.
But to these non-gaming cynical eyes, even the combination of these improvements doesn't cause me to consider an upgrade from my current iPhone – unless, of course, I can trade in and get a 15 Pro for free.
[Image credit: Apple]
Stewart Wolpin has been writing about consumer electronics for more than 35 years, including news, reviews, analysis and history, and has attended and covered nearly 50 Consumer Electronic Shows and around a dozen IFA shows in Berlin. For the Consumer Technology Association (CTA), he is an elector for and writes the official biographies of the annual CT Hall of Fame inductees, and is the keeper of the industry's official history.