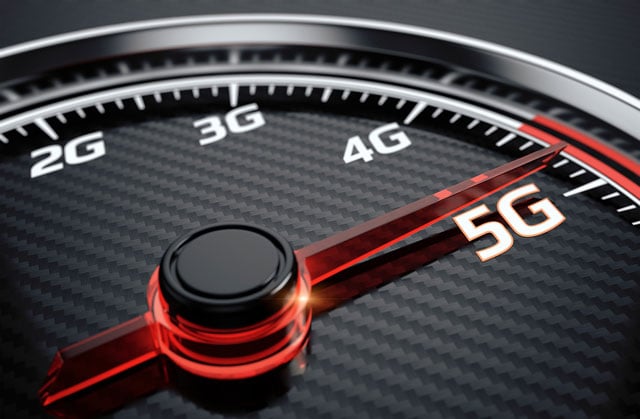 The 4G LTE connection your current mobile devices are using is old news — the future is all about 5G. This next generation wireless technology could be ten times faster than 4G, giving you super speedy internet access wherever you are.
There's just one problem: businesses haven't quite settled on just what 5G is. We expect an official 5G standard — which will tell manufacturers how to make devices that are compatible with 5G and service providers how to provide internet access that works with all of those devices — in 2018. But even when that standard is established, widespread implementation will still be years away.
However, at Mobile World Congress this week, we're seeing businesses seriously talk about 5G technology, with demos that show us a high-speed future just around the corner. Are you ready for faster internet? Let's take a look at the speediest tech from the MWC show floor.
ZTE shows off the first 5G phone
While you can't go out and buy it — and even if you could, there isn't a cellular network that could provide 5G service to it — ZTE is showing off a new Gigabit Phone. As you might have guessed, the Gigabit Phone has download speeds of up to 1Gbps (gigabits per second).
Just how fast is that? We typically measure connection speeds in Mbps or megabits per second, with a thousand megabits equaling a gigabit. Your cable internet connection at home probably promises speeds "up to" 50Mbps or 100Mbps (but probably isn't quite that fast). Unless you have a fiber internet connection at home, ZTE's Gigabit Phone is faster than your home internet connection — probably a lot faster.
Mobile speeds like that could completely change how we use the internet on the go, making streaming 4K movies on our phones as fast as reading email. ZTE suggests this kind of network would allow instant uploads or downloads, as well as easy streaming of high-end content, like 360-degree panoramic VR video.
Intel, Samsung and Qualcomm making 5G chipsets
We may still be trying to figure out what 5G is, but that doesn't mean that every chipmaker isn't getting a jump on producing their own 5G products. Intel, Samsung and Qualcomm are all making new gigabit-capable chips for phones and hotspots, capable of getting faster speeds across existing LTE networks while supporting advanced features that are likely to be part of the 5G standard.
Samsung is also working on a 5G home router and base station, both of which will offer gigabit service for devices in range. Right now both are "pre-commercial," but some of these devices are already in use in the U.S., Korea and Japan.
AT&T and Verizon are testing 5G networks already
AT&T's new high-speed 5G Evolution network will launch in Austin and Indianapolis this year with speeds of up to 400Mbps. Verizon is also rolling out its own high-speed 5G network, which will be available in Ann Arbor, Atlanta, Bernardsville (NJ), Brockton (MA), Dallas, Denver, Houston, Miami, Sacramento, Seattle and Washington, D.C. by the middle of this year. T-Mobile, however, is more skeptical: at MWC, Chief Technology Officer Neville Ray said "5G is not ready yet." But this doesn't mean that T-Mobile isn't working on 5G — last year Ray talked about how T-Mobile was building towards 5G with ongoing network improvements.
Take the marketing hype around these projects with a grain of salt. Last year then-FCC chairman Tom Wheeler commented, "If anyone tells you they know the details of what 5G will deliver, walk the other way." That still holds true: while companies are building networks they're calling 5G, they're still debating just what 5G means.
Nokia is building a bridge between 4G and 5G
While AT&T and Verizon have jumped ahead to 5G networks, Nokia is working on a middle ground. The company's 4.5G Pro aims to increase 4G network speeds, and it's already rolled out with UK provider Telefonica. But the company isn't going to be left out of the 5G rush, either: it just announced new 5G First technology at MWC this week.
Will 5G make its debut at the Pyeongchang Winter Olympics?
Korea Telecom wants to make 5G a reality in time for the 2018 Winter Olympics. Scheduled for February 2018, there's only a year for KT to get its 5G network in place for spectators.
As with the networks AT&T, Nokia and Verizon are working on right now, KT's plans for a 5G network may be improvements to the existing 4G standard rather than all-new 5G technology. But with little news on the project, we can only speculate.
What will happen to my 4G phone when 5G launches?
Don't panic. Even if networks were upgraded to 5G tomorrow, they'll be backwards compatible so older phones will continue to work. Those phones won't get 5G speeds, but they'll work just as well as they always did.
Remember, it's all proof of concept
While this tech is super exciting, don't forget that it's still a work in progress — and we're in for a wait before it's ready for prime time. But with tech companies eager to show off 5G in action, it's a good sign that our 5G future isn't that far away.
[Image credit: 5G concept via BigStockPhoto]