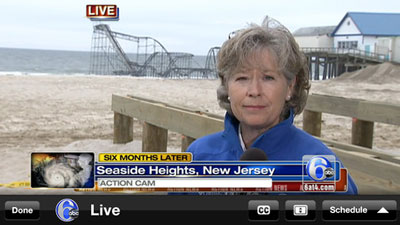 After spending much of the last decade trying to keep their content off the Internet, two major television companies have developed a plan to allow the public to stream their channels live over the Internet, 24 hours a day.
Turner Broadcasting's TNT and TBS networks announced Wednesday that beginning this summer, viewers can watch the channels from their home computers or tablets any time they want, seven days a week. Just a day earlier, ABC unveiled its own plans to live stream content on an affiliate-by-affiliate basis, starting in New York and Philadelphia. More local ABC stations are slated to begin streaming later this summer. Many other television networks offer their content online, but ABC, TNT, and TBS are the first to truly go all-in.
There is a catch, however – not just anyone will be able to view these livestreams. To watch these channels live online, you'll need to have an active pay-TV subscription. It's an unfortunate limitation for those of us who would prefer to cut the cable cord, but one that's necessary to protect the networks' advertising revenue and keep shows on the air. In fact, now that ABC is offering its shows live on the Internet, the company will begin withholding its most recent episodes from free services like Hulu, making it harder to enjoy content for free.
The TNT live stream will be available at tntdrama.com, while the TBS stream will be available at tbs.com. Parent company Turner Broadcasting will also make the channels available for viewing through its new Watch TNT and Watch TBS apps. ABC will make its shows available using its own app.