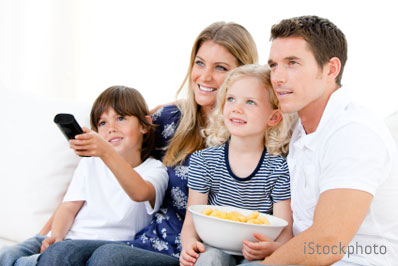 Americans across the country—probably even some of your friends and family—have been cutting the cord to cable television (and other pay-TV providers). The why comes down to some pretty simple facts: cable television is pricey, packed with advertisements and, even with the help of TiVo and other DVRs, it's sometimes still inconvenient to watch our favorite shows when we want to watch them.
However, as cord-cutters have found out, it's possible to watch a lot of great television right in our living rooms or on the go without paying nearly as much as you might for traditional pay-TV services. All you need is some equipment—which you might have already!—and the know-how to find your favorite shows.
But is it time to cut the cord? Let's talk over your options to help you come to the right decision for your household.
What Can (& Can't) I Watch Without Having Cable?
The Networks
You may be surprised at how much many of your favorite shows can easily be found online for free—or at least for less than you pay for cable. All of the broadcast networks—ABC, CBS, CW, FOX, NBC, and PBS—offer online streaming of most of their shows, though typically shows are only put online the day after they've aired on television.
All you need to do in order to watch is fire up your browser, point it to the network's webpage, and enjoy your favorite shows, whenever you'd like. New episodes are typically available only a few weeks after their original air date on the official sites.
Big live events, like the Oscars and the Super Bowl, can be hit or miss. The Super Bowl was streamed live this year, but the Oscars weren't. So if you couldn't hook up an antenna to pull in the over-the-air broadcast, you were out of luck.
A number of cable networks provide limited online access to their shows, without offering options to stream or buy new content. Most notable among these are premium networks like HBO and Showtime, neither of which offer shows in digital format until well after their original air date. But they're hardly the only holdouts: family-favorite HGTV offers no online programming and the Discovery Channel only offers a mixed bag of programming online.
What About Sports?
If you—or anyone in your family—is a sports fan, getting away from cable television and its myriad sports networks may seem like a problem. But all of the major sporting leagues provide some kind of access to content online, though it may not be the kind of access you want—and, of course, it comes with a price tag.
NFL Game Access
Football fans are limited in that they can only get audio of live games through NFL Game Access, though they can watch games once they're over in full HD. Prices vary depending on the package and whether or not it's offseason.
MLB.TV
Baseball fans have it made with MLB.TV Premium, which lets them watch all games in HD from your computer, tablet, smartphone or other connected device for $130 a year or $25 a month. The ordinary MLB.TV service only allows watching on computer and restricts the games you can watch, but costs only $110 a year or $20 a month.
NBA League Pass
For the basketball fan, NBA offers a number of League Pass options, which let you stream shows to your computer or mobile device. Though, to complicate matters, these are two separate subscriptions. The exact cost depends on whether you want to watch on your computer or your phone and how many teams you want to follow, but starts at $25 a month.
NHL GameCenter
Hockey fans can get live broadcasts on their television, smartphone or tablet for a scant $50 per season through NHL Game Center.
ESPN3
If you're interested in college or global sports, you'll find a limited selection of games on Watch ESPN for free.
Bottom line is if you're interested in college or minor league sports, well, your options aren't good. Sorry, sports fans, but if none of the above options fills your viewing needs, staying tied to cable is going to be your best bet.
Is There Anything for the Kids?
For parents, there are some specifically kid-friendly options in the online arena—however, the options are a long way from being comprehensive. We think these are your best family-friendly bets online.
Netflix
Netflix ($8 per month), the king of online streaming, has a huge catalog of family-friendly movies and children's entertainment—including lots of options from Disney due to a recently inked deal—but it also has a special "Just for Kids" section that you can choose to enter when you launch Netflix. This section shows off only kid-friendly content without letting the little ones wander into anything that might be inappropriate. And we definitely love the way Netflix lets us watch shows without any kind of advertising.
If you're not in the "Just for Kids" section—say, you have older children or teenagers—the service also offers parental controls that allow parents to block content over a certain rating, preventing it from being displayed in searches or recommendations, added to viewing queues or being watched. On the downside, however, the parental control settings apply to the entire account: so if Mom and Dad decide to watch an R-rated action movie after the kids have gone to bed, they have to change the parental control settings and then remember to change them back.
Ameba TV
Unlike Netflix, Ameba TV ($4 a month) is designed just for kids. The online network offers thousands of shows for children aged 3 to 12, and you won't find anything inappropriate here. Ameba can be easily watched online, but you can also get it in your living room if you have an LG Smart TV, Roku, or Google TV.
PBS Kids
We're sure that you and your kids love the educational shows on PBS—and fortunately, they're all very easy to watch on the PBS website, free of charge. However, if you want to watch content on your television, it's not so easy: some programming is available on Netflix (Sesame Street is notable), but it's a mixed bag.
So before you cut the cord, do your homework: look into any show you can't live without watching and then decide whether or not ditching cable is a good option for you.
Your Online Streaming Options
If you want to watch in your living room rather than a web browser, you'll want to investigate subscription streaming services that make it easy to get the entertainment you want on your living room's big screen. There are three big contenders in this market:
Netflix
At $8 a month, the king of online streaming, Netflix lets you watch as much of their library as you'd like, from television to movies to original content that you won't find anywhere else, like House of Cards.
Netflix doesn't usually have the latest hits, but they have a great selection of older content, both movies and television. And trust us, there's no better way to spend a rainy day than streaming through a half dozen episodes of your favorite television series, on demand and commercial free.
Hulu Plus
At $8 a month, Hulu is the place to be for television lovers. The service offers numerous popular TV shows (and a small library of movies) for streaming online the day after they've aired on television. Some are available for only a month after they were aired, while others will stay on Hulu throughout the season.
Though their shows do have advertisements, there are less of them than you'd find watching the show on television—and, of course, you can fire up your favorite show whenever you like. The downside to Hulu is that it's not comprehensive—for example, they offer no recent shows from CBS—so you'll want to check to be sure your favorite is on Hulu before signing up.
Amazon Prime
At $79 a year (which breaks down to $6.58 a month), Amazon's Prime service (which offers free two-day shipping on all Amazon purchases as well as access to streaming television and movies) is the new kid on the block where streaming services are concerned. They have a mix of movies and television shows both old and new, and you'll find some things on Amazon that you won't find on Netflix or Hulu.
Again, we recommend checking out their catalog first, to see if they offer anything in particular you want, before subscribing. Both Netflix and Hulu offer free 1-month subscriptions so you can you try them out before making the final decision.
This trinity of online content providers is fairly stable—and certainly none of them are going anywhere—but if you're looking for even more entertainment, keep your eye on Redbox Instant. You probably know Redbox as a DVD rental service run out of red kiosks, but they're also aiming to get into the streaming market. The service is currently in testing with a limited catalog, but for an $8 subscription you get access to unlimited streaming plus 4 Redbox DVD rentals a month. With the popularity of Redbox's existing rental service, we only expect it to grow.
If you can't find your favorite show—and don't feel inclined to search all of these services looking for it—we recommend the Can I Stream It search engine, which will tell you where you can find most TV and movies online.
If You Can't Stream It, Buy Digital
If none of the streaming subscriptions offer the shows you want, there are more ways to watch—though they will increase the price tag. Most television shows and recently released movies will be available for purchase digitally on iTunes or Amazon. For TV fans, they'll even let you subscribe to a show for a flat fee, which will give you a digital copy of each episode (usually the day after it airs) for $30 to $60 total.
Though this is pricer than other options, it does allow you quick access to new releases without paying a premium for cable—and unlike streaming options, these shows would be downloaded and available to watch on your phone, tablet or laptop even when you were away from the internet.
So should you cut the cord or not?
Television lovers
Hulu has deals with all of the major networks (aside from CBS) as well as a number of cable stations to air new episodes of popular shows. If your favorite show or shows are available on Hulu, you'll find they're available quickly and with fewer advertisements than you'd see if you watched them on television.
If your favorite shows aren't on Hulu, you might still weigh the cost of subscribing to a season on iTunes or Amazon against your cable bill. But if your favorite show isn't available anywhere right now (and you should check before making a decision), you'll want to stick with cable.
Movie lovers
Netflix (and, to a lesser extent, Hulu) has a great backlog of older movies—but don't expect to find new releases without ponying up to buy them on Amazon or iTunes. If you love watching the latest as soon as it's available, cable networks like HBO may still be your best bet. If you enjoy movies that aren't quite as recent, though, Netflix offers a lot of bang for your buck.
Parents
There are some great online streaming options aimed at kids from Netflix and Ameba—and the advertising-free children's programing you'll find on both are a definite benefit. But many streaming options are targeted towards the adult market and, aside from Netflix and Ameba, have limited parental controls—so be sure to investigate before letting your kids run wild with any streaming service.
If the available options have content you're happy with, they're great—but if the kids (or you!) are going to demand something they won't find there, you're just asking for an unhappy household.
Sports lovers
Baseball fans will love the instant access they get on MLB.TV. But other sports offerings are lesser—and football fans are almost guaranteed to be disappointed by the NFL's audio-only offering for live games. If baseball isn't the sport of choice for your family, you might want to keep your cable service for the sports options.
What Do I Need to Watch Streaming Media in my Living Room?
If you're going to take the plunge, the next question is how to watch it. While watching your favorite shows on your laptop isn't bad, it would really be better to use the HDTV you probably already have in your living room. Fortunately, you may already have something in your home theater that will let you stream content directly to your television!
Streaming media devices plug into your television (or are built into it), and provide easy access to a number of online options at the click of a remote—just like watching television. Here are your best options:
Smart TVs: Most Internet-enabled Smart TVs will support streaming services like Netflix and Hulu as well as buying or renting digital content from Amazon or iTunes. Check with your television manufacturer to find out what exactly is supported.
Blu-ray Players: Internet-enabled Blu-ray players will, like Smart TVs, support a variety of digital content providers. Check with your manufacturer!
Game Consoles: The Xbox 360, PlayStation 3, Wii and Wii U all support Netflix and Hulu, as well as a variety of other streaming providers.
Roku: The Roku is a small device that plugs into your television and opens up a world of streaming and digital media options. Starting at $50, the Roku is our favorite way to get content from the Internet to your television.
Apple TV: Though Roku has more streaming options, Apple fans may prefer the Apple TV. Apple's streaming media device offers Netflix and Hulu as well as easy access to content on iTunes. And with AirPlay, it's easy to view content from your Mac, iPhone or iPad on your television. Starting at $99, it's not as economical as the Roku, but won't break the bank.
Trading cable television for streaming media can be a bit daunting—but navigating the world of streaming media is gradually getting more straightforward, and if the content you love is available for streaming, it might make financial sense to make the move. Once you've set up a streaming device in your living room with services like Netflix and Hulu, streaming services are easy enough for anyone to navigate. On the downside, the content available varies and you may not always be able to find just what you want. With the number of options the various services have, we're confident that you'll always find something worth watching.
Whatever your choice, happy viewing!