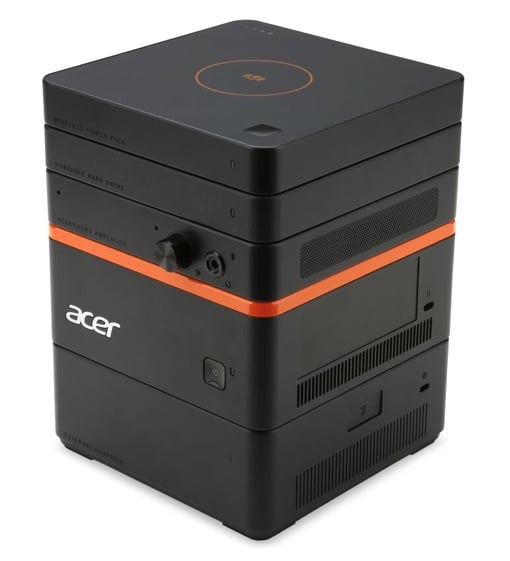 Computer manufacturer Acer revealed an intriguing new product at the IFA consumer technology show in Germany this week – a small, modular desktop computer system. The Acer Revo Build Series Mini PC, as its being called, is like a cross between a home computer and LEGOs, where you pick and choose the components you want and snap them together like they were children's building blocks.
The main body of the computer is housed in a 1-liter chassis that takes up a space measuring just 5 inches by 5 inches. It's powered with your choice of Intel Pentium or Celeron processor and up to 8 GB of DDR4 RAM. You then add on special modifier "Blocks" – there's a 500GB/1TB Portable Hard Drive, an audio block with speakers and a mic and a wireless power bank for charging your phones and tablets. (More Blocks are coming soon, Acer says.) Blocks click in via a magnetic pogo pin system, so you won't be struggling to line up tiny connectors or force a fit. Check out how it works in our video below.
Pricing and availability for the device and its component Blocks will be announced here in the U.S. at a later time, though you can expect it to be available after October 2015. Judging from European pricing, this will be a relatively inexpensive computer device, likely starting around $200 or $250.
[Image credit: Acer]