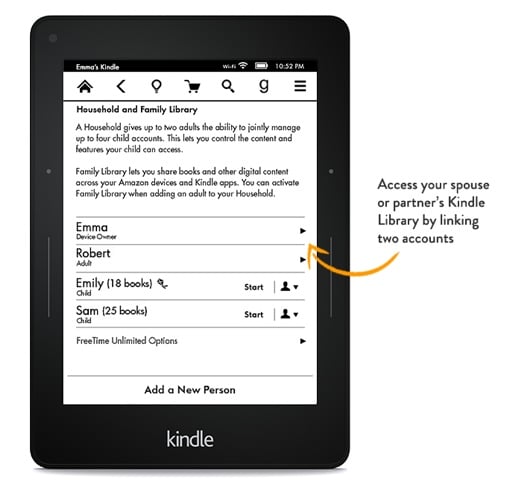 Good news for Kindle owners: This week, Amazon has just released a major software update for its line of e-readers. The over-the-air, automatic update includes a cool new dictionary feature; a new kids book subscription offering and the ability to share your Kindle book library with your family members at no extra charge.
Of the slate of new features, Amazon Family Library is easily the most attractive if your family loves to read e-books and owns more than one Kindle. You can now use your Kindle to set up a household network of Amazon accounts, connecting your account to your partner's and up to four child accounts. Amazon Family Library can be activated at any time, so if you ever buy a second Kindle, it will have access to the exact same e-book library as the first (subject to parental controls, of course).
Parents may be interested in Amazon's new Kindle FreeTime Unlimited, a version of its Amazon Kindle Unlimited adult subscription book service that's aimed at kids. Just $2.99 per month buys access to the Harry Potter series, The Borrowers, Big Nate and Friends, and a number of Newberry Medal and Honor winning titles. Parents will also like the new Word Wise feature, which automatically puts easy-to-understand definitions over difficult words in thousands of select kids' titles. It's a great way to build vocabulary for young readers, and is adjustable to show fewer definitions as kids show more confidence in reading.
All these great features (and enhancements to X-Ray and Goodreads) will be beamed to your Kindle automatically in the coming days as a free update. If you can't wait until then, you can visit the Kindle Software Update page to download the software update starting today.