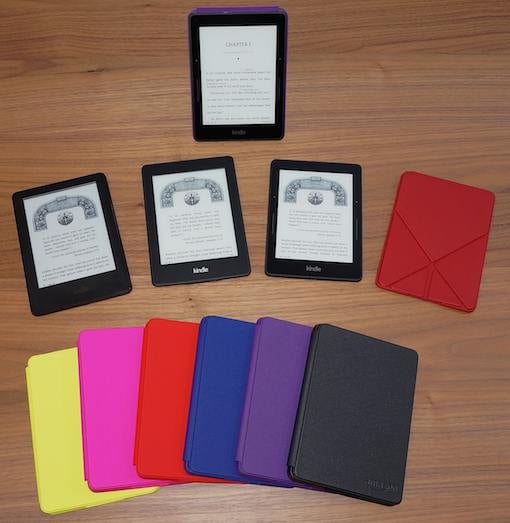 Amazon has completely refurbished its tablet line, adding the step-up Kindle Voyage e-Ink e-reader as well as a new entry-level e-reader, a next-gen Kindle Fire HDX 8.9 tablet, and two new nearly indestructible and inexpensive Fire HDX 6- and 7-inch models ($99/$139 respectively).
But for families, the star of these new Amazon tablets are kid-centric FreeTime versions of the two new smaller tablets, which will be bundled with the company's popular kids bumper case, a free year's access to the more than 5,000 content items in Amazon's FreeTime Unlimited and a two-year guarantee replacement program.
Accompanying the new hardware is an updated 4.0 version of the company's Android-based operating system, nicknamed "Sangria," along with a series of cases and a super-thin Bluetooth keyboard designed to be used with the 8.9 HDX Fire.
All of these Amazon's new tablets can be pre-ordered now and will be available next month.
Is Voyage worth the trip?
Voyage, the new premium Kindle e-Ink e-reader, represents only a minor step-up to the company's popular Paperwhite backlit tablet, which we dubbed the best e-reader extant last year.
Voyage will come in four versions: Wi-Fi-only with "special offers" (i.e. ads) for $199, Wi-Fi without special offers for $119, Wi-Fi plus 3G with special offers for $269, without special offers $289.
Voyage's major improvement is the return of physical page turning buttons with haptic feedback, twin "PagePress" touch strips arrayed vertically on either side of the screen. Above each PagePress strip is a small touch dot that, like the PagePress, can be programmed to perform in different ways (page back or jump, for instance); or, both strips and dots can be defeated to turn pages by simply swiping or touching page edges.
Amazon says Voyage, whose screen is flush with its bezel, just like an LCD tablet, is its thinnest (7.6mm) and lightest (6.3 ounces) e-Ink e-reader, with a 39 percent brighter backlight than Paperwhite with higher contrast and ambient auto backlight adjustment, a highest-ever 300 pixels-per-inch (ppi), and is constructed with a solid magnesium shell.
While these physical and spec changes represent slight improvements of the Paperwhite, they are hardly worth the $80 price premium. Paperwhite isn't exactly fat and heavy, and its backlighting is demonstrably brighter than any other e-reader on the market. And for heavy readers, new versions of Paperwhite will have double the storage memory, 4 GB, of the original and the same amount of storage in the Voyage.
By the same token, Amazon's new entry-level $79 Kindle "Kindle" – no other name – is thicker, fatter and has no backlight; in comparison, the Paperwhite is clearly worth the extra $40.
New Fires
Like the Voyage, the new 8.9-inch HDX Fire incorporates slight improvements over the previous version – it's got a slightly snappier SnapDragon 805 processor, a much higher resolution screen (2560 x 1600 pixels, 339 ppi), Dolby ATMOS compatibility (ATMOS-encoded films from Amazon Prime are expected later this year), 802.11ac Wi-Fi and "dynamic light control" that automatically adjusts the book-reading lighting to match the color temperature of your room.
Amazon also plans to finally add Bluetooth 4.0 across its tablet and Fire phone lineup.
More impressive are the company's new 6- and 7-inch tablets. At first pass, they seem to represent a huge leap forward for affordable tablets.
Both have been designed to be super-tough, able to successfully survive splashes, a certain amount of twisting torque when accidentally sat on when you've forgotten you slipped it into a rear pocket, and drops onto concrete from three feet. They also look good – 1280 x 800 pixel resolution with 252 (6-inch) and 216 (7-inch) ppi, and will be available in five pastel colors, and feature dual stereo speakers mounted in the slightly angled rear.
All this will run you just $99 for the 6-inch, $139 for the 7-inch. Based on our experience with other inexpensive tablets, these new small Kindles are not only the tablet value of the year, but may actually be an improvement over 7-inch tablets that are twice the price.
Every day is kids' FreeTime Day
Amazon is standing behind the 6- and 7-inch tablets durability by offering each in Fire Kids Edition bundles.
The tablets include a thick and bouncy rubber case available in sea green, dark pink or power blue, a one-year subscription to Amazon's FreeTime Unlimited, which offers all-you-can-eat access to 5,000 pieces of Amazon content and apps (you'll have to pay for the service after the first year), and a two-year replacement guarantee – no matter what happens to your tablet or how often, Amazon will replace it for free.
These kids' editions are pre-loaded with Amazon's FreeTime interface, which lets kids choose from icons rather than text. The kids' edition tablets ($149 for the 6-inch, $189 for the 7-inch) includes extensive parental controls, including not only setting time frames and time limits for specific types of activities, but setting goals such as no game-playing until Jane or Johnny completes 30-minutes of reading.
Software and accessories
Amazon has updated its Android-based operating system to version 4.0, nicknamed "Sangria." You now get Family Library – two people in the same family can link their accounts and share content and apps, regardless of what devices they use, so they don't have to buy two of everything, including a Prime account.
Sangria also lets you share your device with up to five other family members via Profiles, in which each user can personalize their device experience.
Also added to Sangria is Translate – point the HDX Fire's camera at text written in a foreign language, and get a nearly-instant on-screen translation.
To help the HDX 8.9 be used as a business machine, Amazon has invented what may be the thinnest and lightest Bluetooth keyboard with a touchpad ever, the wafer-thin 4.8mm, 7-ounce Fire Keyboard ($59.99). The keyboard snaps magnetically into the top of Amazon's new HDX Fire 8.9 origami cover ($54.99), and can be used with any Bluetooth device.
The origami cover is just one of a plethora of new cases Amazon will sell with its new tablets.