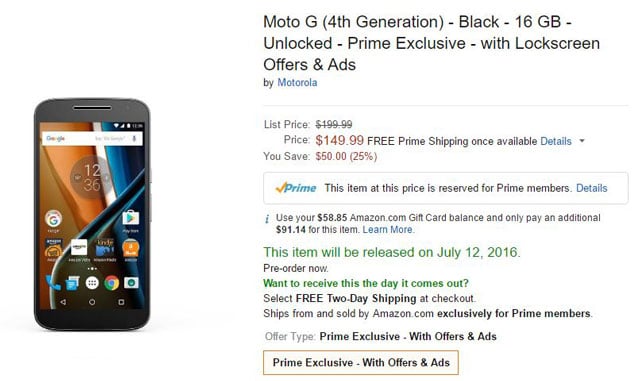 As cellular carriers continue to move away from offering subsided phones on a two-year contract, finding a smartphone bargain is more important than ever. While you can usually find deals on last year's models or low-end phones, it's tough to get a solid smartphone at a reasonable price: a new Samsung Galaxy S7 will cost around $600 and even the last generation Galaxy S6 will set you back at least $200. Fortunately, a program from Amazon can help you get a new Android smartphone without a painful price tag.
On offer are two unlocked Android 6.0 smartphones that you can take to almost any carrier. While neither are top-tier flagship phones, they're brand new, both shipping mid-July. Both offer a solid feature set for a modest price—and Amazon's discounts make their prices even more attractive. On the high end there's the 4th generation Moto G, a 5.5" phone with a full HD display, a 13MP front-facing camera, and 16GB or 32GB of storage, starting at $149.99. The Moto G offers complete carrier flexibility, working with all carriers domestically and abroad.
On the low end, there's the BLU R1 HD, a 5" phone with an HD display, 8MP front-facing camera, and 8GB or 16GB of storage starting at $49.99. The BLU is a bit slower than the Moto G, but still a perfectly useable phone—the low price point makes it especially appealing for teens or tweens—but it has a slower processor and won't work with Sprint or Verizon. While you might not have heard of BLU, it's an American company that's been making budget-friendly smartphones for several years. While their phones aren't top performers, they are good values—and this one more than most.
These low prices have a catch
However, these low prices have a catch. First, you have to be an Amazon Prime member to get these deals. If you're an Amazon Prime member already, this isn't a catch at all, but if you aren't the $99/year cost is more than you'll save buying these phones. However, we think Amazon Prime is a pretty good deal, with lots of perks, including free two-day shipping as well as music and movie streaming. If you're shopping for a new smartphone and have been considering Prime, now may be the time to sign up.
But you may find the second snag more serious: these phones display advertising on your lock screen, similar to how Amazon sells its Kindle and Fire tablets. You can choose to buy a model with special offers that displays advertisements and comes with a nice discount—or you can pay more for one without advertisements. While Amazon's advertisements aren't intrusive, there's no getting rid of them once you've bought your ereader or tablet, which can certainly be an annoyance.
In the case of these phones, ads show up below notifications on the lock screen. You'll be able to tap an add to learn more or just unlock your phone as usual to make the ad go away. This isn't terribly different from the Android app Fronto, which pays you for viewing lock screen ads, but it would take you quite some time to earn the $50 Amazon is discounting. (And on top of that, Amazon's ads appear to be much more subtle.)
So are these phones worth it? That really depends on what you need out of your phone. If you're after a high-performance smartphone, neither of these quite fit the bill. However, if you're looking to stay in your budget or want a low cost phone for the kids or an international trip, these are great buys.
[Image credit: Amazon]