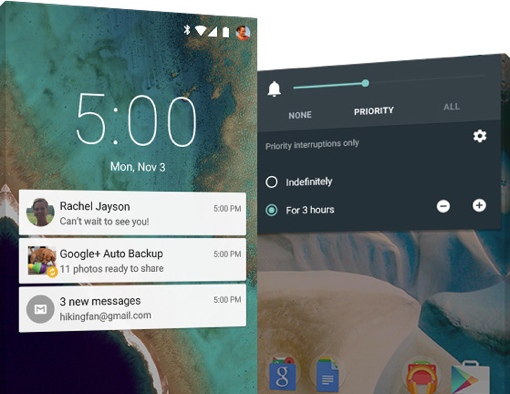 Today, the folks at Google revealed brand new details about its latest mobile operating system, Android 5.0. Dubbed Android Lollipop, the software will bring a brand new "Material Design" look, which promises consistent design across devices. There are some great new features waiting within, too. We don't know everything yet, but the early information looks very promising.
"Lollipop is made for a world where moving throughout the day means interacting with a bunch of different screens—from phones and tablets to TVs," Google explained today on its official blog. "With more devices connecting together, your expectation is that things just work. With Lollipop, it's easier than ever to pick up where you left off, so the songs, photos, apps, and even recent searches from one of your Android devices can be immediately enjoyed across all the other ones."
One new feature coming to Android, revealed today, is a new customizable lock screen notification system. Smart filters will let you choose which notifications you'd like to receive when. So if you're going out on a Friday night date with the husband, you can prioritize messages from the sitter without being distracted from less-important messages from your friends.
Android Lollipop will also be getting a new battery saver feature. It promises to extend the life of your device by up to 90 minutes – great for when you're on the go and without a charger. The new Android build will also tell you how much time you have left before your phone will required charging, and once plugged in, how much time you have to wait until your device is fully charged.
But will your favorite Android device be able to handle the update? If you've got a Nexus 5, 7, 10 or any of the other Google Play Edition devices, you'll get your free upgrade to Lollipop in "the coming weeks." Motorola has announced that its 2013 and 2014 editions of the Moto X, Moto G and budget-oriented Moto E will also get the update, as will the Verizon Droid Ultra, Maxx and Mini. There's no word yet from many of the other major phone manufacturers, but so long as you've got a relatively new device, you'll see it eventually.